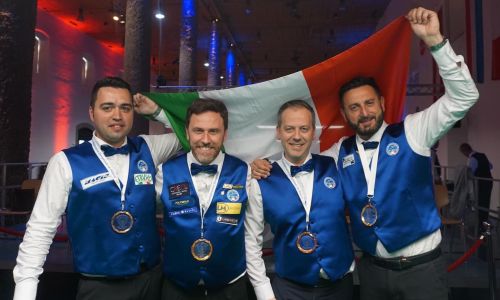 05/16/2022
The last day of the Coupe d'Europe 5-Pin for National Teams in Hall in Tirol was exciting. The organization was perfect and the venue was amazing.
After 3 days of competition the four teams that survived for the semifinals were Italy, Switzerland, Germany and France.
In the first semifinal a relay was needed but there was no chance for Switzerland against Italy that scored 200-96 and was the first to grab the final.
In the second semifinal Germany had a clear 3-0 victory against France and reached the final.
The final was an exciting and tense match. Italy won the two singles while Germany had the better in the double. Again a relay was needed to decide the winner of this Coupe d'Europe. It was an hard fight, Germany keeped scoring in the first half of the match leading the game. Only in the 3rd and 4th part of the relay the Italians grew up to a final sprint and took back the trophy from Germany.
The top four:
1- Italy
2- Germany
3/3 - Switzerland and France

Back