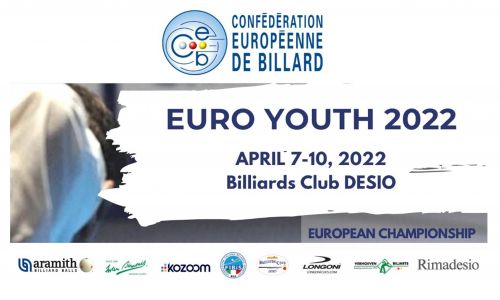 04/05/2022
Thursday 7th April Euro Youth 2022 will be on the starting line after the cancellation of two editions in 2020 and 2021 because of the Covid crisis.
The Italian Billiard Federation (FIBiS) will organize the competition in the city of Desio, few kilometres north of Milano, in the Billiard Club Desio.
Five juniors CEB titles are at stake in Desio:
3-Cushion U21
5-Pin U21
Biathlon U21 National Teams
Free Games U21
3-Cushion U17 (small tables)
51 players representing 11 CEB federations will compete from 7th to 10th April on 9 tables in different disciplines.
The spotlights are on the 3-Cushion U21 tournament where Maxime Panaia will defend the title won in 2019 and the final ranking will be considered for the participation in the World Championship U22. 21 players are divided into 7 group of 3, ko rounds will follow for last 16, quarter finals, semifinals and final.
For the 3-Cushion U17 on small tables 13 players are divided into two groups of 4 and one of 5, then quarter finals, semifinal and final.
The EC Free Game U21 will be played in a single group of 6 round robin.
For the 5-Pin discipline there are 11 players divided in two groups of 4 and one group pf 3. Quarter finals, semifinal and final will follow.
Last but not least, the EC Biathlon U21 for National Teams is played in two groups, one by 4 teams and one by 5. Semifinal and final will follow. Each team is made by one 3C player and one 5-Pin player. Italy won the first edition of this championship in 2019 and will defend the title.
All the semifinals and final are scheduled on Sunday 10th except the Biathlon that will end on Saturday 9th.
Follow daily updates on Facebook, schedule and results on CEB website.
Live streaming on Kozoom for Premium Pass holders.

Back