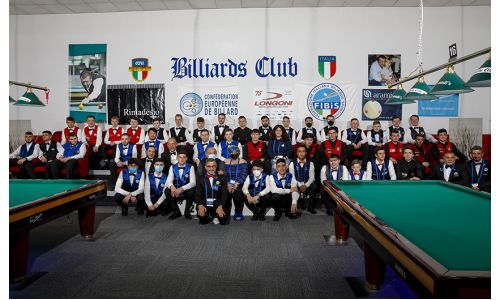 04/08/2022
SATURDAY 9TH:
In the EC Biathlon U21 semifinals Italy 2 and Denmark 1 teams prevailed respectively on France and Netherlands.
In the final match team Denmark 1 (Mortensen/Soendergaard) had the better on the Italians defending champions Di Gabriele/Cucchiara for 200/152. Denmark got the first gold medal of this Euro Youth edition.

In the EC 3C U21 Kogelbauer, Seleventas, Mayor, Sainz-Pardo, Akkoca, Kristiansen, Amir Ibraimov and Falangas were the winners in the last 1/6. They then met in quarter finals to decide the semifinalists of tomorrow.
Falangas won Amir Ibraimov. Mayor won his countryman Sainz-Pardo. Akkoca won Kristiansen and Kogelbauer was the better of Seleventas.
The semifinals are scheduled tomorrow morning at 9:30.
Nikolaus Kogelbauer (Austria) vs Ivan Mayor (Spain)
Denizcan Akkoca (Turkey) vs Christos Falangas (Greece)
In the 5-Pin U21 tournament the last qualification round decided the 8 finalists:
the Italians Emanuel Cucchiara, Felice Izzo and De Girolamo Del Mauro Luigi Aniello won their respective groups while Schrobback (Germany), Haake (Germany), and Errebrecht finished seconds; best third were Ozkul from Turkey and Soendergaard (Denmark).
Quarters played were played as follow:
Cucchiara - Soendergaard 3-0
Schrobback - Haake 3-0
De Girolamo - Herrebrecht 3-2
Izzo - Ozkul 3-0
Semifinals scheduled for tomorrow morning at 9:30:
Emanuel Cucchiara (Italy) vs Felix Schrobback (Germany)
Felice Izzo (Italy) vs De Girolamo Del Mauro (Italy)

Quarter finals of the EC 3C U17 were also played today. Hashas, Garcia, Duriez and Ozbas won their match and reached the semifinals scheduled for tomorrow morning at 9:30.
Hashas Burak (Turkey) - Garcia Toni (Spain)
Duriez Tangui (France) - Ozbas Seymen (Turkey)
Four more matches in the Free game U21 discipline were also played today.
The updated ranking now shows Nathan Legendre (France) leading with 8 match points. Nick Dudink (Belgium) follows with 6 points. Arthur Picard 4 points. Joshua Ty (France) and Samuel Vanderveken (Belgium) 3 points, Meysing (Germany) 0 points. All six players played 4 matches so far and all of them will play their last match tomorrow morning, 3 matches to be played yet.
Dudink vs Vanderveken
Legendre vs Meysing
Ty vs Picard
FRIDAY 8th
Euro Youth 2022 in Desio (Italy) reaches the first turning point this evening with the definition of the first young players qualified to the KO rounds that will start from tomorrow, Saturday 9th.
The first EC to finish the qualification stage is the 3C U21 tournament. Group winners are Amir Ibraimov (Germany - group A), Hakan Gorguc (Turkey - group B), Denizcan Akkoca (Turkey - group C), Dogukan Corbaci (Turkey - group D), Ivan Mayor (Spain - group E), Nikolaus Kogelbauer (Austria - Group F), Lukas Mortensen (Denmark - group G).
Kogelbauer is leading the ranking at the end of the groups, the Austrian is followed by Mortensen and Akkoca. Best general average so far by Kogelbauer and Mortensen (1,250), best match by Kogelbauer and Ali Ibraimov (1,470), best run: 8 points by Nathan Duriez.
Last 16 will be played tomorrow morning at 9:00 and 11:15, quarters finals will follow at 15:00.
Last 16 matches:
1-16 Kogelbauer - Ettel
8-9 Seleventas - Ibraimov Ali
5-12 Corbaci - Sainz-Pardo
4-13 Mayor - Rosier
3-14 Akkoca - Duriez Nathan
6-11 Gorguc - Kristiansen
7-10 Ibraimov Amir - Martinez
2-15 Mortensen - Falangas
Second competition to finish the group stage and to advance to quarter finals is the EC 3C U17.
Burak Hashas from Turkey won group B ahead of Toni Garcia (Spain) and is the leader after the qualification rounds with a general average of 1,923 and a best run of 11.
In group C Tangui Duriez (France) was first (1,229) and Marcos Morales from Spain finished second (1,263).
Seymen Ozbas (Turkey) was the winner in group A (1,388), Daniel Arturo Zotoz was second.
Iakob Ide (DE) and Luca Philipoom are qualified as best third.
Quarter finals:
1-8 Hashas - Philipoom
4-5 Morales - Garcia
3-6 Duriez - Zotov
2-7 Ozbas - Ide
Third EC to advance in the semifinal stage is the Biathlon U21 for National Teams.
Denmark 1 team (Mortensen/Soendergaard) won the groups B, followed by Italy 2 (Di Gabriele/Cucchiara) in second position. Both are qualified to the semi-finals.
In the group A France (Duriez/Herrebrecht) prevailed, and Netherlands 1 (Van't Zelfden/Kroonen) was second.
Semifinals:
France - Italy 2
Denmark 1 - Netherlands 1
In the U21 5-Pin discipline last group round is scheduled for tomorrow at 11.15. Italians Emanuel Cucchiara and Felice Izzo are leading their respective groups so far, one round to be played yet. De Girolamo Del Mauro Luigi Aniello already winner of his group and the other two will play for the second place.
For the EC Libre U21 Nathan Legendre (France) is leading the ranking with 3 victories out of 3 matches played and 6 match points, Nick Dudink (Netherlands) is trailings with 4 points (1 loss, 2 victories), Ty Joshua (France) 3 points (1 victory, 1 draw, 1 loss), Picard Arthur (France) 2 points (1 loss, 1 victory), Vanderveken (Belgium) 1 point (1 draw, 1 loss), Meysing (Germany) 0 points (2 loss). 7 matches are yet to be played.

Back