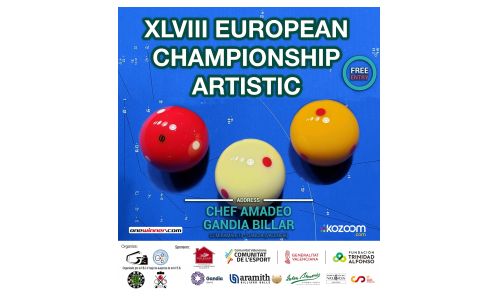 06/08/2022
One more exciting week-end is going to start for billiard fans and lovers that will be able to witness the spectacular and amazing shots of the Artistic billiard discipline.
The European Championship Artistic will be under the spotlight from tomorrow until June 12th in Gandia (Spain).
The event will take place in the Gandia Billar Club where everything has been set ready for the competition, the Club and the Billiard Federation of the Valencian Community took care of the organization under the auspices of the Royal Spanish Billiard Federation.
24 players are expected in Gandia representing 8 national federations.
Qualification round will be played in 8 groups by 3, first 2 of each group will advance in the 1/8 finals.Semifinals and final are scheduled on June 12th. Game distance is 28 figures in the groups and in the 1/8 finals, 35 figures in 1/4 finals, semifinals and final..
Last edition of this championship was played in Brandenburg in 2019, the title holder Erik Vijverberg is not among the competitors in Gandia.
All informations and results on CEB info page.
DAY 1: After the first day of games four players are already sure to be in the last 16 knockout round. In groups A-B-C-D David Keller and Lazlo Toth (HU), Eric Daelman (BE) and Sander Jonen (NL) won their first two matches. Group matches are going on in day 2 to decide other groups and the seconds also qualified to the 1/8 finals.
DAY 2 : The match of qualification rounds ended today deciding the qualified players for the 1/8 final on stage tomorrow morning from 10:00.
Eric Daelman vs Manfred Hekerle
Kevin Tran - Michael Hammen
Lazlo Toth - Erik Vervliet
David Keller - Jose Manuel Gomez Bravo
Hector Cuadrado - Jordi Oliver
Bastien Panis - Jop De Jong
Rene Dericks - Madou Toure
Sander Jonen - Serdar Gumus
DAY 3: Last 16 have been played in the first part of the day deciding the quarter finals:
Quarter finals:
Eric Daelman (Belgium) vs Kevin Tran (France)
Lazlo Toth (Hungary) vs David Keller (Hungary)
Hector Cuadrado (Spain) vs Jop De Jong (Netherlands)
René Dericks (Netherlands) vs Gumus Serdar (Turkey)
The first two quarter finals have been played in the last afternoon session and therefore the first semifinal is decided and a sure spot on the podium as well:
First semifinal will be: Kevin Tran (France) vs David Keller (Hungary)
The remaining two quarter finals are scheduled for tomorrow morning at 10:00,
DAY 4: In the morning we had the last two quarter final: Hector Cuadrado won Jop De Jong and René Dericks had the better on Serdar Gumus. The semifinalist field was therefore completed.
Kevin Tran (France) vs David Keller (Hungary)
Hector Cuadrado (Spain) vs René Dericks (Netherlands)
Useful links:
Facebook page of Valencian Federation.
Website of Valencian Billiard Federation.
Kozoom will broadcast all the matches live.

Back