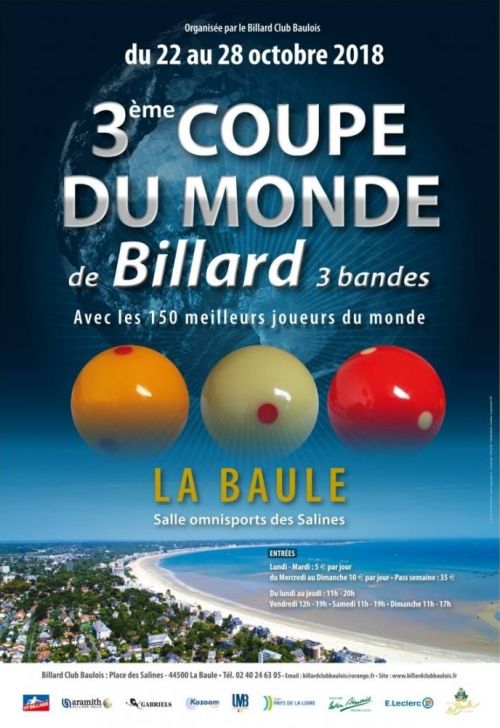 10/19/2018
It's the fifth World Cup of the season, the third year in a row La Baule, France is the host, and the 175th World Cup in history. Plenty of reasons to look ahead at this special event in the beautiful French beach resort. Play will start on 22 October; the final is on the 28th.
After the World Cups in Antalya (Caudron), Ho Chi Minh (Tran), Blankenberge (Jaspers) and Porto (Caudron), the Belgian number one on the ranking is also firmly in the lead for the 2018 overall World Cup. At 214 points, he's way ahead of Semih Sayginer (114), Tayfun Tasdemir (104) and Dick Jaspers (104). Still, the 80 points awarded to a World Cup winner can make a big difference, and once La Baule has been added, there's also Hurghada to look forward to.
In 2016, the first edition of La Baule was won by Murat Naci Coklu, who beat Dani Sánchez in the final. Last year it was Torbjörn Blomdahl, getting the better of Frédéric Caudron.
Seeded according to the world ranking are Caudron, Merckx, H.J. Kim, Zanetti, Jaspers, J.H. Heo, S.W. Choi, J.H. Cho, Coklu, Blomdahl, Sidhom, Tran, Sánchez and Nguyen. Wildcards have been presented to Sayginer (UMB) and Bury, Soumagne (local).
The qualification tournament, as usual, is booked to capacity. The largest contributors are South Korea, Vietnam, Turkey and of course France. It's nice to see a strong handful of players from Denmark (Carlsen, Schroder, Nelin, Andersen, Haack-Sörensen) and an equally dangerous five from Greece (Tsokantas, Polychronopoulos, Kasidokostas, Kokkoris, Papakonstantinou). From the Low Countries: Van Beers, Klompenhouwer, Philipoom, Burgman, Peter Ceulemans, and of course Leppens and Forthomme.
Mr. Joel Switala will again be the tournament director. The trusted threesome of Gabriels tables, Simonis cloth and Aramith Pro Cup balls will ensure the event is of high quality. A cheque for 16.000 Euro awaits the winner.

Back