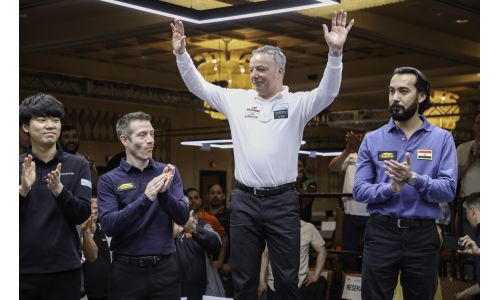 04/03/2022
In the Las Vegas World Cup Dick Jaspers did it again. The Dutchman won his third big event in a row, the 27th World Cup in his career.
It was 19 years ago when last World Cup took place in the Usa, that was in LasVegas back then.
Sameh Sidhom from Egypt played the final against Jaspers. He took a small advantage at the start but soon he lost it, anyway he fought until the end showing an exciting end. Final result: 50-43 in 30/29 innings.
Semifinal losers were Jeremy Bury (France) and Haeng Jik Kim (South Korea).
The list of last 8 is completed by Daniel Sanchez (Spain), Pedro Piedrabuena (Usa), Marco Zanetti (Italy) and Huberney Catano (Colombia).
Next stop is in Vietnam for the third World Cup 2022, Ho Chi Minh City, in May, 23th to 29th.

Back