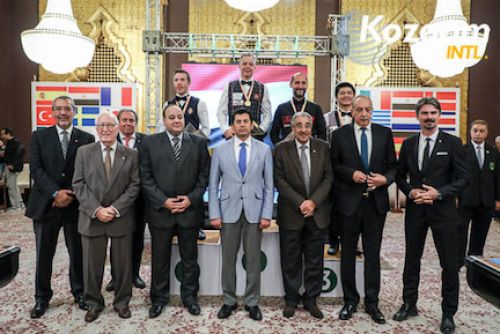 10/07/2018
In an exciting final, Dick Jaspers fought off the challenge of an inspired Jeremy Bury to win the world 3-cushion title. The Frenchman was ever so close to the biggest success of his career, but the seasoned Dutchman kept his cool and made the last point. Bury can add his silver to the World Cup win in Guri (2016) and the Verhoeven Open in the same year.
It was as if we were watching a replay of Bordeaux 2015. Dick Jaspers and Jeremy Bury gave the World Championships in Cairo a final match that went all the way to a shootout, like Blomdahl and Kang did three years ago. The 53-year-old Dutchman made four to equalize the match, then three to beat his French opponent in the shootout. It was his fourth world title, after 2000 (St. Etienne, France), 2004 (Rotterdam, Netherlands) and 2011 (Lima, Peru).
Bury and Jaspers were the two players who had most earned a place in the final, as they had excelled throughout the week. Jaspers overcame tough opposition when he faced Legazpi and Sayginer, and he played the best averages of the field, ending on 2.352 no less. Bury was responsible for the elimination of two strong Asians, Jae Ho Cho and Quyet Chien Tran, and moreover, he was the one to send home the reigning world champion Frédéric Caudron.
The first semifinal was a replay of the Blankenberge World Cup final: Jaspers – Sayginer. Once again it was a close match, and once again the Dutchman came out on top. But it is obvious that Sayginer is back where he belongs: amidst the very elite of the 3-cushion corps. Jaspers triumphed 40-37 in 16 innings.
The second semi had Bury taking on the last of the remaining Vietnamese players (there were four from Vietnam in the last sixteen!), Nguyen Quoc Nguyen. The likeable Nguyen made an early run of seven to lead in the match, but then completely ran out of steam. Bury was merciless, making every makeable point and punishing every mistake. He won the match 40-20 in 19.
The final started off toe to toe, then Bury built up a useful lead of 20-14 at halftime. Jaspers came back strong, but from 37-36 it was the Frenchman to reach 40 first. Jaspers had to equalize with a four, and the balls were not kind to him. A very difficult third point and a bank shot gave him the key to the shootout. Bury produced only two, and a three by Jaspers gave him his fourth world title.
On the world ranking, Caudron holds on to his lead, Jaspers now in second place. Haeng Jik Kim is third, but he will be defending many points in the next World Cups. Merckx is fourth, Zanetti fifth. Dani Sánchez, who looked invincible in 2016, has dropped out of the top-14.
Final standing of Cairo 2018:
1 Dick Jaspers 14-2.352-12
2 Jérémy Bury 10-2.022-8
3 Nguyen Quoc Nguyen 10-1.629-11
3 Semih Sayginer 8-1.568-10
5 Tonny Carlsen 8-1.920-19
6 Minh Cam Ma 8-1.571-9
7 Tayfun Tasdemir 8-1.544-12
8 Quyet Chien Tran 6-1.598-12
9 Frédéric Caudron 6-2.211-12
10 Jung-Han Heo 6-1.540-11
11 Eddy Leppens 6-1.435-14
12 Ruben Legazpi 5-1.648-6
13 Torbjörn Blomdahl 4-1.746-10
14 Dinh Nai Ngo 4-1.579-14
15 Sameh Sidhom 4-1.441-11
16 Robinson Morales 4-1.394-7.

Back