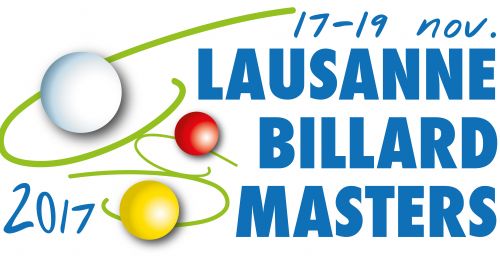 11/17/2017
For the 5th year in a row, the Montbenon Casino in Lausanne will welcome from Friday 17 to Sunday 19 November 2017 twelve players including nine world stars from the 3 cushion and three Swiss players.
This plate was carefully selected by the instigator of this tournament by invitation, the President of the Confédération Européenne de Billard Mrs Diane Wild. The partner and main sponsor, the Merck Foundation, will donate 5 Swiss francs per successful point to help victims of multiple sclerosis.
The start of the competition is scheduled for 12:15 next Friday.
This year, the game formula is new and open to 12 players instead of 10 in previous years.Three groups of four players each comprising a Swiss guest were formed:
Group A :
1. Daniel SANCHEZ (ES)
2. Nikos POLYCHRONOPOULOS (GR)
3. Jérémy BURY (FR)
4. Michel BOULAZ (CH)
Group B :
1. Dick JASPERS (NED)
2. Torbjörn BLOMDAHL (SUE)
3. Jae Ho CHO (KOR)
4. Fernando COUTO (CH)
Group C :
1. Marco ZANETTI (IT)
2. Frédéric CAUDRON (BE)
3. Dong Koong KANG (KOR)
4. Tien Duy MA (CH)

Back