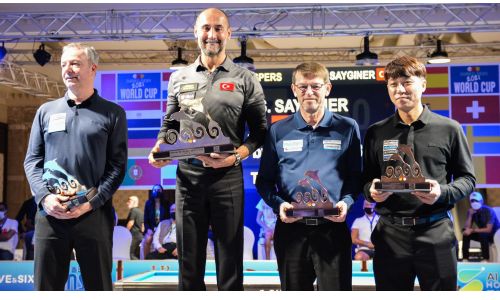 12/04/2021
At the Regency Park Resort in Sharm El-Sheikh Semih Sayginer crowned himself with golden prize. The Turkish star had a not easy road to the final but his high class emerged at last. He qualified as the runner up in his group and had to face Eddy Merckx in the last 16 in a terrible battle for the last point. He knocked out Kim J.T. in the last 8 and T. Blomdahl in the semifinal. In the final match against D. Jaspers Sayginer lead from the start with the Dutch trailing and closing the gap only at 34-34 but immediately came a decisive run of 10 by the Turkish champion without an effective reaction from Jaspers. Sayginer made then 6 more points to put an end at the fight.
The silver place was for D. Jaspers who also qualified to the last 16 as the runner up in his group. Jaspers went through Lee C.B. and escaped an extremely dangerous and tense match against M. Zanetti in the last two points in quarters final. He outplayed Choi S.W. in the semifinal and had to surrender to the brilliant performance of Sayginer in the final match.
Third places went to T. Blomdahl and Choi S.W..
Many amazing high runs in this tournament: Blomdahl (22), Ceulemans P. and Kim H.J. (19), Morales (18), Nelin (17), Sayginer and Tasdemir (15). Best overall average by Zanetti (1,972), best match by Blomdahl (40 points, 10 innings).
The best players of the world will not leave Sharm El-Sheikh, they will just take a couple of days of sunshine waiting for the most important event of the year that is ready to start: the World Championship 3-Cushion will take place from 7th to 11th in the same venue.
Pictures: Paulus Brekelmans

Back