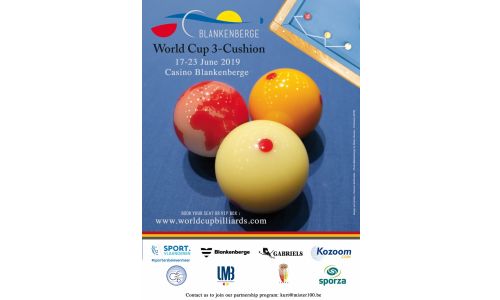 06/15/2019
Ocean views are what make Blankenberge a tourist attraction all year long. But next week. most tourists will be billiard lovers who look the other way: to the Casino where the world's best play 3-cushion.

The 2019 World Cup season opened in Antalya, where Tayfun Tasdemir was the winner over Jae Ho Cho. That event was followed by Ho Chi Minh, where Frédéric Caudron beat his countryman Roland Forthomme in the final. The season is still young, but Blankenberge could give us a clue about the possible overall winner of the 2019 cycle.

As usual, the UMB handed out a wildcard for this tournament: to Haeng Jik Kim. The two local wildcards were awarded to Roland Forthomme and Eddy Leppens. Seeded by right for this tournament, based on their world ranking: Jaspers, Caudron, J.H. Cho, Sayginer, Tasdemir, Tran, Zanetti, Merckx, N.Q. Nguyen, Coklu, Bury, J.H. Heo, Sidhom and N.D. Nai.

The 2018 World Cup cycle put Belgium back on the calendar, much to the joy of players in both the Low Countries. Many Dutch fans visited Blankenberge, and when the Netherlands host their World Cup in October (Veghel), there will certainly be Belgian spectators in the stands.

The Blankenberge World Cup starts on Monday 17 June and ends on Sunday the 23d. All matches can be followed on Kozoom. The event will be played on 8 Gabriels tables, with Simonis 300 Prestige blue cloth and Aramith Pro Cup balls.

First prize: 16.000 Euro. Second: 10.000, third / fourth: 6.000, 5th / 8th: 3.500, 9th / 16th: 2.500.

Back