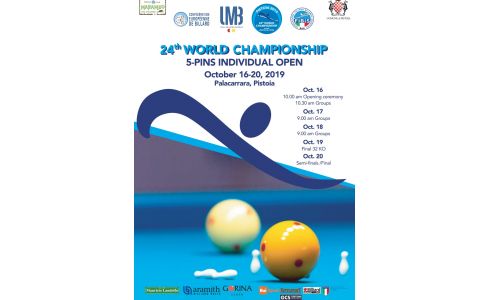 10/15/2019
Here we go! All is ready at PalaCarrara in Pistoia (Italy) to start the the 24th World Championship 5-pins individual open.
Nine tables, 64 athletes from Europe and South America (16 athletes from qualifications and 48 convened by the various participating federations according to internal criteria established),17 nations.
The 64 athletes will be divided into 8 rounds, the best four from each round will go on to compose the 32nd draw.
The Italian Federation has done its job and the local organizer has performed the tasks.
Raisport, the Italian sports TV channel, launched in 1999 by the state-owned RAI television network (broadcasting Italian and international sports events in Italy on DTT channel 57 on Rai 2) will guarantee TV coverage. Also the Italian Federation YouTube Billiard Channel will broadcast live and catch up some of the matches.
The World Championship will start on Oct. 16 with the opening ceremony at 10.00 am. Sunday 20 October will be the final day and the 2019 World Champion will be proclaimed.
The last edition, held in Necochea (Argentine) in 2017, saw Alejandro Martinotti as the winner and World Champion. Who will be the winner at Pistoia2019?

Schedule and program on https://www.fibis.it/pistoia-2019.html

Back