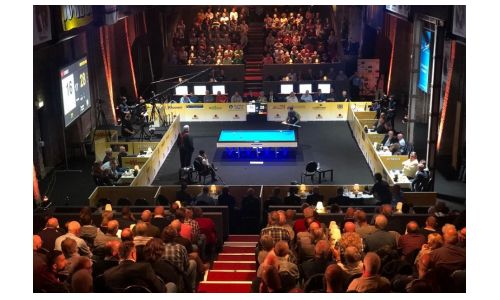 10/27/2019
The home crowd would have loved to see Dick Jaspers win the Veghel World Cup, but it was not to be: he was denied by Turkey's Lütfi Cenet. The neighboring Belgians had their hopes on Eddy Merckx, but he was eliminated by Korea's Haeng Jik Kim. These two were the last ones left standing on Satrurdat afternoon, and the treated the spectators to an exciting final. Cenet had the much better start, Kim had the better finish.
To illustrate the way "Veghel" unfolded, you need only to show the results of the quarterfinals. Four matches, and in all of these, a former world champion lost. Blomdahl, Merckx, Jaspers and Zanetti were eliminated on Friday by Duc Anh Chien Nguyen, Haeng Jik Kim, Lütfi Cenet and Antonio Montes.
For the Vietnamese D.A.C. Nguyen and Spaniard Montes, a place in the last 16 of a World Cup was a novelty, let alone a spot in the semifinals. Both can look back on a great week, but they will have a bad aftertaste as well. They had chances in their matches against Cenet and Kim. Nguyen lost 40-32 but still had the equalizing inning, ran a courageous six but then slipped up to lose 40-38. Montes had a commanding lead over Cenet but could not sustain it: he lost by the smallest of margins: 40-39.
It so happened that both finalists, Cenet and Kim, performed extremely well in their quarterfinal against a top favorite, and had trouble repeating that level in the semifinal against a relative underdog. Cenet's first 19 points against Jaspers (in three innings) were world class, and Kim's comeback to beat Merckx was epic.
The final started like a replay of the Cenet – Jaspers match, when the experienced Turk did everything right in the first few innings, to build up a 21-1 lead over Haeng Jik Kim who could do nothing but suffer on the chair. He kept his cool though, and clawed his way back into the match with small runs, never higher than a six. Cenet started to make some mistakes, and the momentum shifted to the Korean. Never before have we seen the cool and calm Kim so emotional and happy, as when he made the final point to win 40-35 and claim his third World Cup.
One highlight of the week deserves a special mention: Dick Jaspers ran 24 in his match against Nguyen Quoc Nguyen, turning a 16-8 deficit into a 16-32 lead.
Final ranking of Veghel 2019:
1)Haeng Jik Kim 1.882
2)Cenet 1.666
3)D.A.C. Nguyen 1.815
4)Montes 1.565
5)Jaspers 2.413
6)Blomdahl 1.945
7)Zanetti 1.722
8)Merckx 1.627

Back