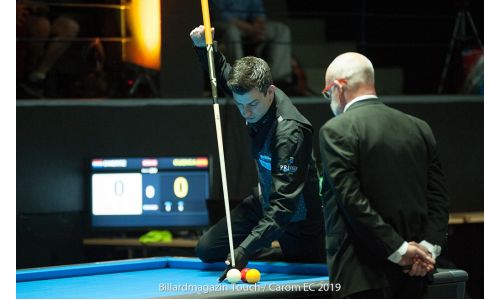 04/29/2019
At the European Billiards Championships in Brandenburg
an der Havel/Germany, the only competition that ended on
Sunday was the 5
-
pins
individual event. Once again this
one was completely in the hands of the Italian players.
When it came to the medals, the Azzurri were once again
among themselves.
The final was played between Andrea Quarta and
Fioravante Ceccione and in set one it was Q
uarta who
impressively showed who is the favorite. But in set 2 he
had problems making the last points, Ceccione took the
opportunity and tied the game.
Quarta seemed to wake up and from then onwards he
played on a completely different level. The Italian
finished
set 3 with a score of 66:33 and just a few moments later
he was already more than thirty points ahead of his
opponent in the fourth set. Ceccione had no chance for a
comeback, all he could do was congratulate his fellow
countryman for another Eur
opean title. The final score of
this set was 61:23 in favor of Andrea Quarta.
The bronze medals go to Camilo Gomez and
Michelangelo Aniello, both of course also from Itlay.
Aniello had a great chance to beat Quarta in the semifinal
but in the end he lost t
he deciding fifth set with 51:60.
FINAL RESULTS
In Balkline 47/2 the group stage was played today.
Title holder Eddy Leppens from Belgium showed, in two
group matches, that he is still a class act in this discipline.
Only Raymund Swertz from the Netherlands, who won th
e
balkline 71/2
-
event yesterday, played a higher average
than Leppens. Pascal Dessaint and Willy Geromint, both
from France, also won two matches in the group stages.
For the host nation Germany this competition was very
unlucky. Both Sven Daske and Arnd R
iedel had the same
amount of wins on their side as the resepective group
winners but didn't make it to the knock out stage due to a
lower average.
Max Gabel from Germany is clearly on a mission in the 5
-
pins individual event for players under 21 years of
age.
Today the title holder won his three group matches and
therefore advanced easily to the semifinals. His strongest
competitor is Riccardo Matino from Italy who also
managaed to win three matches in the qualification stage.
The last competition of the
day was the free game for
players under 17 years. Nick Dudink (Netherlands) as well
as Jelle Billiet and Nick Rosier (both Belgium) all won their
matches in the group stage and should be the favorites for
the gold medal. The highest average was played by
D
udink.

Back