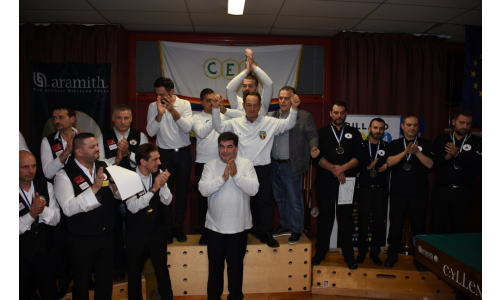 11/12/2018
Third Tournament November 8-10
ADS Black Jack has won the 3rd tournament held in Morangis beating 4-1 in the final match the Swiss team Diamante Lugano after a fantastic comeback in the semifinal against ADS Trick Shot.
3rd position shared by Club Campania Berna and ADS Trick Shot.
Final Stage November 11
Last step of Euroleague 2018 among the best 4 Teams of the ranking after the 3 tournaments.
The Italian Team ADS Trick Shot Billiards (Quarta, Sagnella, D'Agostino, Infante, Massimo, Ardò) became European Champion beating 3-2 in the final the other Italian Team ADS Black Jack (Montereali, Rizzo, Biondolillo, Interbartolo).
The two Swiss teams Diamante Lugano (Gualemi, Giachetti, Torregiani, Rosanna, Franzese, Aime) and Campania Berna (Ciccardi, Sticco, Brogi, Ciccolella, D'Amelio, Milete, Raviele) shared the third place.
A well-deserved victory for the Italian team that repeated the successes achieved in the first two tournaments held in Roeselare last June and Bern last September, confirming the first place in the overall ranking.
Thanks to the Club Morangis for its great hospitality and organization and the French federation for the support.
Euro League Club Teams Morangis Results

Back