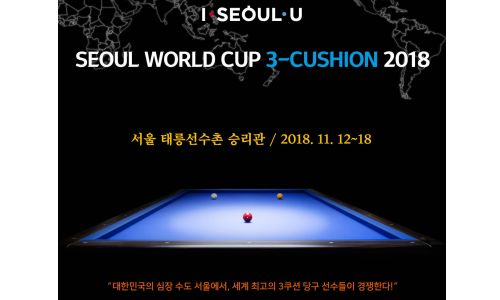 11/12/2018
How long can the golden generation hold on to their dominance in 3-cushion? They are in their late forties and fifties, and the Asians keep getting stronger.
The Korea National Training Center is host to the sixth World Cup of the year, the 176th in history. From 12 – 18 November, around 150 billiard players will once again try to win the highest honor in 3-cushion. Fourteen players are seeded according to the ranking: Caudron, Merckx, Haeng Jik Kim, Zanetti, Jaspers, Jung Han Heo, Sung Won Choi, Jae Ho Cho, Coklu, Blomdahl, Sidhom, Tran, Sánchez and Nguyen. The UMB wildcard was given to Pedro Piedrabuena (USA), the local wildcards to Dong Koong Kang and Sung Uk Oh.

The qualification stages are traditionally very tough in Korea, many unknown players are capable of averages well over 1.000 and matches to 25 points are sometimes won in 30 minutes and 15 innings. Among the non-Korean players who are giving it a try, are thirty-three Vietnamese and seventeen Turks. Semih Sayginer, currently third on the UMB ranking, will also have to qualify, as the seeding is based on the ranking of September 2018, when he was ranked 15th.

In the race for the 2018 overall World Cup, Caudron is in the lead after his wins in Antalya and Porto. The other three World Cups of the year were won by Tran (Ho Chi Minh), Jaspers (Blankenberge) and Horn (La Baule). Much is at stake for Haeng Jik Kim, who will lose another 80 ranking points (from Cheongju 2017). Dani Sánchez will no doubt try to regain his status as a seed, Blomdahl is under the same pressure as Haeng Jik Kim, and Bury, Nguyen, Ngo and a few others are knocking on the door.

The event in Seoul will be played on Hollywood tables, with Simonis 300 cloth and Super Aramith Pro Cup Prestige balls. There is 16.000 Euro for the winner, 10.000 for the runner-up and 6.000 for the two winners of the bronze.

Back