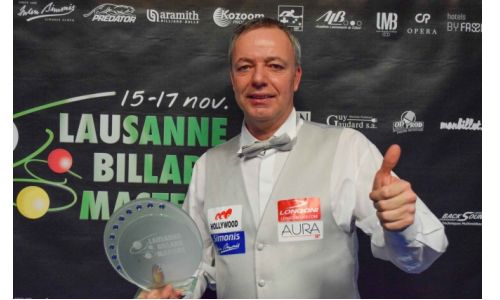 11/18/2019
If you wonder if the Lausanne Billard Masters is actually a major event, just look at this year's final match. The numbers one and two in the world were the last men standing, and the current world champion won. It does not get much better than that. Jaspers had already won Lausanne in 2015 and 2017, now he adds 2019.
All three groups in Diane Wild's invitational had a lower-ranked player: Michel Boulaz was the local wildcard, Therese Klompenhouwer the invited lady, and Maxime Panaia the junior. Unfortunately, none of the three could make much of an impression in this very strong field. Therese came closest to a win, against none other than Semih Sayginer (36-40).
Of the nine top players, one had to be eliminated before the quarterfinals. The unlucky one was Jae Ho Cho, who had the highest average in his group. His 39-40 loss against Martin Horn turned out to be expensive.
Dani Sánchez had started his week with a poor showing against Sayginer, but he recovered very well and played a superb quarterfinal against Marco Zanetti. Dick Jaspers got past Tayfun Tasdemir, despite a strange miss on match point. Myung Woo Cho eliminated Martin Horn, who traditionally is strong in Lausanne. Eddy Merckx performed one of his comeback miracles against Semih Sayginer, who saw a 35 – 18 lead disappear in four innings.
The semi's were interesting as well: Merckx and Sánchez were even in the first half of their match, then the Belgian found another gear. Jaspers had the better start against Myung Woo Cho, and protected his early ten point lead all through the match.
The final, between two of the toughest characters in billiards, was unspectacular in terms of average or high runs, but classy nevertheless. Jaspers made fewer mistakes, Merckx had a few truly unlucky moments. It resulted in a 40 – 30 in 21 win for the world number one, who can confidently travel to Randers, where the world title is at stake.

Back