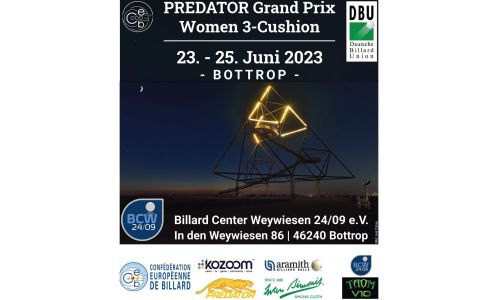 06/21/2023
Everything is ready for the second Predator Grand Prix Women 3-Cushion in Bottrop, Germany.
The billiard club BC Weywiesen 24/9 e.V. is hosting this competition in its premises starting from Friday 23rd to Sunday 25th.
The number of participations of women athletes is again a sign of the success of this initiative of the CEB mainly supported by Predator. CEB partners (Simonis, Aramith and Taom) together with the organizing club and DBU (German federation) also contributed to the realization of this event.
The final standings will assign points in the CEB 3C Ladies Ranking. In order to make it even more exciting CEB has already decided that the best two athletes in the CEB 3C Ladies ranking at the end of the current sport season will be awarded with a Wild Card for the European Championship Individual of the next sport season.
27 top women athletes will take place in this Grand Prix.
The competition will start on Friday morning at 9.30 with qualifications groups. Two full days will be needed to decide the qualification final ranking and the 8 qualified to next round (7 group winners and 1 best runner up). On Sunday the final round will be on the stage for the quarter finals (9:30), semifinals (12:30) and the final scheduled at 16:00.
Kozoom will broadcast the event.
All results will be published on the CEB info page.
Follow the CEB Facebook page.

Back