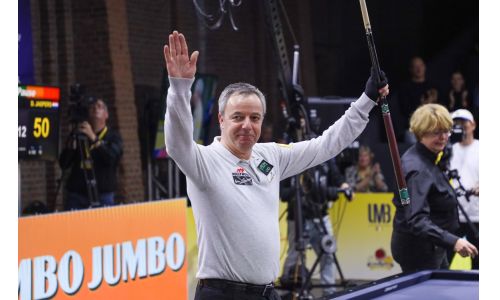 10/23/2023
The fourth UMB World Cup in 2023 is already at its second day in Veghel, The Netherlands. The first PPPQ round has gone and PPQ are ongoing today.
The last 32 main tournament is scheduled on Thursday 26th, KO rounds will take place on 27th and 28th. Afreeca TV is live-streaming the whole event.
Dick Jaspers performed an high class tournament in front of his own crowd: he set a new average record for a World Cup final match to 50 points: 50-22 in 12 innings (4,166) against the German Martin Horn.
Dick's general average was astonishing too: 2,480.
Thirds on the podium Eddy Merckx and Jean Paul De Bruijn. Best run by Nikos Polychronopoulos: 25.
Zanetti, who did not qualify to the KO rounds, lost the first place of the UMB ranking by one single point to the Korean Myung Woo Cho.
Two more World Cups yet to played in 2023: Seoul and Sharm El-Sheikh
Read more on UMB Website (results, live score, live streaming) -- UMB WEBSITE

Back