European Championship 1-Cushion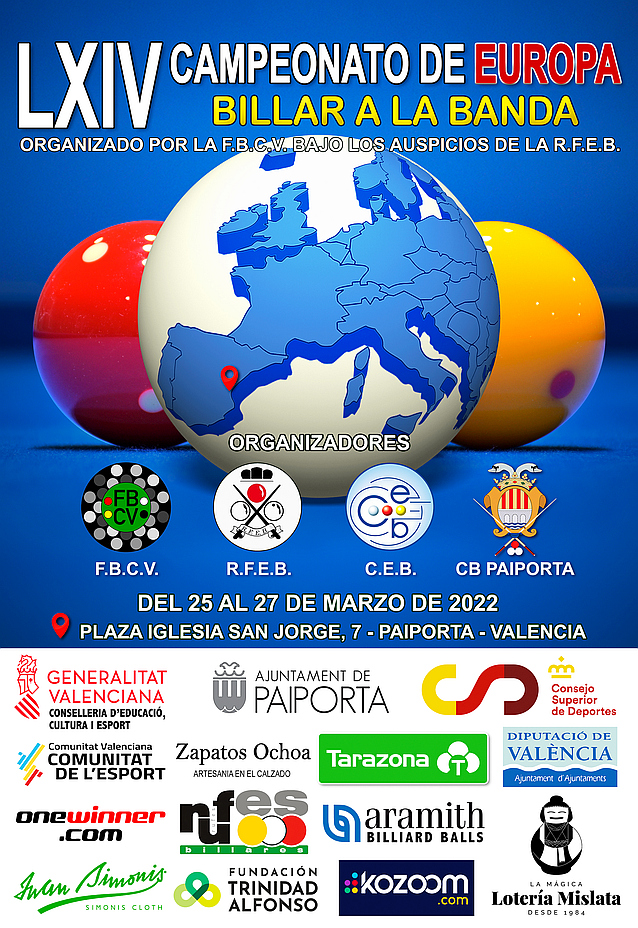 Organized by
Real Federacion Española de Billar
Tournament director
Mr.Francisco Tallón
Referee chief of the event: Mr.Vicente López
Event dates
25-03-2022 00:00 - 27-03-2022 23:59
Registration dates
25-01-2022 00:00 - 18-02-2022 23:59
Dresscode
See art. 19 - 20 CEB Basic Concepts of the Sporting Program
Rules
Note: Due to the high number of registrations from the same nations, it is impossible to prevent the allocation of players of the same nationality in the same groups. For this reason, it was decided to strictly apply the Z-system in the formation of groups as defined by the CEB regulations, no deviations will be applied. In groups with two players of the same nationality these two players will play first group match.
Material
Simonis 300 Rapid
Balls
Super Aramith Pro-Cup Prestige
Registrations
By National Federation.
Due to the pandemic CEB Board exceptionally decided to change deadlines for opening and closing of registrations for this competition as follows:
- Opening of registrations: 8 weeks before the start of the competition.
- Closing of registrations: 5 weeks before the start of the competition.
DISCLAIMER
Although the risk of cancellation of these events, in these COVID-19 times, is almost neglectable, CEB nor the organizers assume any liability and cannot be held responsible for any costs or damages, concerning the booking of flights and accommodation or other, related to the participation to these events. It is the sole responsibility of the traveler/participant to be properly insured.
Distance
Group games: 100 points
Final rounds: 120 points
Placed sportsmen
Dave Christiani (NL): Title holder (to be confirmed by KNBB)
Sports promotion price
1° € 2000,00
2° € 1000,00
3°-3° € 750,00
5°-8° € 500,00
Location
CLUB BILLAR PAIPORTA
Address
Plaza La Iglesia 7
Player
Registration
Status
Position
Player
Status
Comment
10
GERASSIMOPOULOS Nikolaos (GR)
13
LE DEVENTEC Gregory (FR)
17
FLORENT Jean-françois (FR)
Group
Position
Player
Level
A
1
2
3

CHRISTIANI Dave (NL)
BAUDOIN Bernard (FR)
FLORENT Jean-françois (FR)

B
1
2

FAUS Marek (CZ)
ALBERT José (ES)

C
1
2

KAHOFER Arnim (AT)
ARNAU Ricard (ES)

D
1
2
3

GERIMONT Willy (FR)
LE DEVENTEC Gregory (FR)
GARCES Carmelo (ES)

E
1
2
3

DASKE Sven (DE)
JUSTICE Jacky (FR)
ESPINASA Joan (ES)

F
1
2
3

PETIT Johann (FR)
JANSSEN Marteen (BE)
VILLIERS Bernard (FR)

G
1
2
3

REMOND Alain (FR)
GERASSIMOPOULOS Nikolaos (GR)
GIRARD Johann (FR)

H
1
2
3

LEROY Xavier (FR)
CUENCA Raul (ES)
MATA Esteve (ES)

Date
Match N°
Billard N°
Level
Group
Participant
Match points
Points
Innings
Average
Best run
25-03-2022 09:30
1
1
Qualifications
A
BAUDOIN Bernard
FLORENT Jean-françois
25-03-2022 09:30
2
4
Qualifications
D
GERIMONT Willy
LE DEVENTEC Gregory
25-03-2022 12:00
3
1
Qualifications
E
JUSTICE Jacky
ESPINASA Joan
25-03-2022 12:00
4
2
Qualifications
F
PETIT Johann
VILLIERS Bernard
25-03-2022 12:00
5
3
Qualifications
G
REMOND Alain
GIRARD Johann
25-03-2022 12:00
6
4
Qualifications
H
25-03-2022 16:00
7
1
Qualifications
D
GARCES Carmelo
LE DEVENTEC Gregory
25-03-2022 16:00
8
2
Qualifications
A
CHRISTIANI Dave
FLORENT Jean-françois
25-03-2022 16:00
9
3
Qualifications
B
25-03-2022 16:00
10
4
Qualifications
C
KAHOFER Arnim
ARNAU Ricard
25-03-2022 18:00
11
1
Qualifications
H
25-03-2022 18:00
12
2
Qualifications
E
25-03-2022 18:00
13
3
Qualifications
F
JANSSEN Marteen
VILLIERS Bernard
25-03-2022 18:00
14
4
Qualifications
G
GERASSIMOPOULOS Nikolaos
GIRARD Johann
26-03-2022 10:00
15
1
Qualifications
C
ARNAU Ricard
KAHOFER Arnim
26-03-2022 10:00
16
2
Qualifications
D
GARCES Carmelo
GERIMONT Willy
26-03-2022 10:00
17
3
Qualifications
A
CHRISTIANI Dave
BAUDOIN Bernard
26-03-2022 10:00
18
4
Qualifications
B
26-03-2022 12:00
19
1
Qualifications
G
GERASSIMOPOULOS Nikolaos
REMOND Alain
26-03-2022 12:00
20
2
Qualifications
H
26-03-2022 12:00
21
3
Qualifications
E
26-03-2022 12:00
22
4
Qualifications
F
JANSSEN Marteen
PETIT Johann
26-03-2022 16:00
23
1
1/4 finals
LAST 8
26-03-2022 16:00
26
3
1/4 finals
LAST 8
PETIT Johann
BAUDOIN Bernard
26-03-2022 18:30
24
1
1/4 finals
LAST 8
GERIMONT Willy
GERASSIMOPOULOS Nikolaos
26-03-2022 18:30
25
3
1/4 finals
LAST 8
ESPINASA Joan
LEROY Xavier
27-03-2022 10:30
27
1
1/2 finals
SEMIFINALS
KAHOFER Arnim
GERASSIMOPOULOS Nikolaos
27-03-2022 10:30
28
3
1/2 finals
SEMIFINALS
LEROY Xavier
BAUDOIN Bernard
27-03-2022 16:00
29
3
Final
FINAL
KAHOFER Arnim
BAUDOIN Bernard
Place
Participant
Match points
Points
Innings
Average
Best run
Best average
1
BAUDOIN Bernard (FR)
10
560
83
6.74
32
7.69
2
KAHOFER Arnim (AT)
8
552
72
7.66
44
10.90
3
LEROY Xavier (FR)
6
434
65
6.67
43
7.50
4
GERASSIMOPOULOS Nikolaos (GR)
6
374
67
5.58
38
7.05
5
GERIMONT Willy (FR)
4
320
48
6.66
54
11.11
6
PETIT Johann (FR)
3
313
48
6.52
35
9.09
7
ESPINASA Joan (ES)
3
302
39
7.74
26
12.50
8
FAUS Marek (CZ)
2
217
36
6.02
38
10.00
9
JANSSEN Marteen (BE)
2
168
28
6.00
28
5.88
10
CUENCA Raul (ES)
2
197
33
5.96
32
5.88
11
ALBERT José (ES)
2
147
25
5.88
21
6.66
12
REMOND Alain (FR)
2
172
32
5.37
29
6.25
13
LE DEVENTEC Gregory (FR)
2
194
40
4.85
24
5.55
14
JUSTICE Jacky (FR)
2
156
40
3.90
34
4.00
15
CHRISTIANI Dave (NL)
1
192
22
8.72
36
11.11
16
ARNAU Ricard (ES)
0
108
24
4.50
16
17
FLORENT Jean-françois (FR)
1
192
25
7.68
31
11.11
18
DASKE Sven (DE)
1
184
33
5.57
61
12.50
19
VILLIERS Bernard (FR)
1
195
37
5.27
29
5.00
20
GIRARD Johann (FR)
0
134
31
4.32
26
21
MATA Esteve (ES)
0
130
31
4.19
21
22
GARCES Carmelo (ES)
0
40
27
1.48
6