European Championship Cadre 47/2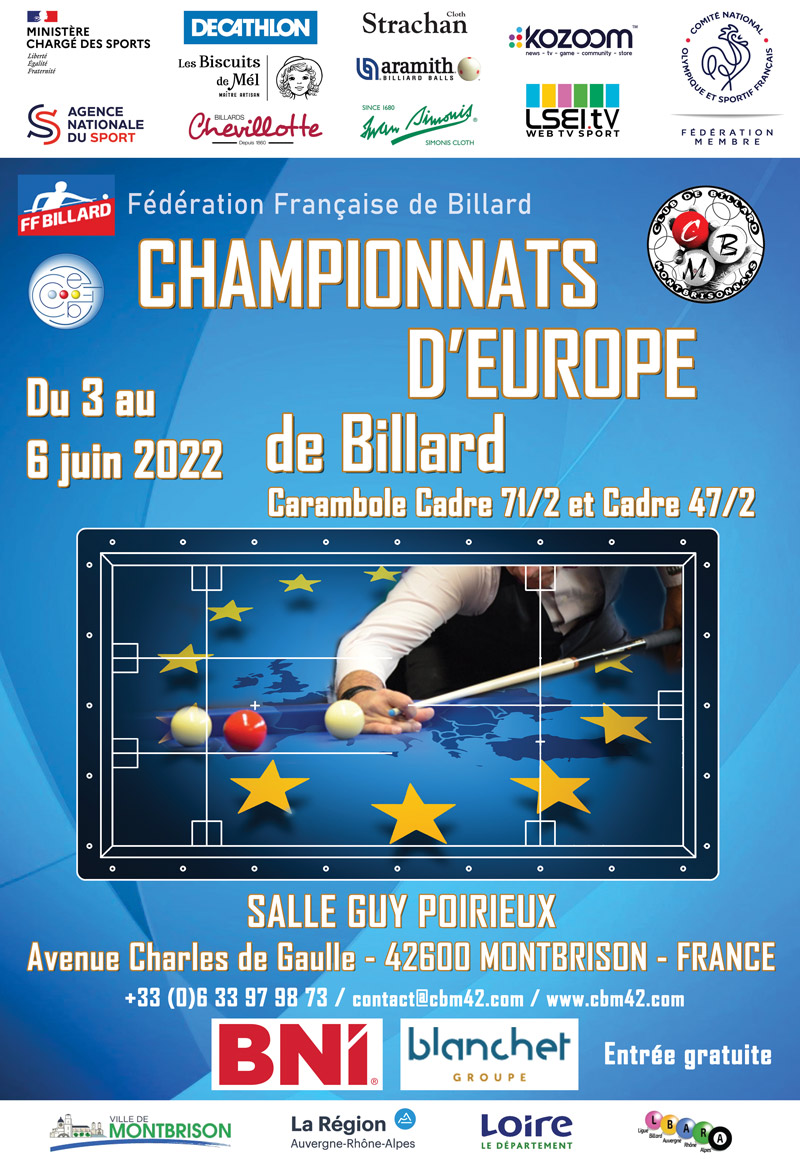 Organized by
Fédération Française de Billard
Delegate
GUIRAUD Jean-pierre
Tournament director
Mr. Jean-Claude Hogg
Mr. Louis Loron
Event dates
05-06-2022 00:00 - 06-06-2022 23:59
Registration dates
07-04-2022 00:00 - 29-04-2022 23:59
Dresscode
See art. 19 - 20 CEB Basic Concepts of the Sporting Program
Material
Simonis 300 Rapid
Balls
Super Aramith Tournament
Registrations
By National Federations.
Title holder: Xavier Gretillat (CH)
DISCLAIMER
Although the risk of cancellation of these events, in these COVID-19 times, is almost neglectable, CEB nor the organizers assume any liability and cannot be held responsible for any costs or damages, concerning the booking of flights and accommodation or other, related to the participation to these events. It is the sole responsibility of the traveler/participant to be properly insured.
Sports promotion price
1° - € 2000
2° - € 1000
3°/3° - € 750
5°/8° - € 500
Location
Salle Guy Poirieux
Address
Avenue Charles de Gaulle
Hôtels
- Marytel *** 95, rue de Lyon 42600 Savigneux
Tél.+33(0)477587200 Mail : contact@hotel-marytel.com
- Les Etoiles du Forez ** zac de Crémérieux – rue métiers 42600 Savigneux
Tél. +33(0)477960096 Mail : contact@lesetoilesduforez.com
Prix préférentiels pour les 2 hôtels, sur présentation de la licence
Player
Registration
Status
Position
Player
Status
Comment
1
GERIMONT Willy (FR)
Ranking 1
2
SWERTZ Raymund (NL)
Ranking 2
3
FAUS Marek (CZ)
1st federation - 3
4
GERASSIMOPOULOS Nikolaos (GR)
1st federation - 5
5
KAHOFER Arnim (AT)
Ranking 6
6
DASKE Sven (DE)
1st federation - 9
7
CUENCA Raul (ES)
1st federation - 10
8
NIESSEN Patrick (BE)
Ranking 11
9
FLORENT Jean-françois (FR)
Ranking 13
10
DESSAINT Pascal (FR)
Ranking 15
11
DEZILES LEGROS Benoit (FRA)
Ranking 16
12
GIACOMINI Vincent (CHE)
1st federation -18
13
DUPONT Patrick (FR)
Ranking 20
14
CEROVSEK Gerold (AT)
1st federation - 22
15
VEDRAL Martin (CZ)
Ranking 24
16
MARTORY Pierre (FR)
Ranking 28
17
PETIT Johann (FR)
Ranking 29
18
PÖTHER Christian (DE)
Ranking 30
19
VAN BOCHEM Micha (NL)
Ranking 34
20
VELDHUIZEN Gert-jan (NLD)
1st federation - 80
21
DERAES Philippe (BE)
1st federation - 0
22
ZOPPI Cedric (FR)
Organizer - 0
23
LIPSCHER Otto (HU)
1st federation - 0
24
FLORENT Julien (FR)
1st federation - 0
Reserve 1
JACQUET David (FR)
Reserve
Reserve - Ranking 37
Reserve 2
RIEDEL Arndt (DE)
Reserve
Reserve - Ranking 38
Reserve 3
CAREAUX Olivier (FR)
Reserve
Reserve - Ranking 54
Reserve 4
BAYET Benoit (FR)
Reserve
Reserve - Ranking 62
Reserve 5
DJOUBRI Brahim (FR)
Reserve
Reserve - Ranking 73
Reserve 6
ZAHNER Franck (FRA)
Reserve
Reserve - Ranking 78
Reserve 7
MARCHAL Julian (France)
Reserve
Reserve - Ranking 86
Reserve 8
CASTANER Eric (FRA)
Reserve
Reserve - Ranking 0
Group
Position
Player
Level
A
1
2
3

GERIMONT Willy (FR)
MARTORY Pierre (FR)
PÖTHER Christian (DE)

B
1
2
3

SWERTZ Raymund (NL)
VEDRAL Martin (CZ)
PETIT Johann (FR)

C
1
2
3

FAUS Marek (CZ)
CEROVSEK Gerold (AT)
VAN BOCHEM Micha (NL)

D
1
2
3

GERASSIMOPOULOS Nikolaos (GR)
DUPONT Patrick (FR)
VELDHUIZEN Gert-jan (NLD)

E
1
2
3

KAHOFER Arnim (AT)
GIACOMINI Vincent (CHE)
DERAES Philippe (BE)

F
1
2
3

DASKE Sven (DE)
DEZILES LEGROS Benoit (FRA)
ZOPPI Cedric (FR)

G
1
2
3

CUENCA Raul (ES)
DESSAINT Pascal (FR)
LIPSCHER Otto (HU)

H
1
2
3

NIESSEN Patrick (BE)
FLORENT Jean-françois (FR)
FLORENT Julien (FR)

Date
Match N°
Billard N°
Level
Group
Participant
Match points
Points
Innings
Average
Best run
05-06-2022 09:00
1
4
Qualifications
H
FLORENT Jean-françois
FLORENT Julien
05-06-2022 09:00
2
3
Qualifications
G
DESSAINT Pascal
LIPSCHER Otto
05-06-2022 09:00
3
2
Qualifications
F
DEZILES LEGROS Benoit
ZOPPI Cedric
05-06-2022 09:00
4
1
Qualifications
E
GIACOMINI Vincent
DERAES Philippe
05-06-2022 11:00
5
4
Qualifications
D
DUPONT Patrick
VELDHUIZEN Gert-jan
05-06-2022 11:00
6
3
Qualifications
C
CEROVSEK Gerold
VAN BOCHEM Micha
05-06-2022 11:00
7
2
Qualifications
B
VEDRAL Martin
PETIT Johann
05-06-2022 11:00
8
1
Qualifications
A
GERIMONT Willy
MARTORY Pierre
05-06-2022 13:00
9
4
Qualifications
H
NIESSEN Patrick
FLORENT Jean-françois
05-06-2022 13:00
10
3
Qualifications
G
CUENCA Raul
LIPSCHER Otto
05-06-2022 13:00
11
2
Qualifications
F
05-06-2022 13:00
12
1
Qualifications
E
KAHOFER Arnim
GIACOMINI Vincent
05-06-2022 15:00
13
4
Qualifications
D
GERASSIMOPOULOS Nikolaos
DUPONT Patrick
05-06-2022 15:00
14
3
Qualifications
C
FAUS Marek
CEROVSEK Gerold
05-06-2022 15:00
15
2
Qualifications
B
SWERTZ Raymund
VEDRAL Martin
05-06-2022 15:00
16
1
Qualifications
A
PÖTHER Christian
GERIMONT Willy
05-06-2022 17:00
17
4
Qualifications
H
NIESSEN Patrick
FLORENT Julien
05-06-2022 17:00
18
3
Qualifications
G
CUENCA Raul
DESSAINT Pascal
05-06-2022 17:00
19
2
Qualifications
F
DASKE Sven
DEZILES LEGROS Benoit
05-06-2022 17:00
20
1
Qualifications
E
KAHOFER Arnim
DERAES Philippe
05-06-2022 19:00
21
4
Qualifications
D
GERASSIMOPOULOS Nikolaos
VELDHUIZEN Gert-jan
05-06-2022 19:00
22
3
Qualifications
C
FAUS Marek
VAN BOCHEM Micha
05-06-2022 19:00
23
2
Qualifications
B
SWERTZ Raymund
PETIT Johann
05-06-2022 19:00
24
1
Qualifications
A
PÖTHER Christian
MARTORY Pierre
06-06-2022 09:00
25
1
1/4 finals
LAST 8
KAHOFER Arnim
NIESSEN Patrick
06-06-2022 09:00
26
2
1/4 finals
LAST 8
CUENCA Raul
GERASSIMOPOULOS Nikolaos
06-06-2022 09:00
27
3
1/4 finals
LAST 8
SWERTZ Raymund
DASKE Sven
06-06-2022 09:00
28
4
1/4 finals
LAST 8
FAUS Marek
MARTORY Pierre
06-06-2022 11:00
29
1
1/2 finals
SEMIFINAL
NIESSEN Patrick
CUENCA Raul
06-06-2022 11:00
30
3
1/2 finals
SEMIFINAL
SWERTZ Raymund
FAUS Marek
06-06-2022 14:00
31
1
Final
FINAL
CUENCA Raul
SWERTZ Raymund
Place
Participant
Match points
Points
Innings
Average
Best run
Best average
1
SWERTZ Raymund (NL)
10
1150
11
104.54
250
250.00
2
CUENCA Raul (ES)
8
1117
29
38.51
182
62.50
3
NIESSEN Patrick (BE)
4
718
17
42.23
225
83.33
4
FAUS Marek (CZ)
6
650
9
72.22
211
100.00
5
DASKE Sven (DE)
4
639
16
39.93
239
66.66
6
KAHOFER Arnim (AT)
4
609
8
76.12
191
100.00
7
GERASSIMOPOULOS Nikolaos (GR)
4
605
17
35.58
200
200.00
8
MARTORY Pierre (FR)
4
425
23
18.47
139
25.00
9
FLORENT Jean-françois (FR)
2
246
4
61.50
200
200.00
10
PETIT Johann (FR)
2
275
6
45.83
121
40.00
11
VELDHUIZEN Gert-jan (NLD)
2
230
7
32.85
99
33.33
12
VAN BOCHEM Micha (NL)
2
280
12
23.33
67
22.22
13
DESSAINT Pascal (FR)
2
265
13
20.38
101
25.00
14
DERAES Philippe (BE)
2
281
14
20.07
81
18.18
15
GERIMONT Willy (FR)
2
279
15
18.60
177
66.66
16
DEZILES LEGROS Benoit (FRA)
1
205
9
22.77
163
33.33
17
FLORENT Julien (FR)
2
223
6
37.16
126
66.66
18
ZOPPI Cedric (FR)
1
272
18
15.11
97
33.33
19
VEDRAL Martin (CZ)
0
267
10
26.70
72
20
GIACOMINI Vincent (CHE)
0
130
13
10.00
48
21
PÖTHER Christian (DE)
0
97
11
8.81
28
22
DUPONT Patrick (FR)
0
149
18
8.27
32
23
CEROVSEK Gerold (AT)
0
72
11
6.54
17
24
LIPSCHER Otto (HU)
0
46
15
3.06
12