European Championship Libre Ladies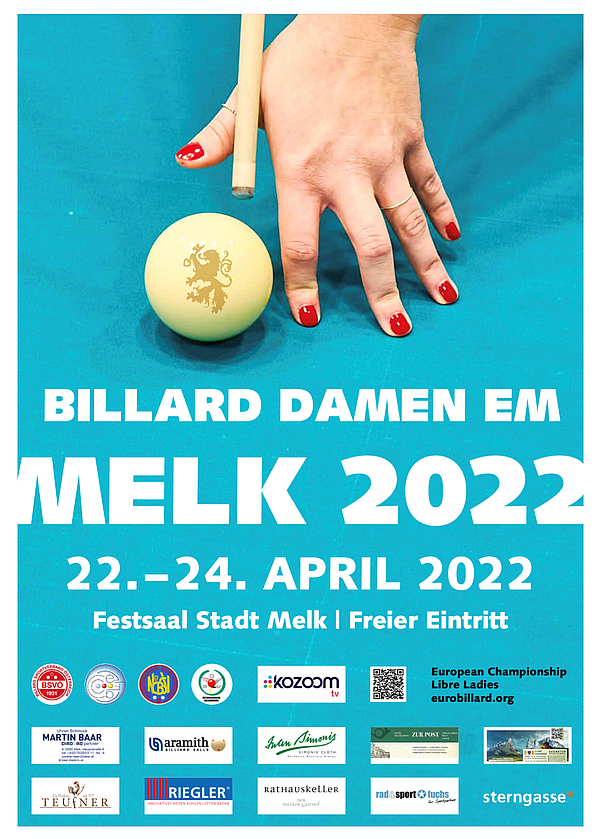 Organized by
Billard Sportverband Österreich
Event dates
22-04-2022 00:00 - 24-04-2022 23:59
Registration dates
24-02-2022 00:00 - 14-03-2022 23:59
Material
Simonis 300 Rapid
Balls
Super Aramith Tournament
Registrations
By National Federations.
Deadline delayed by 1 day following a request of the organizers.
Due to the pandemic CEB Board exceptionally decided to change deadlines for opening and closing of registrations for this competition as follows:
- Opening of registrations: 8 weeks before the start of the competition.
- Closing of registrations: 5 weeks before the start of the competition.
DISCLAIMER
Although the risk of cancellation of these events, in these COVID-19 times, is almost neglectable, CEB nor the organizers assume any liability and cannot be held responsible for any costs or damages, concerning the booking of flights and accommodation or other, related to the participation to these events. It is the sole responsibility of the traveler/participant to be properly insured.
Sports promotion price
1° - € 800,00
2° - € 400,00
3°/3° - € 250
Informations
Airport Linz or Vienna
106 or 116 km Taxi, Bus, Train
Hotel zur Post Linzerstr. 2, 3390 Melk
Hotel Wachauerhof, Wienerstr. 30, 3390 Melk
Player
Registration
Status
Position
Player
Status
Comment
4
STENGEL-PONSING Susanne (DE)
Group
Position
Player
Level
FINAL
1
2
3
4
5
6
7
8

DECLUNDER Magali (FR)
MATTHYS Karolien (BE)
VAN EXTER Monique (NL)
STENGEL-PONSING Susanne (DE)
WILLEMSE Christel (NL)
HINGERL Heike (AT)
SIMULAK Silvia (AUT)
SCHOLZE Petra (AT)

Date
Match N°
Billard N°
Level
Group
Participant
Match points
Points
Innings
Average
Best run
22-04-2022 10:00
1
1
Final
FINAL
STENGEL-PONSING Susanne
HINGERL Heike
22-04-2022 10:00
2
2
Final
FINAL
DECLUNDER Magali
SCHOLZE Petra
22-04-2022 10:00
3
3
Final
FINAL
MATTHYS Karolien
WILLEMSE Christel
22-04-2022 12:00
4
1
Final
FINAL
STENGEL-PONSING Susanne
SCHOLZE Petra
22-04-2022 12:00
5
2
Final
FINAL
MATTHYS Karolien
HINGERL Heike
22-04-2022 12:00
6
3
Final
FINAL
VAN EXTER Monique
SIMULAK Silvia
22-04-2022 15:00
7
1
Final
FINAL
VAN EXTER Monique
WILLEMSE Christel
22-04-2022 15:00
8
2
Final
FINAL
DECLUNDER Magali
SIMULAK Silvia
22-04-2022 15:00
9
3
Final
FINAL
MATTHYS Karolien
STENGEL-PONSING Susanne
22-04-2022 17:00
10
1
Final
FINAL
DECLUNDER Magali
HINGERL Heike
22-04-2022 17:00
11
2
Final
FINAL
VAN EXTER Monique
SCHOLZE Petra
22-04-2022 17:00
12
3
Final
FINAL
WILLEMSE Christel
SIMULAK Silvia
23-04-2022 12:00
13
1
Final
FINAL
MATTHYS Karolien
VAN EXTER Monique
23-04-2022 12:00
14
2
Final
FINAL
STENGEL-PONSING Susanne
SIMULAK Silvia
23-04-2022 12:00
15
3
Final
FINAL
HINGERL Heike
SCHOLZE Petra
23-04-2022 14:00
16
1
Final
FINAL
MATTHYS Karolien
SIMULAK Silvia
23-04-2022 14:00
17
2
Final
FINAL
DECLUNDER Magali
WILLEMSE Christel
23-04-2022 14:00
18
3
Final
FINAL
VAN EXTER Monique
HINGERL Heike
23-04-2022 17:00
19
1
Final
FINAL
WILLEMSE Christel
SCHOLZE Petra
23-04-2022 17:00
20
2
Final
FINAL
HINGERL Heike
SIMULAK Silvia
23-04-2022 17:00
21
3
Final
FINAL
DECLUNDER Magali
STENGEL-PONSING Susanne
24-04-2022 10:00
22
1
Final
FINAL
STENGEL-PONSING Susanne
WILLEMSE Christel
24-04-2022 10:00
23
2
Final
FINAL
MATTHYS Karolien
SCHOLZE Petra
24-04-2022 10:00
24
3
Final
FINAL
DECLUNDER Magali
VAN EXTER Monique
24-04-2022 12:00
25
1
Final
FINAL
SIMULAK Silvia
SCHOLZE Petra
24-04-2022 12:00
26
2
Final
FINAL
WILLEMSE Christel
HINGERL Heike
24-04-2022 14:00
27
1
Final
FINAL
DECLUNDER Magali
MATTHYS Karolien
24-04-2022 14:00
28
2
Final
FINAL
VAN EXTER Monique
STENGEL-PONSING Susanne
Place
Participant
Match points
Points
Innings
Average
Best run
Best average
1
DECLUNDER Magali (FR)
12
995
13
76.53
150
150.00
2
MATTHYS Karolien (BE)
12
948
53
17.88
150
150.00
3
STENGEL-PONSING Susanne (DE)
10
852
54
15.77
150
150.00
4
WILLEMSE Christel (NL)
8
827
73
11.32
81
21.42
5
VAN EXTER Monique (NL)
6
672
39
17.23
103
37.50
6
HINGERL Heike (AT)
6
605
86
7.03
63
12.50
7
SIMULAK Silvia (AUT)
2
221
90
2.45
12
1.80
8
SCHOLZE Petra (AT)
0
138
74
1.86
11