European Championship Artistic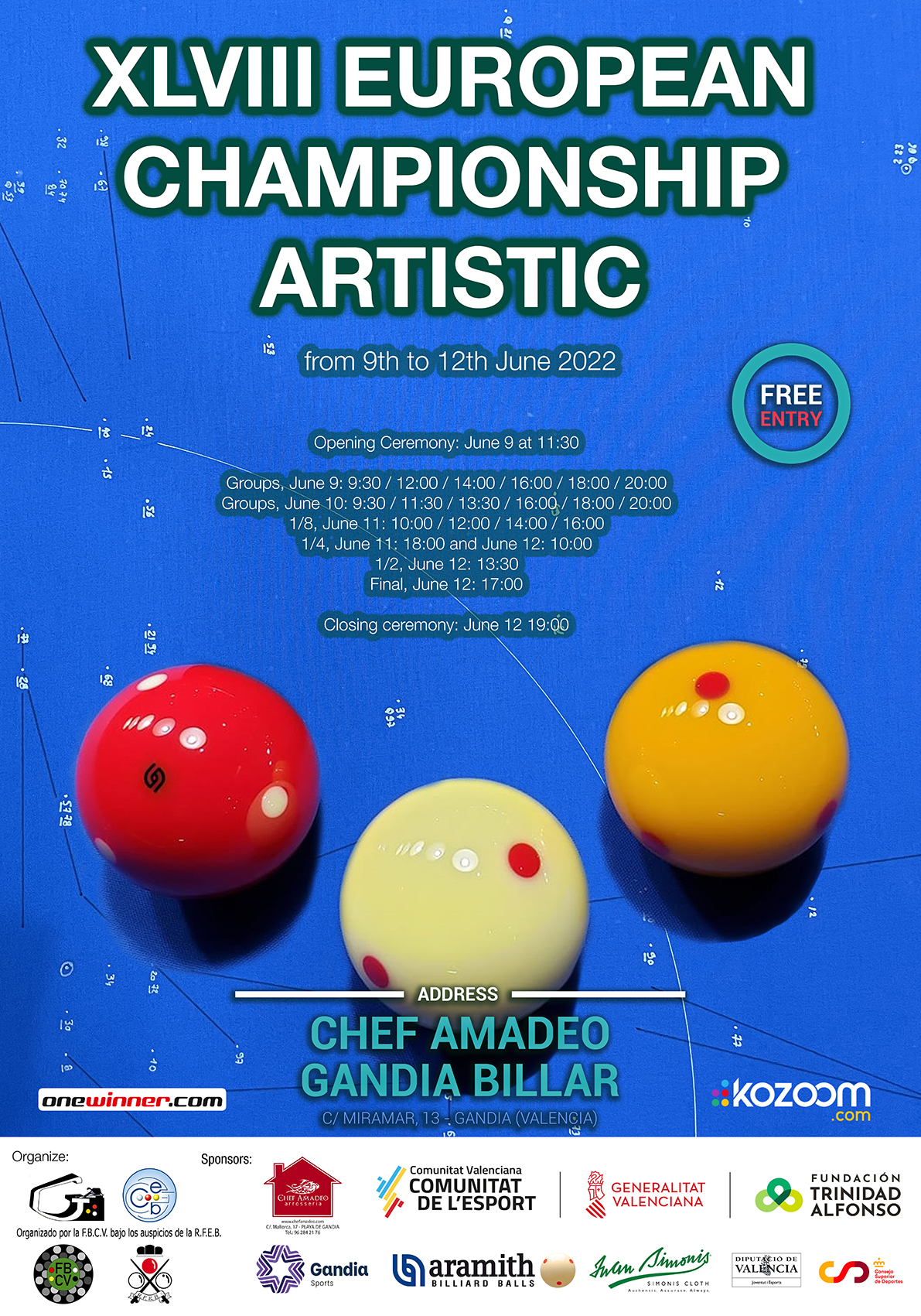 Organized by
Real Federacion Española de Billar
Tournament director
TOURNAMENT DIRECTOR: MR. FRANCISCO HERNÁNDEZ HERNÁNDEZ Tel.: +34637994425
CHIEF REFEREES: MR. GREGORIO ALONSO Tel.: +34606116301
Event dates
09-06-2022 00:00 - 12-06-2022 23:59
Registration dates
06-04-2022 00:00 - 04-05-2022 23:59
Time Schedule
Opening ceremony: June 9th 11:30

Groups, June 9th: 9:30 / 12:00 / 14:00 / 16:00 / 18:00 / 20:00
Groups, June 10th: 9:30 / 11:30 / 13:30 / 16:00 / 18:00 / 20:00
1/8, June 11th: 10:00 (1vs16 & 8vs9) / 12:00 (4vs13 & 5vs12) / 14:00 (3vs14 & 6vs11) / 16:00 (7vs10 & 2vs15)
1/4, June 11th: 18:00 (winners 1-16 & 8-9 / winners 4-13 & 5-12) and June 12th: 10:00 (winners 3-14 & 6-11 / winners 7-10 & 2-15)
1/2, June 12th: 13:30
Final, June 12th: 17:00

Closing ceremony: June 12th 19:00
Dresscode
See art. 19 - 20 CEB Basic Concepts of the Sporting Program
Material
Simonis 300 Rapid
Balls
Super Aramith Pro-Cup Prestige
Registrations
By national federations.
Title holder: VIJVERBERG Erik (NL) - To be confirmed by National Federation.
CEB Ranking Artistic 24-3-2022
DISCLAIMER
Although the risk of cancellation of these events, in these COVID-19 times, is almost neglectable, CEB nor the organizers assume any liability and cannot be held responsible for any costs or damages, concerning the booking of flights and accommodation or other, related to the participation to these events. It is the sole responsibility of the traveler/participant to be properly insured.
Sports promotion price
1° - € 2000
2° - € 1000
3°/3° - € 750
5°/8° - € 500
Location
GANDÍA BILLAR CLUB
Address
C/Miramar, 13 B Bajo
Informations
Javier Muñoz Bataller (Secretario GBC y Pte.FBCV) 610209765
email:mubaja@gmail.com
Player
Registration
Status
Position
Player
Status
Comment
1
VIJVERBERG Erik (NL)
Title Holder
2
HAMMEN Michaël (FR)
ranking 1
3
REVERCHON Jean (FR)
ranking 2
4
FONELLOSA Xavier (ES)
1st federation - 3
5
DERICKS René (NL)
ranking 5
6
CIN Baris (TR)
1st federation - 6
7
VERVLIET Erik (BE)
1st federation - 7
8
TRAN Kevin (FR)
ranking 8
9
BAX Walter (BE)
ranking 9
10
AHRENS Thomas (DE)
ranking 10
11
CUADRADO Hector (ES)
ranking 11
12
SANCHEZ Sergio (ES)
ranking 12
13
GUMUS Serdar (TR)
ranking 13
14
DAELMAN Eric (BE)
ranking 14
15
HEINRICH Marvin (DE)
1st federation - 15
16
KELLER David (HU)
ranking 16
17
SINGER Bernd (DE)
ranking 17
18
JONEN Sander (NL)
ranking 18
19
DE JONG Jop (NL)
1st federation - 19
20
TOTH Laszlo (HU)
1st federation - 20
21
TOURE Madou (FR)
ranking 22
22
HEKERLE Manfred (AT)
1st federation - 23
23
PANIS Bastien (FRA)
1st federation - 24
24
GOMEZ BRAVO Jose manuel (ES)
Organizer - ranking 33
Reserve 1
DAHLKE Ken (AUT)
Reserve
ranking 27 - reserve
Reserve 2
OLIVER Jordi (ES)
Reserve
ranking 32 - reserve
Reserve 3
CREUZOT Patrice (FR)
Reserve
ranking 37 - reserve
Group
Position
Player
Level
A
1
2
3

OLIVER Jordi (ES)
KELLER David (HU)
SINGER Bernd (DE)

B
1
2
3

HAMMEN Michaël (FR)
HEINRICH Marvin (DE)
JONEN Sander (NL)

C
1
2
3

REVERCHON Jean (FR)
DAELMAN Eric (BE)
DE JONG Jop (NL)

D
1
2
3

FONELLOSA Xavier (ES)
GUMUS Serdar (TR)
TOTH Laszlo (HU)

E
1
2
3

DERICKS René (NL)
SANCHEZ Sergio (ES)
TOURE Madou (FR)

F
1
2
3

CIN Baris (TR)
CUADRADO Hector (ES)
HEKERLE Manfred (AT)

G
1
2
3

VERVLIET Erik (BE)
AHRENS Thomas (DE)
PANIS Bastien (FRA)

H
1
2
3

TRAN Kevin (FR)
BAX Walter (BE)
GOMEZ BRAVO Jose manuel (ES)

Date
Match N°
Billard N°
Level
Group
Participant
Match points
Points
Possible points
%
Best run
09-06-2022 09:30
1
1
Qualifications
A
KELLER David
SINGER Bernd
09-06-2022 09:30
2
2
Qualifications
B
HEINRICH Marvin
JONEN Sander
09-06-2022 12:00
3
1
Qualifications
C
09-06-2022 12:00
4
2
Qualifications
D
09-06-2022 14:00
5
1
Qualifications
E
SANCHEZ Sergio
TOURE Madou
09-06-2022 14:00
6
2
Qualifications
F
CUADRADO Hector
HEKERLE Manfred
09-06-2022 16:00
7
1
Qualifications
G
AHRENS Thomas
PANIS Bastien
09-06-2022 16:00
8
2
Qualifications
H
BAX Walter
GOMEZ BRAVO Jose manuel
09-06-2022 18:00
9
1
Qualifications
A
OLIVER Jordi
KELLER David
09-06-2022 18:00
10
2
Qualifications
B
HAMMEN Michaël
JONEN Sander
09-06-2022 20:00
11
1
Qualifications
C
REVERCHON Jean
DAELMAN Eric
09-06-2022 20:00
12
2
Qualifications
D
FONELLOSA Xavier
TOTH Laszlo
10-06-2022 09:30
13
1
Qualifications
E
DERICKS René
SANCHEZ Sergio
10-06-2022 09:30
14
2
Qualifications
F
CIN Baris
CUADRADO Hector
10-06-2022 11:30
15
1
Qualifications
G
VERVLIET Erik
PANIS Bastien
10-06-2022 11:30
16
2
Qualifications
H
TRAN Kevin
GOMEZ BRAVO Jose manuel
10-06-2022 13:30
17
1
Qualifications
A
OLIVER Jordi
SINGER Bernd
10-06-2022 13:30
18
2
Qualifications
B
HAMMEN Michaël
HEINRICH Marvin
10-06-2022 16:00
19
1
Qualifications
C
REVERCHON Jean
DE JONG Jop
10-06-2022 16:00
20
2
Qualifications
D
FONELLOSA Xavier
GUMUS Serdar
10-06-2022 18:00
21
1
Qualifications
E
10-06-2022 18:00
22
2
Qualifications
F
CIN Baris
HEKERLE Manfred
10-06-2022 20:00
23
1
Qualifications
G
VERVLIET Erik
AHRENS Thomas
10-06-2022 20:00
24
2
Qualifications
H
11-06-2022 10:00
25
1
1/8 finals
LAST 16
DAELMAN Eric
HEKERLE Manfred
11-06-2022 10:00
26
2
1/8 finals
LAST 16
TRAN Kevin
HAMMEN Michaël
11-06-2022 12:00
27
1
1/8 finals
LAST 16
TOTH Laszlo
VERVLIET Erik
11-06-2022 12:00
28
2
1/8 finals
LAST 16
KELLER David
GOMEZ BRAVO Jose manuel
11-06-2022 14:00
29
1
1/8 finals
LAST 16
CUADRADO Hector
OLIVER Jordi
11-06-2022 14:00
30
2
1/8 finals
LAST 16
PANIS Bastien
DE JONG Jop
11-06-2022 16:00
31
1
1/8 finals
LAST 16
11-06-2022 16:00
32
2
1/8 finals
LAST 16
JONEN Sander
GUMUS Serdar
11-06-2022 18:00
33
0
1/4 finals
LAST 8
11-06-2022 18:00
34
0
1/4 finals
LAST 8
12-06-2022 10:00
35
0
1/4 finals
LAST 8
CUADRADO Hector
DE JONG Jop
12-06-2022 10:00
36
0
1/4 finals
LAST 8
DERICKS René
GUMUS Serdar
12-06-2022 13:30
37
0
1/2 finals
SEMIFINAL
12-06-2022 13:30
38
0
1/2 finals
SEMIFINAL
CUADRADO Hector
DERICKS René
12-06-2022 17:00
39
0
Final
FINAL
TRAN Kevin
CUADRADO Hector
Place
Participant
Match points
Points
Possible points
%
Best run
Best game
1
CUADRADO Hector (ES)
12
911
1350
67.481
79
75.982
2
TRAN Kevin (FR)
8
977
1344
72.693
70
85.046
3
KELLER David (HU)
8
696
1120
62.142
63
61.904
4
DERICKS René (NL)
6
727
1101
66.030
93
81.865
5
GUMUS Serdar (TR)
4
506
872
58.027
60
72.727
6
DE JONG Jop (NL)
4
573
845
67.810
81
82.777
7
DAELMAN Eric (BE)
6
519
847
61.275
85
67.605
8
TOTH Laszlo (HU)
6
538
878
61.275
60
77.884
9
HAMMEN Michaël (FR)
2
446
634
70.347
55
71.497
10
VERVLIET Erik (BE)
2
411
608
67.598
85
75.789
11
JONEN Sander (NL)
4
421
623
67.576
52
66.995
12
PANIS Bastien (FRA)
4
333
599
55.592
32
54.285
13
OLIVER Jordi (ES)
2
362
623
58.105
69
55.868
14
TOURE Madou (FR)
2
372
600
62.000
72
65.789
15
GOMEZ BRAVO Jose manuel (ES)
2
338
587
57.580
39
61.621
16
HEKERLE Manfred (AT)
2
265
598
44.314
23
47.142
17
SANCHEZ Sergio (ES)
2
263
397
66.246
72
67.942
18
BAX Walter (BE)
2
234
389
60.154
39
69.483
19
HEINRICH Marvin (DE)
0
249
391
63.682
52
20
REVERCHON Jean (FR)
0
262
414
63.285
53
21
FONELLOSA Xavier (ES)
0
241
408
59.068
32
22
CIN Baris (TR)
0
231
410
56.341
94
23
AHRENS Thomas (DE)
0
219
399
54.887
54
24
SINGER Bernd (DE)
0
193
399
48.370
39