BC Kladno 5-Pins Event 2023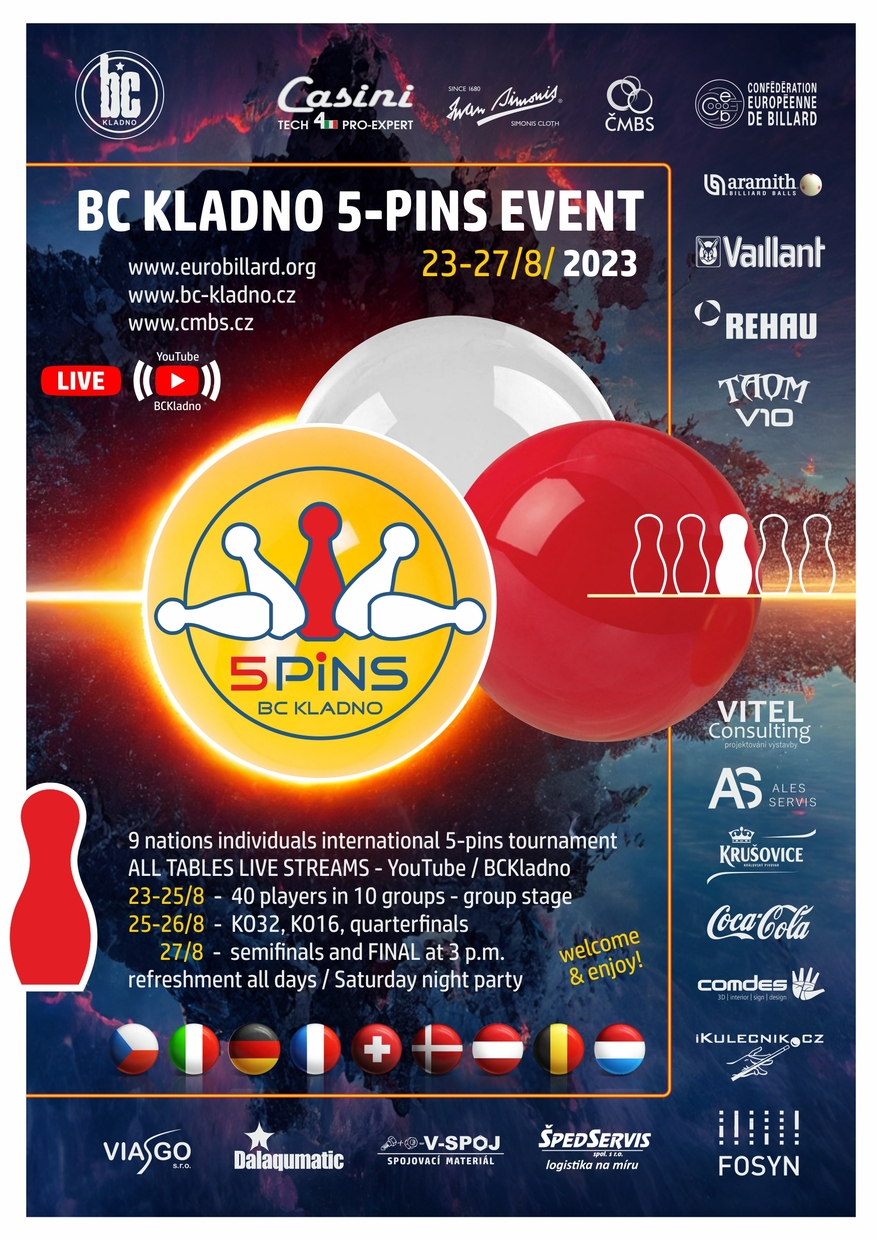 Organized by
Českomoravský billiardový svaz
Delegate
GARAVAGLIA Luca marzio
Event dates
23-08-2023 00:00 - 27-08-2023 23:59
Dresscode
DRESS CODE B. (See art. 19/20 of CEB Basic Concepts)
It's allowed to play only with dress code B.
Dress code B: black shoes, black socks, black suit trousers. A long sleeved polo shirt. The polo shirt must be worn inside the trousers and it's forbidden to roll up the sleeves, it must be clean and in good conditions. For women a polo shirt can be outside trousers, but no body skin should be visible. It is not allowed to wear trousers with studs/chains, side pockets below the thigh, jeans and denim/blue jeans, corduroy material, leather, which have been fashioned in a "jeans style". Shoes: Black dress shoes such as leather are permitted. Sports shoes can be of any leather or cloth material but they must be all black, no white or coloured soles/logos allowed. Socks/tights must be worn and of a dark colour, no skin should be visible on the legs/ankles. Shoes must be clean and in good condition.
Material
Simonis Laser 3.0
Balls
Super Aramith Pro-Cup Prestige
Registrations
Registration Deadline: 30. Jun 2023
Registration is open for all players from federations registered under CEB who, are valid players in their national federation.
Registration (and questions) to this e-mail: bckladnoevent@seznam.cz
Registration is not valid until the fee has been paid.
Detail information for payments will be send after successful registration on mail.
Playing system
40 players in 10 groups of four.
12 players seeded into groups according to CEB national rankings. All federation have a right to register one seeded player until end of May.
Group matches and last 32: best of 3 to 60p.
From last 16 players: best of 5 sets to 60p.
Final: best of 7 sets to 60p.
Depending on the number of registered players minor adjustments might be necessary.
Sports promotion price
Minimum total prize money 3000 EUR
1. Prize 1000 EUR,
2. 700 EUR,
3-4. 350 EUR,
5-8. 150 EUR
Address
Havlíčkova 3084, 27204 Kladno
No registrations for the moment