Coupe d'Europe Classic Teams Qualifications and Finals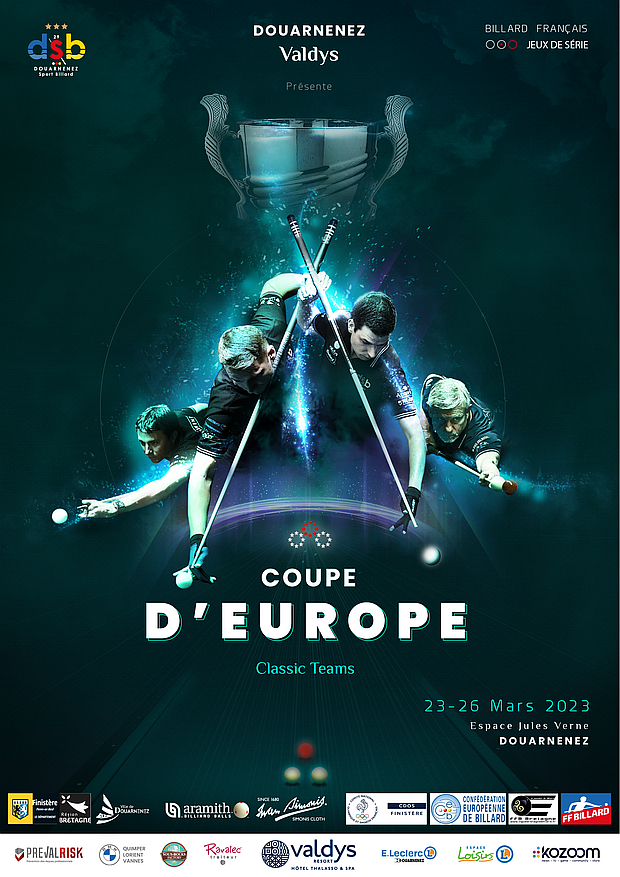 Organized by
Fédération Française de Billard
Event dates
23-03-2023 00:00 - 26-03-2023 23:59
Registration dates
12-01-2023 00:00 - 17-02-2023 23:59
Dresscode
NEW!! - See art. 19 of Basic Concepts: Dress Code B. (Polo shirt etc..)
Material
Simonis 300 Rapid
Balls
Super Aramith Tournament
Registrations
By National Federation
Allowed teams: 8
Priority (max 3 teams for each federation):
1- Title Holder
2- One team registered as first by each federation
3- Other teams registered according to nations results of last Coupe d'Europe Classics Teams.
Distance
Cadre 47/2: 250 points
Cadre 71/2: 200 points
1-Cushion: 120 points
Placed sportsmen
Title Holder: DOUARNENEZ VALDYS (National Federation has to register the Title Holder Team).
Location
Espace Jules Verne
Address
2 rue Jules verne
Informations
Contact:
Florent LE DEVENTEC, communication@dsb29.fr +33661882072
Travel:
At 24 kms, Quimper train station, 1 Place Louis Armand, 29000 Quimper then bus to Douarnenez city center
At 20 kms, Quimper Bretagne Airport, 29700 Pluguffan
At 72 kms, Brest Bretagne Airport, 29490 Guipavas
Chers amis,
Veuillez trouver ci-dessous la liste des hôtels de Douarnenez avec les coordonnées téléphoniques et les liens web. Nous conseillons vivement aux équipes de privilégier notre partenaire Naming Valdys Resort Douarnenez d'autant que la soirée inaugurale se déroulera dans la salle lounge de l'hôtel le 22 mars à 18h00.
Signalez bien que vous participez à la CECT pour bénéficier d'un tarif préférentiel.
Bien à vous
Jacky LE DEVENTEC

Dear friends,
Please find below the list of hotels in Douarnenez with contact details and web links. We strongly advise the teams to favor our partner Naming Valdys Resort Douarnenez, especially since the inaugural evening will take place in the hotel's lounge room on March 22 at 18:00.
Indicate that you participate in the CECT to benefit from a preferential rate.
Kind regards
Jacky LE DEVENTEC
Valdys Resort Douarnenez - GOLDEN TULIP DOUARNENEZ HÔTEL & SPA **** et Hôtel Première Classe ** REMISE 10 % POUR LES PARTICIPANTS A LA CECT
42 Bis Rue Des Professeurs Curie, 29100 Douarnenez
http://www.goldentulip.com/fr/hotels/golden-tulip-douarnenez-hotel-spa
HOTEL DU PORT RHU ** REMISE 10 % POUR LES PARTICIPANTS A LA CECT
99 Avenue de la Gare, 29100 Douarnenez
http://www.hoteldouarnenez.bzh
Hôtel de France - Restaurant l'Insolite ** REMISE 10 % POUR LES PARTICIPANTS A LA CECT
4 Rue Jean Jaurès, 29100 Douarnenez
http://lafrance-dz.com/lhotel/les-chambres
Hôtel des Sables Blancs La Régate ** REMISE 10 % POUR LES PARTICIPANTS A LA CECT
http://www.hoteldessablesblancs.com
Hôtel Le Bretagne **
23 Rue Duguay Trouin, 29100 Douarnenez
Team
Registration
Status
Position
Team
Status
Comment
1
douarnenez Valdys
LE DEVENTEC Gregory 1
SWERTZ Raymund 2
FAUS Marek 3
EDELIN Louis Reserve 4
ZOPPI Cedric Reserve 5
LE DEVENTEC Florent Reserve 6
Title Holder
2
SECCION BILLAR FOMENT MOLINS
GUTIERREZ Antoni 1
TUSET Carlos 2
GOMEZ Alvaro 3
ESPINASA Joan Reserve 4
3
ABC Merklinde
PÖTHER Christian 1
GRIES Roland 2
EGBERS Martijn 3
MELERSKI Markus Reserve 4
KLEIN Klaus Reserve 5
KLÜBER Andreas Reserve 6
4
BC Noorderkempen
VAN HANEGEM Nico 1
SONCK Robby 2
MATHYSEN Ronny 3
DEVOS Johan Reserve 4
MATHYSEN Wesley Reserve 5
5
De Hazelaar
VELDHUIZEN Gert-jan 1
KANTERS Jordy 2
DERICKS Eric 3
DE BRUIJN Jean-paul Reserve 4
6
Billard club du canon d'or de ronchin
FLORENT Jean-françois 1
DJOUBRI Brahim 2
VILLIERS Bernard 3
FLORENT Julien Reserve 4
DORARD Steve Reserve 5
FRéVILLE Pascal Reserve 6
7
Bfr. Sterkrade
NIESSEN Patrick 1
VAN BOCHEM Micha 2
WOIDOWSKI Michael 3
MATUSZAK Uwe Reserve 4
ROSENS Dietmar Reserve 5
8
Billard club Andernosien
GERASSIMOPOULOS Nicolas 1
LEGROS Benoît 2
BAUDOIN Bernard 3
PICART Jérémies Reserve 4
CARRER Xavier Reserve 5
CAHON Jean-claude Reserve 6
Group
Position
Team
Level
A
1
2
3
4

douarnenez Valdys
BC Noorderkempen
De Hazelaar
Bfr. Sterkrade

B
1
2
3
4

SECCION BILLAR FOMENT MOLINS
ABC Merklinde
Billard club du canon d'or de ronchin
Billard club Andernosien

Date
Match N°
Billard N°
Level
Group
Participant
Match points
Game points
Points
Innings
Average
Best run
23-03-2023 10:00
1
Qualifications
A
BC Noorderkempen (BEL)
De Hazelaar (NLD)
23-03-2023 10:00
1
0
Qualifications
A
SONCK Robby
KANTERS Jordy
23-03-2023 10:00
1
0
Qualifications
A
MATHYSEN Ronny
VELDHUIZEN Gert-jan
23-03-2023 10:00
1
0
Qualifications
A
VAN HANEGEM Nico
DERICKS Eric
23-03-2023 13:00
2
Qualifications
B
Billard club Andernosien (FRA)
Billard club du canon d'or de ronchin (FRA)
23-03-2023 13:00
2
0
Qualifications
B
GERASSIMOPOULOS Nicolas
FLORENT Jean-françois
23-03-2023 13:00
2
0
Qualifications
B
BAUDOIN Bernard
VILLIERS Bernard
23-03-2023 13:00
2
0
Qualifications
B
LEGROS Benoît
DJOUBRI Brahim
23-03-2023 16:00
3
Qualifications
A
douarnenez Valdys (FRA)
Bfr. Sterkrade (DEU)
23-03-2023 16:00
3
0
Qualifications
A
FAUS Marek
VAN BOCHEM Micha
23-03-2023 16:00
3
0
Qualifications
A
LE DEVENTEC Gregory
MATUSZAK Uwe
23-03-2023 16:00
3
0
Qualifications
A
SWERTZ Raymund
WOIDOWSKI Michael
23-03-2023 19:00
4
Qualifications
B
SECCION BILLAR FOMENT MOLINS (ESP)
ABC Merklinde (DEU)
23-03-2023 19:00
4
0
Qualifications
B
GOMEZ Alvaro
EGBERS Martijn
23-03-2023 19:00
4
0
Qualifications
B
GUTIERREZ Antoni
GRIES Roland
23-03-2023 19:00
4
0
Qualifications
B
TUSET Carlos
PÖTHER Christian
24-03-2023 10:00
5
Qualifications
A
De Hazelaar (NLD)
douarnenez Valdys (FRA)
24-03-2023 10:00
5
0
Qualifications
A
VELDHUIZEN Gert-jan
FAUS Marek
24-03-2023 10:00
5
0
Qualifications
A
DERICKS Eric
LE DEVENTEC Gregory
24-03-2023 10:00
5
0
Qualifications
A
KANTERS Jordy
SWERTZ Raymund
24-03-2023 13:00
6
Qualifications
B
Billard club du canon d'or de ronchin (FRA)
SECCION BILLAR FOMENT MOLINS (ESP)
24-03-2023 13:00
6
0
Qualifications
B
FLORENT Jean-françois
GOMEZ Alvaro
24-03-2023 13:00
6
0
Qualifications
B
VILLIERS Bernard
GUTIERREZ Antoni
24-03-2023 13:00
6
0
Qualifications
B
DJOUBRI Brahim
TUSET Carlos
24-03-2023 16:00
7
Qualifications
A
BC Noorderkempen (BEL)
Bfr. Sterkrade (DEU)
24-03-2023 16:00
7
0
Qualifications
A
MATHYSEN Ronny
VAN BOCHEM Micha
24-03-2023 16:00
7
0
Qualifications
A
VAN HANEGEM Nico
MATUSZAK Uwe
24-03-2023 16:00
7
0
Qualifications
A
SONCK Robby
WOIDOWSKI Michael
24-03-2023 19:00
8
Qualifications
B
Billard club Andernosien (FRA)
ABC Merklinde (DEU)
24-03-2023 19:00
8
0
Qualifications
B
GERASSIMOPOULOS Nicolas
EGBERS Martijn
24-03-2023 19:00
8
0
Qualifications
B
BAUDOIN Bernard
GRIES Roland
24-03-2023 19:00
8
0
Qualifications
B
LEGROS Benoît
PÖTHER Christian
25-03-2023 10:00
9
Qualifications
A
douarnenez Valdys (FRA)
BC Noorderkempen (BEL)
25-03-2023 10:00
9
0
Qualifications
A
FAUS Marek
MATHYSEN Ronny
25-03-2023 10:00
9
0
Qualifications
A
LE DEVENTEC Gregory
VAN HANEGEM Nico
25-03-2023 10:00
9
250
Qualifications
A
SWERTZ Raymund
SONCK Robby
25-03-2023 13:00
10
Qualifications
B
Billard club du canon d'or de ronchin (FRA)
ABC Merklinde (DEU)
25-03-2023 13:00
10
0
Qualifications
B
FLORENT Jean-françois
EGBERS Martijn
25-03-2023 13:00
10
0
Qualifications
B
VILLIERS Bernard
GRIES Roland
25-03-2023 13:00
10
0
Qualifications
B
DJOUBRI Brahim
PÖTHER Christian
25-03-2023 16:00
11
Qualifications
A
De Hazelaar (NLD)
Bfr. Sterkrade (DEU)
25-03-2023 16:00
11
0
Qualifications
A
VELDHUIZEN Gert-jan
WOIDOWSKI Michael
25-03-2023 16:00
11
0
Qualifications
A
DERICKS Eric
MATUSZAK Uwe
25-03-2023 16:00
11
0
Qualifications
A
KANTERS Jordy
VAN BOCHEM Micha
25-03-2023 19:00
12
Qualifications
B
Billard club Andernosien (FRA)
SECCION BILLAR FOMENT MOLINS (ESP)
25-03-2023 19:00
12
0
Qualifications
B
GERASSIMOPOULOS Nicolas
GOMEZ Alvaro
25-03-2023 19:00
12
0
Qualifications
B
LEGROS Benoît
TUSET Carlos
25-03-2023 19:00
12
0
Qualifications
B
BAUDOIN Bernard
GUTIERREZ Antoni
26-03-2023 09:30
13
1/2 finals
SEMIFINALS
douarnenez Valdys (FRA)
Billard club Andernosien (FRA)
26-03-2023 09:30
13
0
1/2 finals
SEMIFINALS
FAUS Marek
GERASSIMOPOULOS Nicolas
26-03-2023 09:30
13
0
1/2 finals
SEMIFINALS
LE DEVENTEC Gregory
BAUDOIN Bernard
26-03-2023 09:30
13
0
1/2 finals
SEMIFINALS
SWERTZ Raymund
LEGROS Benoît
26-03-2023 12:00
14
1/2 finals
SEMIFINALS
Billard club du canon d'or de ronchin (FRA)
De Hazelaar (NLD)
26-03-2023 12:00
14
0
1/2 finals
SEMIFINALS
VILLIERS Bernard
DERICKS Eric
26-03-2023 12:00
14
0
1/2 finals
SEMIFINALS
DJOUBRI Brahim
KANTERS Jordy
26-03-2023 12:00
14
0
1/2 finals
SEMIFINALS
FLORENT Jean-françois
VELDHUIZEN Gert-jan
26-03-2023 15:30
15
Final
FINAL
douarnenez Valdys (FRA)
Billard club du canon d'or de ronchin (FRA)
26-03-2023 15:30
15
0
Final
FINAL
LE DEVENTEC Gregory
VILLIERS Bernard
26-03-2023 15:30
15
0
Final
FINAL
FAUS Marek
FLORENT Jean-françois
26-03-2023 15:30
15
0
Final
FINAL
SWERTZ Raymund
DJOUBRI Brahim
Place
Participant
Match points
Ind. match points
Points
Innings
Average
Best run
Best average
1
douarnenez Valdys (FRA)
10
10
2740
0
96.140 %
0
2
Billard club du canon d'or de ronchin (FRA)
8
8
2357
0
82.700 %
0
3
De Hazelaar (NLD)
3
3
1770
0
77.630 %
0
4
Billard club Andernosien (FRA)
4
4
1797
0
78.820 %
0
5
Bfr. Sterkrade (DEU)
3
3
1073
0
62.750 %
0
6
SECCION BILLAR FOMENT MOLINS (ESP)
2
2
901
0
52.690 %
0
7
BC Noorderkempen (BEL)
0
&nbsp
967
0
56.550 %
0
8
ABC Merklinde (DEU)
0
&nbsp
953
0
55.730 %
0