Coupe d'Europe 3-Cushion - Qualifications and Final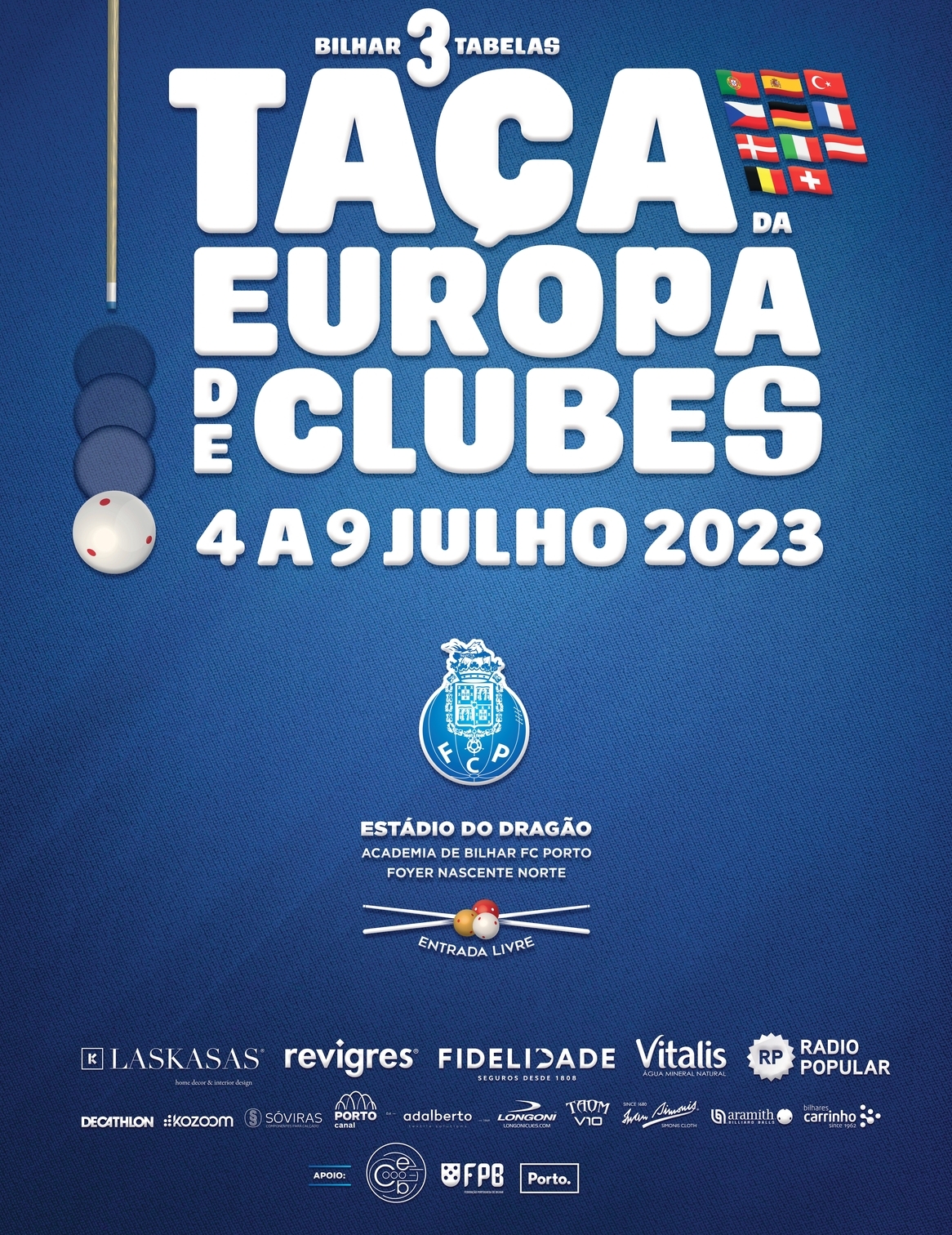 Organized by
Federação Portuguesa de Bilhar
Delegate
MALACRITA Stefano
Event dates
04-07-2023 00:00 - 09-07-2023 23:59
Registration dates
01-05-2023 00:00 - 29-05-2023 23:59
Dresscode
DRESS CODE B. (See art. 19/20 of CEB Basic Concepts)
It's allowed to play only with dress code B.
Dress code B: black shoes, black socks, black suit trousers. A long sleeved polo shirt. The polo shirt must be worn inside the trousers and it's forbidden to roll up the sleeves, it must be clean and in good conditions. For women a polo shirt can be outside trousers, but no body skin should be visible. It is not allowed to wear trousers with studs/chains, side pockets below the thigh, jeans and denim/blue jeans, corduroy material, leather, which have been fashioned in a "jeans style". Shoes: Black dress shoes such as leather are permitted. Sports shoes can be of any leather or cloth material but they must be all black, no white or coloured soles/logos allowed. Socks/tights must be worn and of a dark colour, no skin should be visible on the legs/ankles. Shoes must be clean and in good condition.
Material
Simonis 300 Rapid
Balls
Super Aramith Pro-Cup Prestige
Registrations
By National Federation. Maximum two clubs for each federation in qualifications. Maximum 24 participants in qualification.
It is strongly recommended to register teams with reserve players.
Playing system
UPDATE 22/6/2023!
Because of a forfait of one team in group B the tournament schedule and training schedule have been adapted. Art. 6 of the tournament rules will be applied.
Art. 6 of tournament rules:
" ... Only in case of groups with unequal number of teams the general classifications will be made as follows and the best 2nd will be defined by: a) Ranking in the group. b) general average. c) best team game average, d) drawing by lots...".
According to the above rule the general classifications, the best seconds qualified and the entry ranking for the Z system of the final groups will take into account only the group rank, general avg, best team avg, draw.
UPDATED!
Qualification groups: 20 teams, 5 groups of 4.
7 teams advance to final round (5 group winners and 2 best seconds)
Final round: FC PORTO + 7 qualified teams (2 groups of 4). Semifinals A1 vs B2 and A2 vs B1.
FINAL GROUPS:
GROUP AA:
FC Porto (Title Holder)
FBN Tekstil
Billiards Cafè A
Mister 100 Lier
GROUP BB:
BC Andernos
BK Varde
Goztepe BK
BC Castalla
Distance
40 points, equal innings. (Only in qualification groups: limit to 50 innings)
Placed sportsmen
Title Holder and Organizer: FC PORTO (it must be registered by the National Federation).
Location
FC Porto Billiard Academy & Estádio do Dragão Foyer
Team
Registration
Status
Position
Team
Status
Comment
1
FC Porto (Organizing Club)
JASPERS Dick
BLOMDAHL Torbjörn
COSTA Rui manuel
FERREIRA Joao pedro
SOARES Jose miguel
SANTOS Oliveira
COSTA Jorge
COSTA Hugo
Title Holder
2
BC VITKOV - SOKOL ZIZKOV
BOHAC Martin 1
KOZAK Adam 2
BACA Adam 3
DIRN Marcel 4
VITOUS Jan Reserve 5
SIBAI Fouad Reserve 6
TRUKSA Otakar Reserve 7
BACA Libor Reserve 8
3
Billard Center Weywiesen 24/09
RUDOLPH Christian 1
EGGERS Jens 2
WIRGS Markus 3
SIEGBURG Stefan 4
MÜLLER Dieter Reserve 5
4
BSV VELBERT 1947
LÖWE Tom 1
ANDERS Torsten 2
SIMANOWSKI Volker 3
LEU Philipp 4
KLINGBERG Werner Reserve 5
5
MISTER 100 - Lier
CEULEMANS Peter 1
CEULEMANS Kurt 2
HERMANS Jerry 3
CEULEMANS Bart 4
CEULEMANS Raymond Reserve 5
JANSSEN Marco Reserve 6
VAN HOVE Bart Reserve 7
6
OP DE MEIR
PHILIPOOM Jozef 1
VAN BEERS Barry 2
UYTDEWILLEGEN Roland 3
STITSCHINSKY Ivan 4
ENGELS Jimmy Reserve 5
VERHAEGEN Marc Reserve 6
7
1. Pottendorfer BSK
SZIVACZ Herbert 1
NEBUDA Dominik 2
WEISS Alexander 3
ARNHOLD Ludwig 4
NEBUDA Alfred Reserve 5
ERGüNEY Ali Reserve 6
8
BC Elite Wien
EFLER Andreas 1
MÜLLER Manfred 2
BACK Marcel 3
GAJS Zoran 4
EFLER Brigitte Reserve 5
9
Leça FC
VITORINO Alexandre 1
GOMES João 2
ESCUDEIRO Jose 3
FERNANDES Vitor 4
BISCAIA Jose Reserve 5
GONçALVES Maia Reserve 6
JAQUES António Reserve 7
10
Sporting Clube de Portugal
EDGAR Rui 1
THERIAGA Jorge 2
RODRIGUES Francisco 3
ALVES Joaquim 4
HORTA Leonardo Reserve 5
FRAGA Carlos Reserve 6
LOPES Rui Reserve 7
BELO Ricardo Reserve 8
11
Billard Club Zürich
BEHZAT Cetin
BOODE Johannes
CANTURK Kenan
TRONATI Gian paolo
ANTONOPOULOS Georgio
HARIMCI Seyit
12
Billard club Andernosien
ZANETTI Marco 1
FORTHOMME Roland 2
MOTTET Frédéric 3
MARECHAL Gwendal 4
BARBEILLON Jérôme Reserve 5
CONNESSON Francis Reserve 6
BOINGNERES Marc Reserve 7
BAUDOIN Bernard Reserve 8
13
CLUB BILLAR CASTALLA
JIMENEZ Sergio 1
CANTO Jorge 2
RICO Jesus 3
CARRION Andres 4
GARCIA Toni Reserve 5
CARRION Carlos Reserve 6
GIMENO Jose javier Reserve 7
14
CLUB BILLAR MOSTOLES
LEGAZPI Ruben 1
LEGAZPI Adrian 2
FERNANDEZ Rubén 3
LEGAZPI Alfonso 4
ANSON Andrés Reserve 5
LOPEZ Alfonso Reserve 6
MARTIN Emilio Reserve 7
RICO Francisco Reserve 8
15
FBN TEKSTIL SPOR KULUBU
TASDEMIR Tayfun 1
KARAKURT Berkay 2
SALMAN Gokhan 3
TÜZÜL Murat 4
16
GOZTEPE SPOR KULUBU
GAYRET Emin 1
KARAKURT Omer 2
YAVUZ Tarik 3
KAYA Ugur 4
SABANCI Baris Reserve 5
YILMAZ Ozdemir Reserve 6
17
Soissons
BURY Jeremy 1
SAYGINER Semih 2
SOUMAGNE Pierre 3
MELNYTSCHENKO Cédric 4
DEVOGELAERE Mikaël Reserve 5
18
Varde BK
MERCKX Eddy 1
DE BRUIJN Jean paul 2
ANDERSEN Thomas 3
SCHRøDER Allan 4
KROGH Kim Reserve 5
19
BK Grøndal
JOHANSEN Dan 1
ANTHONY Brian 2
EBELING Tommy 3
HENDRIKSEN Rene 4
LAURSEN Hans Reserve 5
HAACK-SøRENSEN Jacob Reserve 6
LOHSE Michael Reserve 7
HEINZE Gert Reserve 8
20
BILLIARD'S CAFÈ - A
HOFFMAN Glenn 1
SCIACCA Emilio 2
ORLANDO Francesco 3
CRISCINO Emanuele 4
MANNINO Francesco Reserve 5
SERRO Saverio Reserve 6
21
BILLIARD'S CAFÈ - B
TIRANNO Giuseppe 1
MUTAVDZIC Miroslav 2
VATTOVANI Pierpaolo 3
D'AGUANNO Pietro 4
SPICA Antonino Reserve 5
GAIOTTI Fabio Reserve 6
PAPA Salvatore Reserve 7
Group
Position
Team
Level
A
1
2
3
4

Varde BK
MISTER 100 - Lier
BC Elite Wien
BILLIARD'S CAFÈ - B

AA
1
2
3
4

FC Porto (Organizing Club)
FBN TEKSTIL SPOR KULUBU
BILLIARD'S CAFÈ - A
MISTER 100 - Lier

B
1
2
3

CLUB BILLAR MOSTOLES
BILLIARD'S CAFÈ - A
BSV VELBERT 1947

BB
1
2
3
4

Billard club Andernosien
Varde BK
GOZTEPE SPOR KULUBU
CLUB BILLAR CASTALLA

C
1
2
3
4

FBN TEKSTIL SPOR KULUBU
Leça FC
Billard Center Weywiesen 24/09
BC VITKOV - SOKOL ZIZKOV

D
1
2
3
4

Billard club Andernosien
Sporting Clube de Portugal
CLUB BILLAR CASTALLA
OP DE MEIR

E
1
2
3
4

BK Grøndal
1. Pottendorfer BSK
Billard Club Zürich
GOZTEPE SPOR KULUBU

Date
Match N°
Billard N°
Level
Group
Participant
Match points
Game points
Points
Innings
Average
Best run
05-07-2023 10:00
1
Qualifications
A
MISTER 100 - Lier (BEL)
BC Elite Wien (AT)
05-07-2023 10:00
1
1
Qualifications
A
CEULEMANS Peter
EFLER Andreas
05-07-2023 10:00
1
2
Qualifications
A
CEULEMANS Kurt
MÜLLER Manfred
05-07-2023 10:00
1
3
Qualifications
A
HERMANS Jerry
BACK Marcel
05-07-2023 10:00
1
4
Qualifications
A
CEULEMANS Bart
GAJS Zoran
05-07-2023 12:00
3
Qualifications
C
Leça FC (PRT)
Billard Center Weywiesen 24/09 (DE)
05-07-2023 12:00
3
0
Qualifications
C
GOMES João
RUDOLPH Christian
05-07-2023 12:00
3
0
Qualifications
C
ESCUDEIRO Jose
EGGERS Jens
05-07-2023 12:00
3
0
Qualifications
C
FERNANDES Vitor
WIRGS Markus
05-07-2023 12:00
3
0
Qualifications
C
BISCAIA Jose
SIEGBURG Stefan
05-07-2023 12:00
4
Qualifications
D
Sporting Clube de Portugal (PRT)
CLUB BILLAR CASTALLA (ESP)
05-07-2023 12:00
4
0
Qualifications
D
05-07-2023 12:00
4
0
Qualifications
D
HORTA Leonardo
CANTO Jorge
05-07-2023 12:00
4
0
Qualifications
D
05-07-2023 12:00
4
0
Qualifications
D
05-07-2023 14:00
5
Qualifications
E
Pottendorfer BSK (AT)
Billard Club Zürich (CH)
05-07-2023 14:00
5
0
Qualifications
E
SZIVACZ Herbert
BEHZAT Cetin
05-07-2023 14:00
5
0
Qualifications
E
NEBUDA Dominik
BOODE Johannes
05-07-2023 14:00
5
0
Qualifications
E
WEISS Alexander
CANTURK Kenan
05-07-2023 14:00
5
0
Qualifications
E
ARNHOLD Ludwig
TRONATI Gian paolo
05-07-2023 14:00
6
Qualifications
A
Varde BK (DNK)
BILLIARD'S CAFÈ - B (ITA)
05-07-2023 14:00
6
0
Qualifications
A
MERCKX Eddy
TIRANNO Giuseppe
05-07-2023 14:00
6
0
Qualifications
A
DE BRUIJN Jean paul
MUTAVDZIC Miroslav
05-07-2023 14:00
6
0
Qualifications
A
ANDERSEN Thomas
VATTOVANI Pierpaolo
05-07-2023 14:00
6
0
Qualifications
A
SCHRøDER Allan
D'AGUANNO Pietro
05-07-2023 16:00
7
Qualifications
B
BILLIARD'S CAFÈ - A (ITA)
BSV VELBERT 1947 (DEU)
05-07-2023 16:00
7
0
Qualifications
B
05-07-2023 16:00
7
0
Qualifications
B
SCIACCA Emilio
ANDERS Torsten
05-07-2023 16:00
7
0
Qualifications
B
ORLANDO Francesco
SIMANOWSKI Volker
05-07-2023 16:00
7
0
Qualifications
B
CRISCINO Emanuele
LEU Philipp
05-07-2023 16:00
8
Qualifications
C
FBN TEKSTIL SPOR KULUBU (TUR)
BC VITKOV - SOKOL ZIZKOV (CZE)
05-07-2023 16:00
8
0
Qualifications
C
TASDEMIR Tayfun
BOHAC Martin
05-07-2023 16:00
8
0
Qualifications
C
KARAKURT Berkay
KOZAK Adam
05-07-2023 16:00
8
0
Qualifications
C
05-07-2023 16:00
8
0
Qualifications
C
05-07-2023 18:00
9
Qualifications
D
Billard club Andernosien (FRA)
OP DE MEIR (BEL)
05-07-2023 18:00
9
0
Qualifications
D
ZANETTI Marco
PHILIPOOM Jozef
05-07-2023 18:00
9
0
Qualifications
D
FORTHOMME Roland
VAN BEERS Barry
05-07-2023 18:00
9
0
Qualifications
D
MARECHAL Gwendal
UYTDEWILLEGEN Roland
05-07-2023 18:00
9
0
Qualifications
D
BARBEILLON Jérôme
STITSCHINSKY Ivan
05-07-2023 18:00
10
Qualifications
E
BK Grøndal (DNK)
GOZTEPE SPOR KULUBU (TUR)
05-07-2023 18:00
10
0
Qualifications
E
05-07-2023 18:00
10
0
Qualifications
E
ANTHONY Brian
KARAKURT Omer
05-07-2023 18:00
10
0
Qualifications
E
EBELING Tommy
YAVUZ Tarik
05-07-2023 18:00
10
0
Qualifications
E
HENDRIKSEN Rene
KAYA Ugur
06-07-2023 10:00
11
Qualifications
C
Billard Center Weywiesen 24/09 (DEU)
BC VITKOV - SOKOL ZIZKOV (CZE)
06-07-2023 10:00
11
0
Qualifications
C
RUDOLPH Christian
BOHAC Martin
06-07-2023 10:00
11
0
Qualifications
C
06-07-2023 10:00
11
0
Qualifications
C
06-07-2023 10:00
11
0
Qualifications
C
SIEGBURG Stefan
DIRN Marcel
06-07-2023 10:00
12
Qualifications
D
CLUB BILLAR CASTALLA (ESP)
OP DE MEIR (BEL)
06-07-2023 10:00
12
0
Qualifications
D
JIMENEZ Sergio
PHILIPOOM Jozef
06-07-2023 10:00
12
0
Qualifications
D
CANTO Jorge
VAN BEERS Barry
06-07-2023 10:00
12
0
Qualifications
D
RICO Jesus
UYTDEWILLEGEN Roland
06-07-2023 10:00
12
0
Qualifications
D
CARRION Andres
STITSCHINSKY Ivan
06-07-2023 12:00
13
Qualifications
E
1. Pottendorfer BSK (AUT)
BK Grøndal (DNK)
06-07-2023 12:00
13
0
Qualifications
E
SZIVACZ Herbert
JOHANSEN Dan
06-07-2023 12:00
13
0
Qualifications
E
NEBUDA Dominik
ANTHONY Brian
06-07-2023 12:00
13
0
Qualifications
E
WEISS Alexander
EBELING Tommy
06-07-2023 12:00
13
0
Qualifications
E
ARNHOLD Ludwig
HENDRIKSEN Rene
06-07-2023 12:00
14
Qualifications
A
MISTER 100 - Lier (BEL)
BILLIARD'S CAFÈ - B (ITA)
06-07-2023 12:00
14
0
Qualifications
A
CEULEMANS Peter
TIRANNO Giuseppe
06-07-2023 12:00
14
0
Qualifications
A
CEULEMANS Kurt
MUTAVDZIC Miroslav
06-07-2023 12:00
14
0
Qualifications
A
HERMANS Jerry
VATTOVANI Pierpaolo
06-07-2023 12:00
14
0
Qualifications
A
CEULEMANS Bart
D'AGUANNO Pietro
06-07-2023 14:00
15
Qualifications
B
CLUB BILLAR MOSTOLES (ESP)
BSV VELBERT 1947 (DEU)
06-07-2023 14:00
15
0
Qualifications
B
06-07-2023 14:00
15
0
Qualifications
B
LEGAZPI Adrian
ANDERS Torsten
06-07-2023 14:00
15
0
Qualifications
B
FERNANDEZ Rubén
SIMANOWSKI Volker
06-07-2023 14:00
15
0
Qualifications
B
LEGAZPI Alfonso
LEU Philipp
06-07-2023 14:00
16
Qualifications
C
FBN TEKSTIL SPOR KULUBU (TUR)
Leça FC (PRT)
06-07-2023 14:00
16
0
Qualifications
C
TASDEMIR Tayfun
GOMES João
06-07-2023 14:00
16
0
Qualifications
C
KARAKURT Berkay
ESCUDEIRO Jose
06-07-2023 14:00
16
0
Qualifications
C
SALMAN Gokhan
FERNANDES Vitor
06-07-2023 14:00
16
0
Qualifications
C
06-07-2023 16:00
17
Qualifications
D
Billard club Andernosien (FRA)
Sporting Clube de Portugal (PRT)
06-07-2023 16:00
17
0
Qualifications
D
06-07-2023 16:00
17
0
Qualifications
D
FORTHOMME Roland
HORTA Leonardo
06-07-2023 16:00
17
0
Qualifications
D
MARECHAL Gwendal
LOPES Rui
06-07-2023 16:00
17
0
Qualifications
D
BARBEILLON Jérôme
BELO Ricardo
06-07-2023 16:00
18
Qualifications
E
GOZTEPE SPOR KULUBU (TUR)
Billard Club Zürich (CHE)
06-07-2023 16:00
18
0
Qualifications
E
06-07-2023 16:00
18
0
Qualifications
E
KARAKURT Omer
BOODE Johannes
06-07-2023 16:00
18
0
Qualifications
E
YAVUZ Tarik
CANTURK Kenan
06-07-2023 16:00
18
0
Qualifications
E
KAYA Ugur
TRONATI Gian paolo
06-07-2023 18:00
19
Qualifications
A
Varde BK (DNK)
BC Elite Wien (AUT)
06-07-2023 18:00
19
0
Qualifications
A
MERCKX Eddy
EFLER Andreas
06-07-2023 18:00
19
0
Qualifications
A
DE BRUIJN Jean paul
MÜLLER Manfred
06-07-2023 18:00
19
0
Qualifications
A
ANDERSEN Thomas
BACK Marcel
06-07-2023 18:00
19
0
Qualifications
A
SCHRøDER Allan
GAJS Zoran
07-07-2023 10:00
21
Qualifications
E
Billard Club Zürich (CHE)
BK Grøndal (DNK)
07-07-2023 10:00
21
0
Qualifications
E
BEHZAT Cetin
JOHANSEN Dan
07-07-2023 10:00
21
0
Qualifications
E
BOODE Johannes
ANTHONY Brian
07-07-2023 10:00
21
0
Qualifications
E
CANTURK Kenan
EBELING Tommy
07-07-2023 10:00
21
0
Qualifications
E
TRONATI Gian paolo
HENDRIKSEN Rene
07-07-2023 10:00
22
Qualifications
A
BC Elite Wien (AUT)
BILLIARD'S CAFÈ - B (ITA)
07-07-2023 10:00
22
0
Qualifications
A
EFLER Andreas
TIRANNO Giuseppe
07-07-2023 10:00
22
0
Qualifications
A
MÜLLER Manfred
MUTAVDZIC Miroslav
07-07-2023 10:00
22
0
Qualifications
A
BACK Marcel
VATTOVANI Pierpaolo
07-07-2023 10:00
22
0
Qualifications
A
GAJS Zoran
D'AGUANNO Pietro
07-07-2023 12:00
24
Qualifications
C
Leça FC (PRT)
BC VITKOV - SOKOL ZIZKOV (CZE)
07-07-2023 12:00
24
0
Qualifications
C
07-07-2023 12:00
24
0
Qualifications
C
ESCUDEIRO Jose
KOZAK Adam
07-07-2023 12:00
24
0
Qualifications
C
FERNANDES Vitor
BACA Adam
07-07-2023 12:00
24
0
Qualifications
C
07-07-2023 12:00
25
Qualifications
D
Sporting Clube de Portugal (PRT)
OP DE MEIR (BEL)
07-07-2023 12:00
25
0
Qualifications
D
EDGAR Rui
PHILIPOOM Jozef
07-07-2023 12:00
25
0
Qualifications
D
HORTA Leonardo
VAN BEERS Barry
07-07-2023 12:00
25
0
Qualifications
D
LOPES Rui
UYTDEWILLEGEN Roland
07-07-2023 12:00
25
0
Qualifications
D
BELO Ricardo
STITSCHINSKY Ivan
07-07-2023 14:00
26
Qualifications
E
1. Pottendorfer BSK (AUT)
GOZTEPE SPOR KULUBU (TUR)
07-07-2023 14:00
26
0
Qualifications
E
SZIVACZ Herbert
GAYRET Emin
07-07-2023 14:00
26
0
Qualifications
E
NEBUDA Dominik
KARAKURT Omer
07-07-2023 14:00
26
0
Qualifications
E
WEISS Alexander
YAVUZ Tarik
07-07-2023 14:00
26
0
Qualifications
E
07-07-2023 14:00
27
Qualifications
A
MISTER 100 - Lier (BEL)
Varde BK (DNK)
07-07-2023 14:00
27
0
Qualifications
A
CEULEMANS Peter
MERCKX Eddy
07-07-2023 14:00
27
0
Qualifications
A
CEULEMANS Kurt
DE BRUIJN Jean paul
07-07-2023 14:00
27
0
Qualifications
A
HERMANS Jerry
ANDERSEN Thomas
07-07-2023 14:00
27
0
Qualifications
A
CEULEMANS Bart
SCHRøDER Allan
07-07-2023 16:00
28
Qualifications
B
CLUB BILLAR MOSTOLES (ESP)
BILLIARD'S CAFÈ - A (ITA)
07-07-2023 16:00
28
0
Qualifications
B
LEGAZPI Ruben
HOFFMAN Glenn
07-07-2023 16:00
28
0
Qualifications
B
LEGAZPI Adrian
SCIACCA Emilio
07-07-2023 16:00
28
0
Qualifications
B
FERNANDEZ Rubén
ORLANDO Francesco
07-07-2023 16:00
28
0
Qualifications
B
LEGAZPI Alfonso
CRISCINO Emanuele
07-07-2023 16:00
29
Qualifications
C
Billard Center Weywiesen 24/09 (DEU)
FBN TEKSTIL SPOR KULUBU (TUR)
07-07-2023 16:00
29
0
Qualifications
C
RUDOLPH Christian
TASDEMIR Tayfun
07-07-2023 16:00
29
0
Qualifications
C
EGGERS Jens
KARAKURT Berkay
07-07-2023 16:00
29
0
Qualifications
C
WIRGS Markus
SALMAN Gokhan
07-07-2023 16:00
29
0
Qualifications
C
SIEGBURG Stefan
TÜZÜL Murat
07-07-2023 18:00
30
Qualifications
D
CLUB BILLAR CASTALLA (ESP)
Billard club Andernosien (FRA)
07-07-2023 18:00
30
0
Qualifications
D
JIMENEZ Sergio
ZANETTI Marco
07-07-2023 18:00
30
0
Qualifications
D
CANTO Jorge
FORTHOMME Roland
07-07-2023 18:00
30
0
Qualifications
D
RICO Jesus
MARECHAL Gwendal
07-07-2023 18:00
30
0
Qualifications
D
CARRION Andres
BARBEILLON Jérôme
08-07-2023 10:00
31
Final groups
AA
FBN TEKSTIL SPOR KULUBU (TUR)
BILLIARD'S CAFÈ - A (ITA)
08-07-2023 10:00
31
0
Final groups
AA
TASDEMIR Tayfun
HOFFMAN Glenn
08-07-2023 10:00
31
0
Final groups
AA
KARAKURT Berkay
SCIACCA Emilio
08-07-2023 10:00
31
0
Final groups
AA
SALMAN Gokhan
ORLANDO Francesco
08-07-2023 10:00
31
0
Final groups
AA
TÜZÜL Murat
CRISCINO Emanuele
08-07-2023 10:00
32
Final groups
BB
Varde BK (DNK)
GOZTEPE SPOR KULUBU (TUR)
08-07-2023 10:00
32
0
Final groups
BB
08-07-2023 10:00
32
0
Final groups
BB
DE BRUIJN Jean paul
KARAKURT Omer
08-07-2023 10:00
32
0
Final groups
BB
ANDERSEN Thomas
YAVUZ Tarik
08-07-2023 10:00
32
0
Final groups
BB
08-07-2023 11:45
33
Final groups
AA
FC Porto (Organizing Club)
MISTER 100 - Lier (BEL)
08-07-2023 11:45
33
0
Final groups
AA
JASPERS Dick
CEULEMANS Peter
08-07-2023 11:45
33
0
Final groups
AA
BLOMDAHL Torbjörn
CEULEMANS Kurt
08-07-2023 11:45
33
0
Final groups
AA
COSTA Rui manuel
HERMANS Jerry
08-07-2023 11:45
33
0
Final groups
AA
SOARES Jose miguel
CEULEMANS Bart
08-07-2023 11:45
34
Final groups
BB
Billard club Andernosien (FRA)
CLUB BILLAR CASTALLA (ESP)
08-07-2023 11:45
34
0
Final groups
BB
ZANETTI Marco
JIMENEZ Sergio
08-07-2023 11:45
34
0
Final groups
BB
FORTHOMME Roland
CANTO Jorge
08-07-2023 11:45
34
0
Final groups
BB
MARECHAL Gwendal
RICO Jesus
08-07-2023 11:45
34
0
Final groups
BB
BARBEILLON Jérôme
CARRION Andres
08-07-2023 14:00
35
Final groups
AA
FBN TEKSTIL SPOR KULUBU (TUR)
MISTER 100 - Lier (BEL)
08-07-2023 14:00
35
0
Final groups
AA
TASDEMIR Tayfun
CEULEMANS Peter
08-07-2023 14:00
35
0
Final groups
AA
KARAKURT Berkay
CEULEMANS Kurt
08-07-2023 14:00
35
0
Final groups
AA
SALMAN Gokhan
HERMANS Jerry
08-07-2023 14:00
35
0
Final groups
AA
TÜZÜL Murat
CEULEMANS Bart
08-07-2023 14:00
36
Final groups
BB
GOZTEPE SPOR KULUBU (TUR)
Billard club Andernosien (FRA)
08-07-2023 14:00
36
0
Final groups
BB
GAYRET Emin
ZANETTI Marco
08-07-2023 14:00
36
0
Final groups
BB
KARAKURT Omer
FORTHOMME Roland
08-07-2023 14:00
36
0
Final groups
BB
YAVUZ Tarik
MARECHAL Gwendal
08-07-2023 14:00
36
0
Final groups
BB
KAYA Ugur
BARBEILLON Jérôme
08-07-2023 15:45
37
Final groups
AA
BILLIARD'S CAFÈ - A (ITA)
FC Porto (Organizing Club)
08-07-2023 15:45
37
0
Final groups
AA
HOFFMAN Glenn
JASPERS Dick
08-07-2023 15:45
37
0
Final groups
AA
SCIACCA Emilio
BLOMDAHL Torbjörn
08-07-2023 15:45
37
0
Final groups
AA
ORLANDO Francesco
COSTA Rui manuel
08-07-2023 15:45
37
0
Final groups
AA
CRISCINO Emanuele
SOARES Jose miguel
08-07-2023 15:45
38
Final groups
BB
Varde BK (DNK)
CLUB BILLAR CASTALLA (ESP)
08-07-2023 15:45
38
0
Final groups
BB
MERCKX Eddy
JIMENEZ Sergio
08-07-2023 15:45
38
0
Final groups
BB
DE BRUIJN Jean paul
CANTO Jorge
08-07-2023 15:45
38
0
Final groups
BB
ANDERSEN Thomas
RICO Jesus
08-07-2023 15:45
38
0
Final groups
BB
SCHRøDER Allan
CARRION Andres
08-07-2023 18:00
39
Final groups
AA
MISTER 100 - Lier (BEL)
BILLIARD'S CAFÈ - A (ITA)
08-07-2023 18:00
39
0
Final groups
AA
CEULEMANS Peter
HOFFMAN Glenn
08-07-2023 18:00
39
0
Final groups
AA
CEULEMANS Kurt
SCIACCA Emilio
08-07-2023 18:00
39
0
Final groups
AA
HERMANS Jerry
ORLANDO Francesco
08-07-2023 18:00
39
0
Final groups
AA
CEULEMANS Bart
CRISCINO Emanuele
08-07-2023 18:00
40
Final groups
BB
Billard club Andernosien (FRA)
Varde BK (DNK)
08-07-2023 18:00
40
0
Final groups
BB
ZANETTI Marco
MERCKX Eddy
08-07-2023 18:00
40
0
Final groups
BB
FORTHOMME Roland
DE BRUIJN Jean paul
08-07-2023 18:00
40
0
Final groups
BB
MARECHAL Gwendal
ANDERSEN Thomas
08-07-2023 18:00
40
0
Final groups
BB
BARBEILLON Jérôme
SCHRøDER Allan
08-07-2023 19:45
41
Final groups
AA
FBN TEKSTIL SPOR KULUBU (TUR)
FC Porto (Organizing Club)
08-07-2023 19:45
41
0
Final groups
AA
TASDEMIR Tayfun
JASPERS Dick
08-07-2023 19:45
41
0
Final groups
AA
KARAKURT Berkay
BLOMDAHL Torbjörn
08-07-2023 19:45
41
0
Final groups
AA
SALMAN Gokhan
COSTA Rui manuel
08-07-2023 19:45
41
0
Final groups
AA
TÜZÜL Murat
SOARES Jose miguel
08-07-2023 19:45
42
Final groups
BB
GOZTEPE SPOR KULUBU (TUR)
CLUB BILLAR CASTALLA (ESP)
08-07-2023 19:45
42
0
Final groups
BB
GAYRET Emin
JIMENEZ Sergio
08-07-2023 19:45
42
0
Final groups
BB
KARAKURT Omer
CANTO Jorge
08-07-2023 19:45
42
0
Final groups
BB
08-07-2023 19:45
42
0
Final groups
BB
09-07-2023 09:30
43
1/2 finals
Semifinals
FBN TEKSTIL SPOR KULUBU (TUR)
CLUB BILLAR CASTALLA (ESP)
09-07-2023 09:30
43
0
1/2 finals
Semifinals
TASDEMIR Tayfun
JIMENEZ Sergio
09-07-2023 09:30
43
0
1/2 finals
Semifinals
KARAKURT Berkay
CANTO Jorge
09-07-2023 09:30
43
0
1/2 finals
Semifinals
09-07-2023 09:30
43
0
1/2 finals
Semifinals
TÜZÜL Murat
CARRION Andres
09-07-2023 11:30
44
1/2 finals
Semifinals
Varde BK (DNK)
FC Porto (Organizing Club)
09-07-2023 11:30
44
0
1/2 finals
Semifinals
09-07-2023 11:30
44
0
1/2 finals
Semifinals
DE BRUIJN Jean paul
BLOMDAHL Torbjörn
09-07-2023 11:30
44
0
1/2 finals
Semifinals
ANDERSEN Thomas
COSTA Rui manuel
09-07-2023 11:30
44
0
1/2 finals
Semifinals
SCHRøDER Allan
SOARES Jose miguel
09-07-2023 16:30
45
Final
Final
FBN TEKSTIL SPOR KULUBU (TUR)
FC Porto (Organizing Club)
09-07-2023 16:30
45
0
Final
Final
TASDEMIR Tayfun
JASPERS Dick
09-07-2023 16:30
45
0
Final
Final
KARAKURT Berkay
BLOMDAHL Torbjörn
09-07-2023 16:30
45
0
Final
Final
SALMAN Gokhan
COSTA Rui manuel
09-07-2023 16:30
45
0
Final
Final
TÜZÜL Murat
SOARES Jose miguel
09-07-2023 16:30
45
0
Final
Final
Place
Participant
Match points
Ind. match points
Points
Innings
Average
Best run
Best average
1
FC Porto (Organizing Club) (PRT)
7
7
683
481
1.419
15
1.617
2
FBN TEKSTIL SPOR KULUBU (TUR)
14
14
1240
876
1.415
19
1.758
3
Varde BK (DNK)
10
10
1042
759
1.372
15
1.904
4
CLUB BILLAR CASTALLA (ESP)
8
8
989
803
1.231
13
1.495
5
MISTER 100 - Lier (BEL)
7
7
867
720
1.204
12
1.391
6
Billard club Andernosien (FRA)
8
8
852
569
1.497
16
1.986
7
GOZTEPE SPOR KULUBU (TUR)
8
8
868
652
1.331
11
1.568
8
BILLIARD'S CAFÈ - A (ITA)
3
3
625
641
0.975
10
1.078
9
BC VITKOV - SOKOL ZIZKOV (CZE)
4
4
394
379
1.039
13
1.203
10
CLUB BILLAR MOSTOLES (ESP)
3
3
300
289
1.038
8
1.207
11
BK Grøndal (DNK)
4
4
356
462
0.770
7
0.784
12
OP DE MEIR (BEL)
2
2
374
327
1.143
8
1.203
13
BC Elite Wien (AUT)
2
2
355
409
0.867
8
1.019
14
Billard Center Weywiesen 24/09 (DEU)
2
2
353
413
0.854
8
0.871
15
BSV VELBERT 1947 (DEU)
0
&nbsp
228
270
0.844
8
16
1. Pottendorfer BSK (AUT)
2
2
354
458
0.772
8
0.761
17
Leça FC (PRT)
0
&nbsp
321
439
0.731
7
18
Sporting Clube de Portugal (PRT)
0
&nbsp
266
379
0.701
9
19
Billard Club Zürich (CHE)
0
&nbsp
325
526
0.617
8
20
BILLIARD'S CAFÈ - B (ITA)
0
&nbsp
212
364
0.582
5