EUROYOUTH 2023 LONGONI NEXT GEN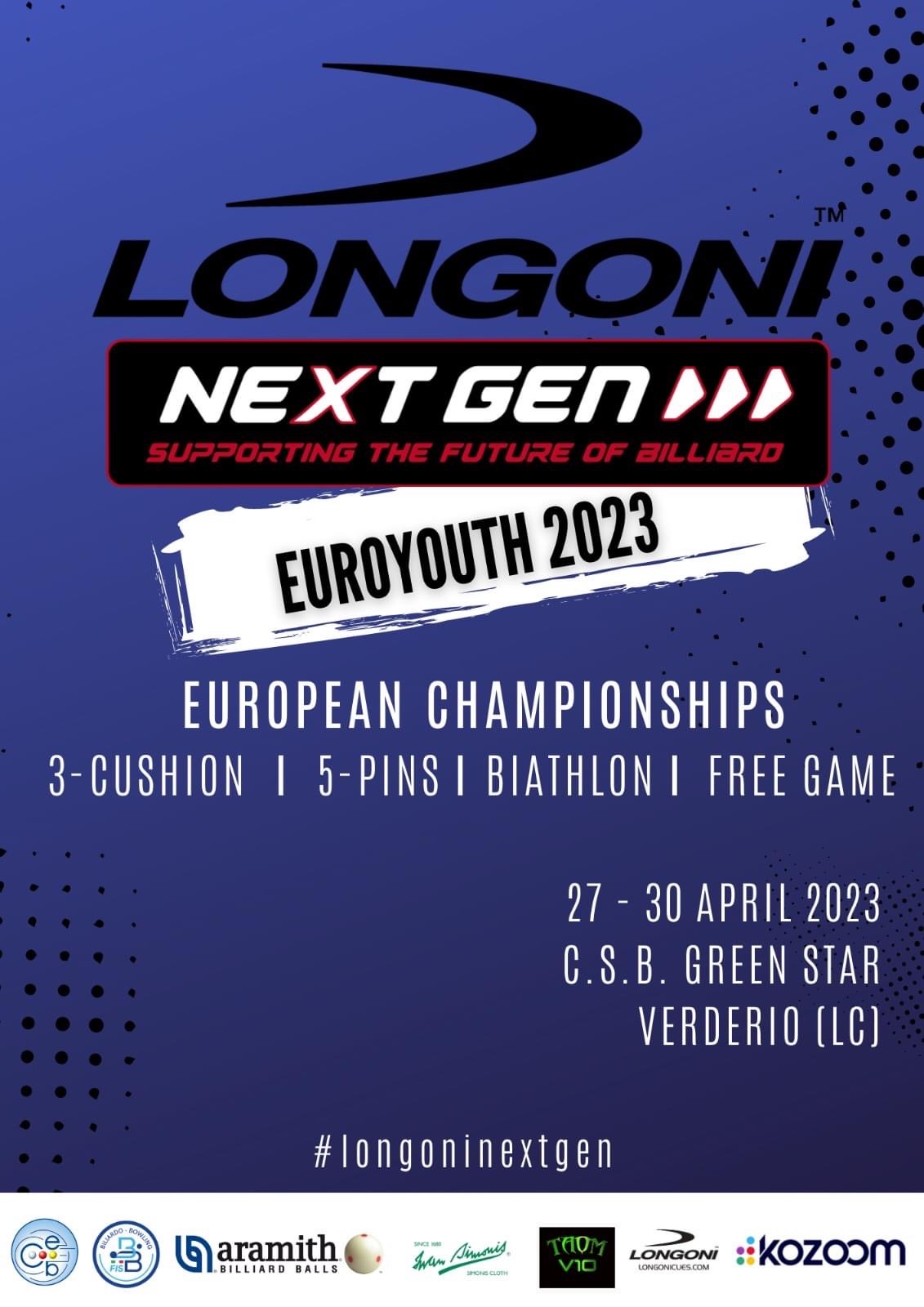 Organized by
Federazione Italiana Sport Biliardo e Bowling
Event dates
27-04-2023 00:00 - 30-04-2023 23:59
Rules
European Championship Individual 3-Cushion U21
European Championship Individual 5-Pins U21
European Championship Individual Free Game U21
European Championship Individual 3-Cushion U17
European Championship Individual Free Game U17
European Championship Biathlon National Team U21
Location
C.S.B. Green Star Associazione Sportiva Dilettantistica
Address
Via Alessandro Volta 56 - VERDERIO (LC)
Informations
EVENT
LONGONI NEXT GEN EURO YOUTH 2023
TOURNAMENT PLACE ADDRESS:
ASD Green Star Verderio
Via Alessandro Volta 56
23879 Verderio (LC)
Italy
Tel: + 39 329 713 1183 Email: mailto:Greenstarbiliardi@gmail.com
Food and beverages available at the club bar, hot and cold meal, soft drinks, beer, etc.
Billiard for extra play available on request, hour fee 10€
Reccomended Breakfast at the club: cappuccino+croissant in the club €3.5, caffè+croissant €2.5, juice and croissant €4.5.
Special requests can be fulfilled if liaised in advance (Example scrambled eggs, bacon...)
BILLIARD TABLES:
No. 10 International Match Tables 284x142 for 5-pins disciplines
6 of them will be used for the EY plus 3 Small Tables provided by Longoni
CLOTHS:
Simonis Cloth
BALLS
Super Aramith Pro-Cup Prestige

LOCAL CONTACTS:
ORGANIZER & SPORT DIRECTOR
Mr. Luca Marzio Garavaglia
Mobile: +39 342 042 2110
Email: luca.garavaglia@eurobillard.org

LOCAL CONTACTS
Mr. Pietro Orsino
Mobile: +39 339 468 2548
Michela Tolotti
Mobile: +39 333 6485833
TRAVEL INDICATIONS:
Closest Airports:
- Milano Malpensa (MPX) 80km approx, 60 min drive (depending on traffic, on rush hour can be up to 1and a half hr)
- Milano Linate (LIN) 35km approx, 30 min drive (depending on traffic, on rush hour can be up to 1hr)
- Milano Bergamo (BGY) 30km approx, 40 min drive (depending on traffic, on rush hour can be even more than 1 hour)
By Taxi
Fare should be around 50 to 70 Euro
By Road:
Highway A4 them A51, then SP 342dir

By Train:
From Milano Stazione Centrale, then M2 or train to Porta Garibaldi Train Station, then R14 25835 train to Bergamo, down to Paderno Robbiate, then Bus B70 to Verderio superiore, stop at Verderio Inferiore/Libertà and 15 minutes walk to the Club
It's highly recommended to have lunch and dinner at Billiard Club premises, with fresh italian food, hot and cold, sandwiches, drinks, etc., menù will change everyday. If you have special needs just let know it in advance.
Albergo Ristorante Sant'Eustorgio
Via Ferruccio Gilera, 1
20862 Arcore (MB)
email: info@santeustorgio.com
FEW ROOMS AVAILABLE!
HOTEL MELAS SOLD OUT!! LOOKING FOR NEW SOLUTIONS!
Ø PLAYERS HOTEL (Special prices agreed for the tournament)
Hotel MELAS ****
Via Bergamo 37 – Merate (LC) Italy
IT 23087
https://goo.gl/maps/f95iUBS8wn83ZPU4A
Website: www.melashotel.it
Reservation contacts:
Tel.: +39 039-9903048 Fax: +39 039-9903017 E-mail: info@melashotel.it
Key word: Evento Biliardo 2023
Price per night breakfast excluded:
- 60€: Single room or double room for single use, breakfast excluded
- 40€ per person: double, triple or quad room, breakfast excluded
Recommended breakfast at the Billiard Club: cappuccino+croissant €3.5, caffè+croissant €2.5, juice and croissant €4.5.
- Free Wifi
Distance from Player Hotel to the Tournament Place: approx. 3km, 5 minutes drive
No registrations for the moment