CEB Grand Prix Artistic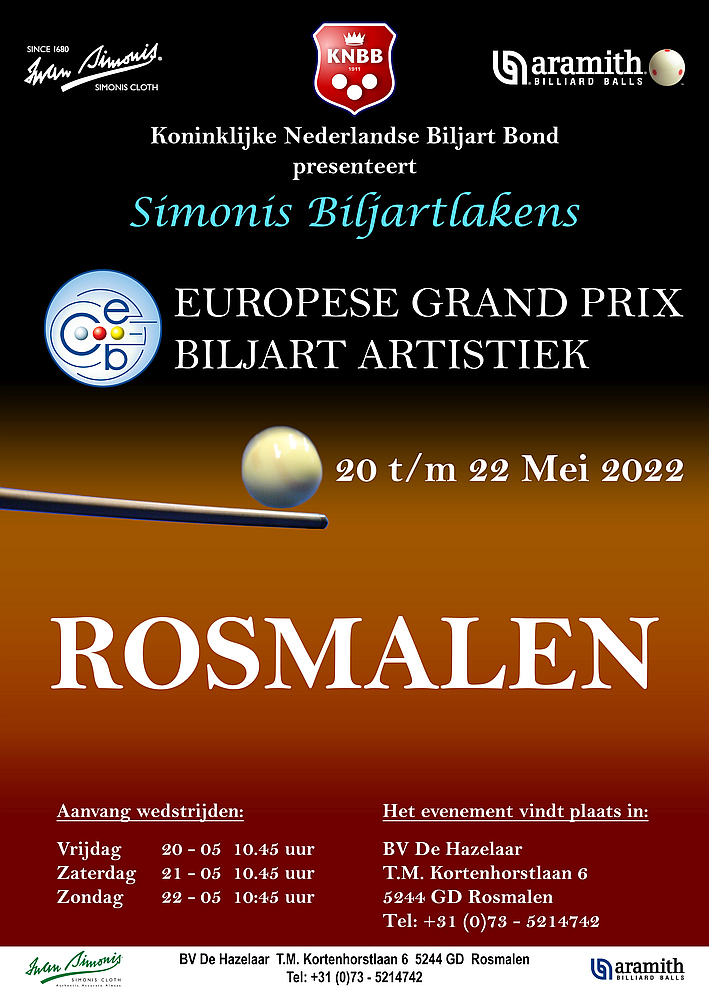 Organized by
Koninklijke Nederlandse Biljartbond
Event dates
20-05-2022 00:00 - 22-05-2022 23:59
Dresscode
See art. 19 - 20 CEB Basic Concepts of the Sporting Program
Material
Simonis 300 Rapid
Balls
Super Aramith Pro-Cup Prestige
Registrations
By players.
Players can register by theirselves starting from March 26th. To register they must send an emal to stefano.malacrita@eurobillard.org and CC to info@sanderjonen.com. The players registrations will be reported on this page. Deadline is April 15th.
DISCLAIMER
Although the risk of cancellation of these events, in these COVID-19 times, is almost neglectable, CEB nor the organizers assume any liability and cannot be held responsible for any costs or damages, concerning the booking of flights and accommodation or other, related to the participation to these events. It is the sole responsibility of the traveler/participant to be properly insured.
Entry fee
125 Euros (to be paid in Rosmalen).
Address
T.M. Kortenhorstlaan 6
Movenpick Hotel Den Bosch
Pettelaarpark 90
5216 PH
's-Hertogenbosch
https://www.movenpick.com/nederland/hertogenbosch
8,6 km from sportfoyer de Hazelaar

Fletcher Hotel 's-Hertogenbosch
Burgemeester Burgerslaan 50
5245 NH
Rosmalen
https://www.fletcherhotelshertogenbosch.nl/nl/
4,1 km from sportfoyer de Hazelaar

Van der Valk Hotel Nuland
Rijksweg 25
5391 LH
Nuland
https://www.hotelnuland.nl/
4,1 km from sportfoyer de Hazelaar
No registrations for the moment