CEB-LONGONI NEXT GEN Grand Prix 3-Cushion U21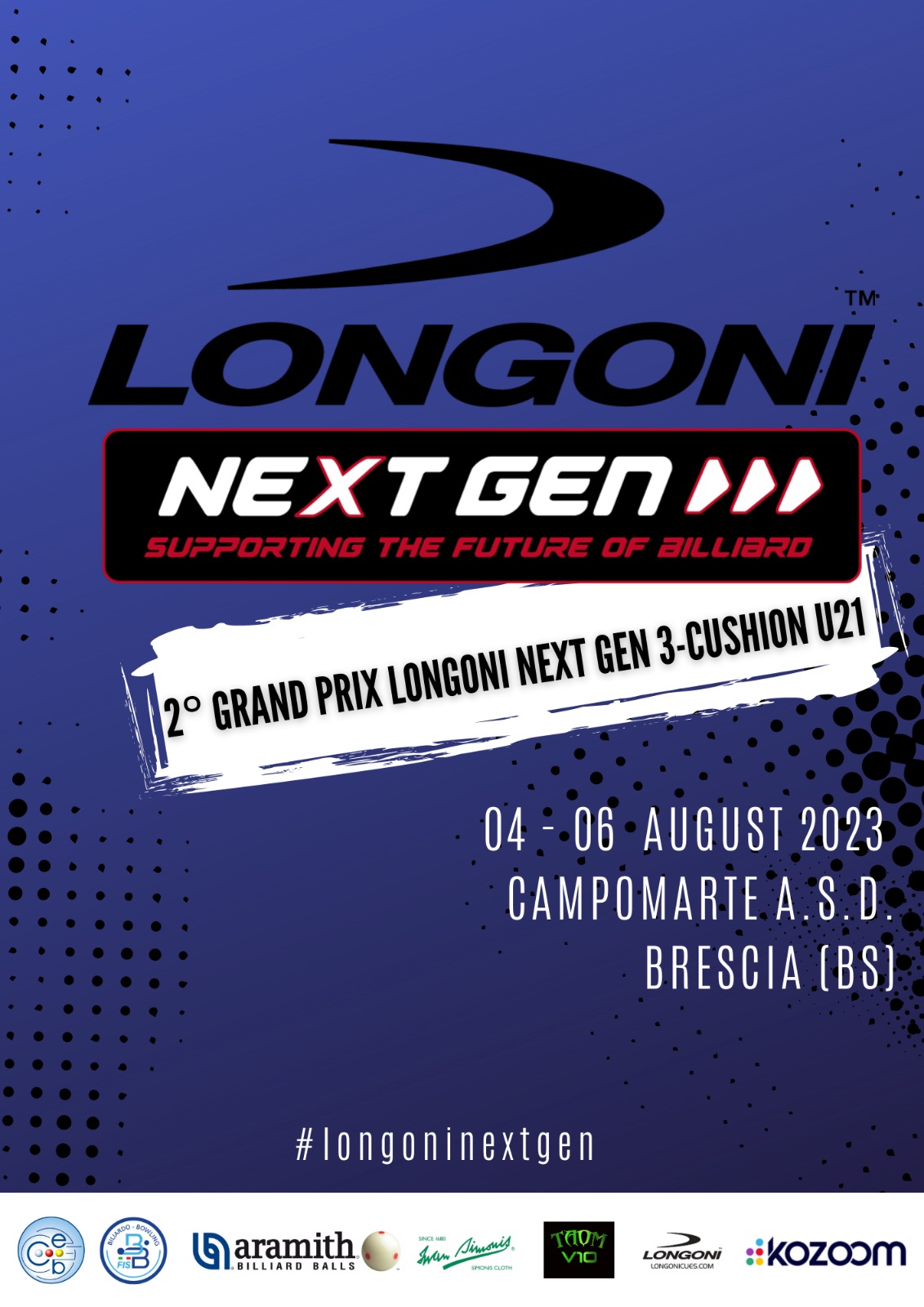 Organized by
Federazione Italiana Sport Biliardo e Bowling
Delegate
VIDING BUSSEL Eva
Event dates
04-08-2023 00:00 - 06-08-2023 23:59
Registration dates
09-06-2023 00:00 - 03-07-2023 23:59
Time Schedule
Friday, August 4th: Training (11:30 - 12:45) TRAINING SCHEDULE
Friday, August 4th: Groups (starting from 14:30)
Saturday, August 5th: Groups (starting at 10:00)
Sunday, August 6th: Semifinals (11:00) and final (14:00).
Dresscode
DRESS CODE B. (See art. 19/20 of CEB Basic Concepts)
It's allowed to play only with dress code B.
Dress code B: black shoes, black socks, black suit trousers. A long sleeved polo shirt. The polo shirt must be worn inside the trousers and it's forbidden to roll up the sleeves, it must be clean and in good conditions. For women a polo shirt can be outside trousers, but no body skin should be visible. It is not allowed to wear trousers with studs/chains, side pockets below the thigh, jeans and denim/blue jeans, corduroy material, leather, which have been fashioned in a "jeans style". Shoes: Black dress shoes such as leather are permitted. Sports shoes can be of any leather or cloth material but they must be all black, no white or coloured soles/logos allowed. Socks/tights must be worn and of a dark colour, no skin should be visible on the legs/ankles. Shoes must be clean and in good condition.
Rules
25/7/2023 - IMPORTANT UPDATE
Tonight a severe storm hit the zone of Carpenedolo causing floodings and damages to houses and roads.
Unfortunately the billiard club that had to host the Longoni GP suffered heavy structural damages making it impossible to organize the competition there.
The Italian Federation promptly found another solution not too far away, even closer to the Bergamo airport Orio al Serio.
The new playing venue is the Campomarte ASD. Address: Via Redipuglia 11, Brescia.
Nearby hotels have been updated in the Accomodation section.
This Grand Prix is part of the Longoni Next Gen circuit for the discipline of 3-Cushion.
The circuit includes 2 Grand Prix 3-Cushion U21 and the European Championship Individual 3-Cushion U21.
The three events will grant ranking points for the CEB-Longoni Next Gen Ranking (see the tournament rules for the ranking points assignment).
Best three at the end of the current season will be awarded with a Wild Card for the European Championship 3-Cushion Individual of the next season, free of registration fees.
This is the third and last event in the discipline of 3-cushion: click here to see the current CEB-Longoni Next Gen Ranking.
Material
Simonis 300 Rapid
Balls
Super Aramith Pro-Cup Prestige
Playing system
2 groups + semifinals and final
Address
Via Redipuglia, 11 - Brescia
Hotel Master
https://www.hotelmaster.net/
Via Luigi Apollonio, 72
Brescia (BS)
info@hotelmaster.net
Tel: +39 030 399 037
Fax: +39 030 370 1331
Distance from the venue: 3 minutes by car, 15 minutes walking
Regal Hotel & Apartments
https://www.regalhotel.it
Viale Europa, 2/b
Brescia (BS)
info@regalhotel.it
Tel. +39 030 200 85 06
Fax +39 030 200 87 66
Distance from the venue: 7 minutes by car, 34 minutes walking
Player
Registration
Status
Position
Player
Status
Comment
5
KRISTIANSEN Daniel (DNK)
6
VAN 'T ZELFDEN Joris (NLD)
Group
Position
Player
Level
A
1
2
3
4
5

HASHAS Burak (TUR)
DURIEZ Nathan (FRA)
KRISTIANSEN Daniel (DNK)
PHILIPOOM Luca (BEL)
PAOLO TurlÀ (ITA)

B
1
2
3
4

OZBAS Seymen (TUR)
IBRAIMOV Amir (DEU)
VAN 'T ZELFDEN Joris (NLD)
DURIEZ Tangui (FRA)

Date
Match N°
Billard N°
Level
Group
Participant
Match points
Points
Innings
Average
Best run
04-08-2023 14:30
1
1
Qualifications
A
KRISTIANSEN Daniel
PHILIPOOM Luca
04-08-2023 14:30
2
2
Qualifications
A
DURIEZ Nathan
PAOLO TurlÀ
04-08-2023 16:30
3
1
Qualifications
B
IBRAIMOV Amir
VAN 'T ZELFDEN Joris
04-08-2023 16:30
4
2
Qualifications
B
OZBAS Seymen
DURIEZ Tangui
04-08-2023 18:30
5
1
Qualifications
A
04-08-2023 18:30
6
2
Qualifications
A
DURIEZ Nathan
KRISTIANSEN Daniel
05-08-2023 10:00
7
1
Qualifications
A
KRISTIANSEN Daniel
PAOLO TurlÀ
05-08-2023 10:00
8
2
Qualifications
A
HASHAS Burak
PHILIPOOM Luca
05-08-2023 12:00
9
1
Qualifications
B
IBRAIMOV Amir
DURIEZ Tangui
05-08-2023 12:00
10
2
Qualifications
B
VAN 'T ZELFDEN Joris
OZBAS Seymen
05-08-2023 14:00
11
1
Qualifications
A
DURIEZ Nathan
PHILIPOOM Luca
05-08-2023 14:00
12
2
Qualifications
A
HASHAS Burak
KRISTIANSEN Daniel
05-08-2023 16:00
13
1
Qualifications
B
VAN 'T ZELFDEN Joris
DURIEZ Tangui
05-08-2023 16:00
14
2
Qualifications
B
OZBAS Seymen
IBRAIMOV Amir
05-08-2023 18:00
15
1
Qualifications
A
HASHAS Burak
DURIEZ Nathan
05-08-2023 18:00
16
2
Qualifications
A
PHILIPOOM Luca
PAOLO TurlÀ
06-08-2023 11:00
17
0
1/2 finals
SEMIF
HASHAS Burak
IBRAIMOV Amir
06-08-2023 11:00
18
0
1/2 finals
SEMIF
OZBAS Seymen
DURIEZ Nathan
06-08-2023 14:00
19
0
Final
FINAL
HASHAS Burak
DURIEZ Nathan
Place
Participant
Match points
Points
Innings
Average
Best run
Best average
1
DURIEZ Nathan (FRA)
10
164
164
1.000
9
1.250
2
HASHAS Burak (TUR)
10
167
148
1.128
7
1.562
3
OZBAS Seymen (TUR)
6
100
100
1.000
12
1.315
4
IBRAIMOV Amir (DEU)
3
85
112
0.758
5
1.000
5
DURIEZ Tangui (FRA)
2
57
69
0.826
5
1.666
6
KRISTIANSEN Daniel (DNK)
4
86
110
0.781
8
0.757
7
VAN 'T ZELFDEN Joris (NLD)
1
46
61
0.754
5
0.925
8
PHILIPOOM Luca (BEL)
2
69
123
0.560
4
0.675
9
PAOLO TurlÀ (ITA)
0
44
121
0.363
3