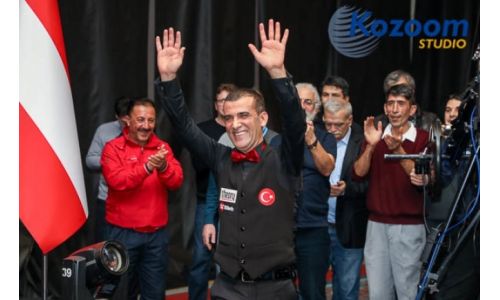 02/18/2019
The first World Cup of the 2019 cycle has rocked and amazed the world of 3-cushion. On the final day, two Turks, a Vietnamese and a Korean player were left standing. All the favorites had been eliminated early, and the world ranking was shaken up. Tayfun Tasdemir had the steady hand and the sharp focus on Sunday afternoon, when it mattered most: he beat Korea's Jae Ho Cho in the final.
The earlier days had seen several highlights. Martin Horn ended a match with a run of 18. Nikos Polychronopoulos and Myung Woo Cho had averaged very close to 3 (80 points in 27 innings), and the audience had been delighted by the steady strong play of their countryman Serdar Bas. With Semih Sayginer, Coklu, Tasdemir, Capak and wildcards Cenet and Uymaz, the tournament had Turkey written all over it.
The European favorites lost early: it was not even Saturday yet and Caudron, Jaspers, Merckx, Zanetti, Sánchez and Blomdahl had been eliminated. Not a single one of this famous half-dozen in the quarterfinals! How many years since that had happened?

It was nearly impossible to pick a winner, at the start of the final day. Both Turkish players, Murat Naci Coklu and Tayfun Tasdemir had won World Cups before. But the same could be said about the Korean and the Vietnamese semifinalists, Jae Ho Cho and Quyet Chien Tran. Four stylish, technically outstanding players, all capable of making 40 points in well under 20 innings: who would hold the trophy?
In a difficult match for both, Tayfun Tasdemir got the better of his long-time friend Murat Naci Coklu. A good lead looked like disappearing when Tasdemir struggled to make his 40th point, but he found a position just in time: 40-37 in 27. The other semi was one-way traffic from the start: Jae Ho Cho was gone before Quyet Chien Tran had chalked twice. The Korean ran away to 16-2 and protected his lead well: 40-28 in 19.
The final between Tasdemir and Cho went neck and neck until it was 19-16, but then the Turk ran away with it. A few useful runs (7, 6) brought him to 35-19 and finally 40-21 in 21. It was the second World Cup victory for Tayfun, who had won his first in Ho Chi Minh City in 2015.

The World Cup in Antalya brought some drastic changes to the ranking: Jae Ho Cho is now 3d, Tasdemir 5th, with Jaspers and Caudron holding on to the first and second spot.

Final ranking of "Antalya":
1 Tayfun Tasdemir 8-1.758-10
2 Jae-Ho Cho 6-1.516-15
3 Quyet Chien Tran 4-1.963-15
4 Murat Naci Coklu 4-1.746-9
5 Sung-Won Choi 2-1.818-11
6 Lütfi Cenet 2-1.738-8
7 Martin Horn 2-1.904-18
8 Pedro Piedrabuena 2-1.l196-9
9 David Martinez 0-1.888-9
10 Torbjörn Blomdahl 0-1.636-11
11 Dinh Nai Ngo 1.360-10
12 Roland Forthomme 0-1.347-12
13 Eddy Merckx 0-1.272-13
14 Dani Sánchez 0-1.150-11
15 Dick Jaspers 0-1.090-7
16 Frédéric Caudron 0-1.000-15

The new world ranking:

1 Dick Jaspers 454 points
2 Frédéric Caudron 440
3 Jae-Ho Cho 301
4 Semih Sayginer 285
5 Tayfun Tasdemir 267
6 Marco Zanetti 264
7 Quyet Chien Tran 264
8 Eddy Merckx 258
9 Nguyen Quoc Nguyen 223
10 Murat Naci Coklu 220
11 Jérémy Bury 214
12 Jung-Han Heo 213
13 Sameh Sidhom 208
14 Dinh Nai Ngo 187
15 Haeng Jik Kim 182
16 Sung-Won Choi 178
17 Eddy Leppens 170
18 Dani Sánchez 160
19 Torbjörn Blomdahl 158
20 Martin Horn 148

Back