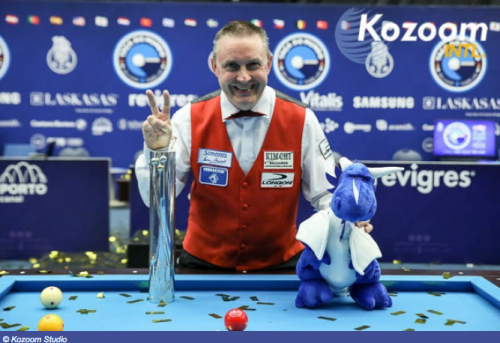 07/09/2018
The World Cup season started in Antalya, with a win for Frédéric Caudron. Quyet Chien Tran then won in his home city of Ho Chi Minh, and Jaspers captured Blankenberge. The fourth World Cup of 2018 was again a victory march for the best player in the world. He suffered a surprise defeat in Blankenberge at the hands of David Zapata, but in this event, there was no stopping him. A 2.380 general average, five convincing wins and a 20th World Cup victory for the nr. 1 player on the ranking.
As we have seen so often in the past seasons, many top players were eliminated from the tournament in the early rounds. Jaspers ran into a superb Tasdemir (40-27 in 14), and Dani Sánchez lost to Chi Yeon Cho (40-28 in 19). A round later, Blomdahl, Zanetti and Coklu were also out, beaten by Sung Won Choi, Sayginer and Caudron.
On the final day, the Porto event had been reduced to a double meeting between Asia and Europe. Tasdemir met Sung Won Choi, Caudron took on Jung Han Heo. Both Europeans played a dominant match: Caudron used 18 innings to beat Heo 40-27 and Tasdemir needed only 14 innings to beat Choi: 40-21.
In the final, Caudron had a bad start because he missed the break. Tasdemir ran 5, and it looked as if he had the advantage. But Caudron soon found his rhythm, and a run of 11 took him into a 23-14 lead. As his opponents know by now: once he's firmly ahead of you, you're not going to catch him. The Belgian world champion relaxed and played some wonderful shots that had the crowd on their feet. The tournament was over at 40-21 in 14 innings.
It gave Caudron his 20th career World Cup victory. On the all-time list, he's still third behind Jaspers (23 wins) and Blomdahl (44 wins). His position as the number one on the ranking is more solid than ever: he leads at 522 points, ahead of Merckx on 345 and Haeng Jik Kim on 304. Sayginer is still on the rise, Blomdahl and Sánchez are slipping.
The high run on Porto was made by Leppens: 15. The best match was played by Caudron: 40 in 11 (3.636). The tournament average (last 32 players) was 1.620.
Final standing:
1 Caudron 2.380
2 Tasdemir 2.320
3 Jung Han Heo 1.750
4 Sung Won Choi 1.584
5 Sayginer 1.918
6 Merckx 1.870
7 Chi Yeo Cho 1.714
8 Wan Young Choi 1.471
9 Papakonstantinou 1.666
10 Leppens 1.625
11 Zapata 1.585
12 Blomdahl 1.500
13 Cenet 1.488
14 Coklu 1.372
15 Palazon 1.369
16 Zanetti 1.255

Back