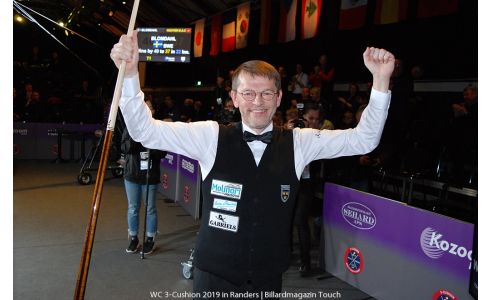 11/30/2019
The 72nd UMB world championship was a week full of surprises, drama and great scoring by the world's best players. The last man standing was one of Europe's icons: Torbjörn Blomdahl from Sweden. He added a world title to his long resume, 32 years after he won his first. In a final with a tense second half, he beat the up and coming Vietnamese talent Duc Anh Chien Nguyen: 40–37 in 22 innings. Quite amazingly, there was just one Korean player in the last 16! Three Vietnamese players did well, and no fewer than eleven Europeans fought for a place in the quarterfinals.
Blomdahl's road to the title was full of excitement, narrow escapes and high quality play. He qualified from the group despite a loss against Roland Forthomme in only 11 innings, then beat Lütfi Cenet in a shootout. Another shootout came in the round of 16, against Eddy Merckx. It was one of the highlights of the week, when Merckx ran 7 from the spots and Blomdahl answered with 8! A relatively easy quarterfinal against Dion Nelin followed, and Sameh Sidhom was beaten in only ten innings, in the semifinal. It set up a clash with the young Vietnamese player who had made a strong impression in the recent Veghel World Cup. Blomdahl took a 22-2 lead, but then lost control of the match and Nguyen fought back well. The experienced Swede found his composure in the home stretch and ended the match at 40-30. Nguyen added more drama to produce a great run of 7, getting close to yet another shootout. It was not to be though, and Blomdahl could celebrate, under the watchful eye of his 80 year-old father Lennart.
The other semifinal had seen a surprise result, with Sidhom beating Semih Sayginer. Both the Egyptian and the Turk played a strong tournament, Sayginer having beaten Tran and Jaspers and Sidhom getting past Polychronopoulos and Myung Woo Cho.
The Danish colors were represented by Haack-Sörensen and Nelin, and they did well. The match between Nelin and Jae Ho Cho will go down in history: 40-40 in 11 innings, Nelin winning the shootout. There were more top averages in the week: 40 in 11 for Forthomme, 40 in 13 for Merckx and Sanchez, and of course Blomdahl's 40 in 10. Eddy Merckx made the high run: 18.
With his 120 new ranking points, Blomdahl is certain to jump up on the world ranking list. Jaspers, who lost his title, had a big lead and will stay in the number one position.
Final standing of "Randers":
Torbjörn Blomdahl 2.121 – 13
Duc Anh Chien Nguyen 1.606 – 14
Sameh Sidhom 1.535 – 9
Semih Sayginer 1.934 – 13
Tayfun Tasdemir 1.949 – 12
Quyet Chien Tran 1.824 – 12
Nikos Polychronopoulos 1.558 – 15
Dion Nelin 1.622 - 16

Back