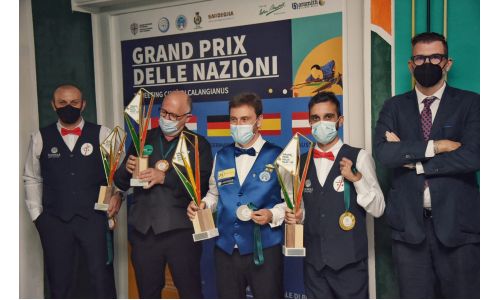 09/20/2021
Amazing 5-Pins Invitational tournament in Calangianus, Sardinia region (Italy).
Local Sardinian player Alessandro Mascia defeated all the opponent players with a clean sheet scoring (2-0). World and European champion Michelangelo Aniello was the runner-up, while podium was completed by the other two Italian players Gaetano Romeo and Massimo Caria.
Great participation from foreign players. Remarkable among them Maxime Jublot from France who grab a wonderful 5th position. Now next step for 5-Pins will be the World Championships in March 2022 always in Calangianus.
In the picture from left: Gaetano Romeo, Massimo Caria, Michelangelo Aniello, Alessandro Mascia, CEB Delegate Luca Marzio Garavaglia
Picture: @Studio Fotografico Gallura

Back