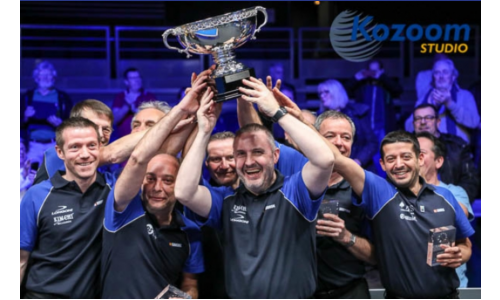 12/17/2018
The golden generation of 3-cushion players from Europe is getting on a bit, in age. But they refuse to give up the throne. Eight players in their fifties and forties, all from Europe, showed eight players in their forties, thirties and twenties, all from Asia that there is still a gap to be closed. In a race to 600 points, the players from Korea and Vietnam were beaten 600 – 483. Asia averaged 1.472, Europe 1.829.

The tournament in Eysines near Bordeaux was a splendid success for organizers UMB and Kozoom, a collaboration that also brought us the 3CC and Survival events this year. Under the watchful eyes of legend Raymond Ceulemans, the eight highest ranked players from both continents played 24 small matches to 25 points. Eighteen times a European player won, five times an Asian, and there was one draw.

On the opening day, the tone was set by Caudron and Coklu who booked big wins over Kang and Nguyen (25 – 13 and 25 -11). On day two, Bury left Ma without a chance (25-6), Sánchez did the same to Cho (25-6) and again Coklu was valuable for Europe with a 25-10 win over Kang. On the final day, Blomdahl beat Cho 25-13 and Zanetti outscored Heo 25-14. Jaspers kept winning, but he could not create any margins.

Dong Koong Kang fought back well with a 49-25 victory over Bury, but the difference was too big. The unbeaten Merckx (against Nguyen) and again Caudron (against Kim) closed the deal and won the Cup for Europe. Dong Koong Kang had the tournament's high run: 16. Merckx had the highest general average: 2.343. Coklu played the best match: 25 in 7. There was a reward of 15.000 dollars for each of the eight European players, and 5.000 dollars for each of the Asians.

Dani Sánchez, Murat Naci Coklu, Marco Zanetti and Eddy Merckx were the players who won the most points for their team. With a positive score of 30, 27, 26 and 23 points, they created most of the final gap of 117 points at the finish line.

This meeting between the two powerhouses of 3-cushion will again take place in 2019, but Asia will host it. No doubt, it will be played in the same atmosphere of good-natured sportsmanship as this year.

Back