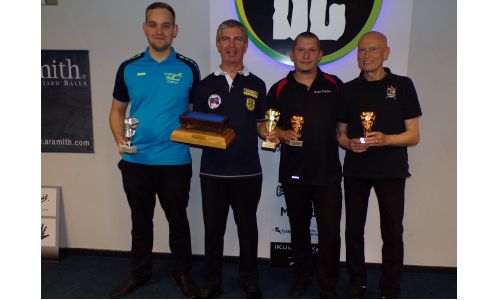 08/30/2021
After 4 days of interesting competition, the BC Kladno 5-Pins event has come to the end. 64 matches were played in the group stage and 31 matches in the KO round.
41 players from 7 nations battled for the final victory.
In the semifinals, the tension was high with two 3-2 scores, uncertain until the last inning. In the final, Thomas Hähne had a better start and then maintained this advantage and won over Max Gabel 4:1. For Max, it was already the second final participation in the Kladno tournament. The previous medalist Emiliano D'Amelio ended his journey in the last 8 when he met the winner Thomas Hähne. The organizers look forward to the next edition in 2023.
SEMIFINALS RESULTS
Sven Petzke x Max Gabel 2:3 - 60/31, 58/68, 62/24, 21/69, 58/60
Thomas Hähne x Roberto Di Ventura 3:2 - 51/61, 64/58, 60/27, 29/63, 66/10
FINAL RESULT
Max Gabel x Thomas Hähne 1:4 - 21/61, 3/64, 42/64, 60/38, 51/60
FIRST 8 RANKED:
1.Thomas Hähne
2.Max Gabel
3.Sven Petzke
3.Roberto Di Ventura
5-8.Emiliano D'Amelio
5-8.Carlos Cortés Gil
5-8.Tim Haake
5-8.Daniele Palermo

Back