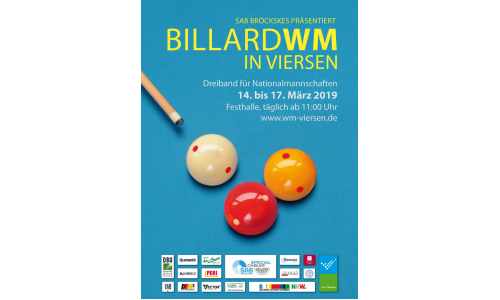 03/12/2019
On the long list of "Viersen" winners, a few countries stand out. Sweden is the record holder, with nine victories. Belgium, Turkey, Germany and Japan have won four times, but Japan's latest win dates back to 1992. The "Festhalle" in Viersen (Germany) is once again home to this championship, one of the oldest in our sport. From 14 to 17 March, sixteen countries will send their best players to the province of Nordrhein-Westfalen, where they will compete as two-some's in the Scotch Double format.

Korea is the defending champion: last year Sung Won Choi and Dong Koong Kang successfully defended the title won in 2017 by Sung Won Choi and Jae Guen Kim. Can they make it three in a row, with two different players? Belgium (Merckx – Caudron) even had a four-year streak, from 2012 to 2015. Whenever those two team up, they must be considered a main candidate for the gold medal. Fierce competition will no doubt come from the Netherlands, Turkey, Greece and Vietnam, as well as the hosts Germany and dangerous outsiders such as Denmark, France and Austria. Also, it will be interesting to see if the three teams from the America's can challenge the European and Asian reputations.

This year's sixteen countries and their players are:

South Korea: Haeng Jik Kim, Jae Ho Cho

Germany: Horn, Lindemann

Turkey: Coklu, Cenet

Netherlands: Burgman, Jaspers

Greece: Kasidokostas, Polychronopoulos

Denmark: Carlsen, Andersen

Belgium: Caudron, Merckx

France: Bury, Maréchal

Austria: Efler, Kahofer

Colombia: Morales, Catano

Mexico: Munoz, Garcia

Peru: Tevez, Sacco

Japan: Mori, Sakai

Vietnam: Nguyen, Tran

Lebanon: Jihad, Yasser

Egypt: Sidhom, Fouda

Play starts on Thursday 11.00, the final is scheduled for Sunday at 14.00.

Back