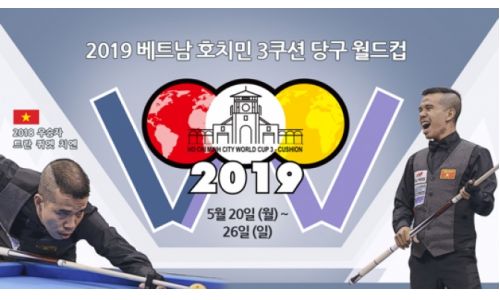 05/18/2019
The European players are still dominant in the World Cup cycle, but the Vietnamese learn fast. Can they repeat the stunt they pulled last year?
For the fifth time, Vietnam will be the host of a World Cup tournament. Previous editions in Ho Chi Minh City were won by Tayfun Tasdemir (2015), Frédéric Caudron (2016), Eddy Merckx (2017) and Quyet Chien Tran (2018). The Vietnamese crowd loves 3-cushion, and this event has never lacked in atmosphere or enthusiasm. It goes without saying that last year's final between two Vietnamese players – Ngo Dinh Nai played so well, but Tran had the cool finish – was a highlight.
For this 179th World Cup event in history, the wildcards have been awarded to Erick Tellez (UMB) and Minh Cam Ma and Duong Anh Vu (local). They will join the seeds, based on the world ranking: Jaspers, Caudron, Cho, Sayginer, Tasdemir, Tran, Zanetti, Merckx, Nguyen, Coklu, Bury, Heo, Sidhom and Ngo.
In the qualification event, we find big names like Blomdahl and Sánchez, Leppens and Choi, Horn and Haeng Jik Kim. There are strong delegations from Turkey, Spain and of course S. Korea. On the ladies' front: no Klompenhouwer or Hida, but Namiko Hayashi and Sruong Pheavy will play.
Play in the Nguyen Du Stadium will start on the 20th of May, the final is scheduled for the 26th. The winner takes home 16.000 Euro, there is 10.000 for the runner-up and 6.000 for the losing semifinalists.
Tayfun Tasdemir is in the lead for the battle of the overall World Cup: he won the first event of 2019 in Antalya. Caudron has the maximum number of points to defend: he will lose his 80 points from Antalya 2018. The position of Dick Jaspers as the number 1 on the world ranking is safe: he will stay on top regardless of what happens in Vietnam next week.

Back