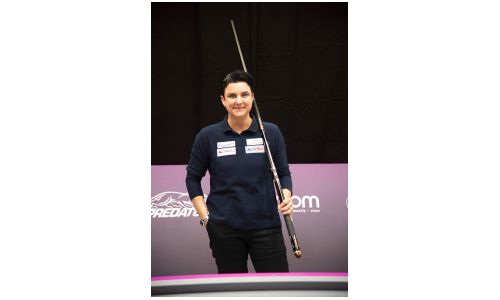 09/01/2022
In a few weeks the World Championship 3-cushion Ladies will take place in the Netherlands, gathering 24 women from all over the world to compete for the title. In preparation for this prestigious event, several of the European participants are attending one of the two training camps that CEB is organizing before the tournament.
The first one is held this weekend, 3-4 Sep in Rosmalen, the Netherlands, and the head coach is multiple world champion Therese Klompenhouwer. The six participants are Jaimie Buelens and Danielle LeBruyn from Belgium, Nanna Petersen from Denmark, Ana Juárez from Spain, Magali Declunder from France, and Güzin Karakasli from Turkey.
The camp will be held at Sportfoyer de Hazelaar in Rosmalen, and Therese Klompenhouwer has high hopes for the weekend. "I really appreciate that they asked me to be the head coach for this camp", she says. " It's the first time the CEB organizes a second training camp, besides the camp of Martin Horn. I am really looking forward to it, to work together with the participants and to help and teach them more about billiards."
The second camp is held next weekend, 10-11 Sep in Wedel, Germany, where decorated world class player Martin Horn once again will be head coach. The participants are Irena Michálková from Czech Republic, Arzu Gok from Turkey, Karina Jetten from the Netherlands, Monika Steinberger from Austria, Martine Goetkint from Belgium and Yenny Bajtner from Sweden.
The World Championship 3-cushion Ladies is organized 20-22 Sep in Heerhugowaard, the Netherlands. All information about the tournament can be found on the UMB website, https://www.umb-carom.org/PG344L2/Union-Mondiale-de-Billard.aspx

Back