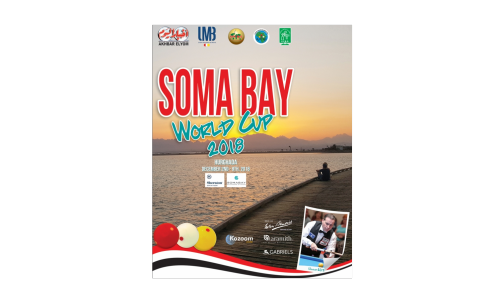 11/29/2018
The seventh and last tournament in the World Cup cycle of 2018 will take place in the familiar surroundings of Hurghada, Egypt. The venue, Sheraton Somabay, is new to billiards, Hurghada certainly isn't. This is the 12th time already, that the world's best billiard players come to "the place where it all began".
The overall World Cup win for the season is no longer at stake: Frédéric Caudron will win it, regardless of the results in Hurghada. But the tournament win and the ranking points involved will have many players anxious to do well. Positions in the protected top-14 and privileged top-20 are at stake. The man who will lose 80 ranking points after Hurghada is Torbjörn Blomdahl, he won those points in La Baule 2017. Title defender in Egypt is Eddy Merckx, he won last year's event in El Gouna.
The World Cup tournaments in 2018 were won by Caudron (Antalya), Tran (Ho Chi Minh), Jaspers (Blankenberge), Caudron (Porto), Horn (La Baule) and Merckx (Seoul). Who will win the seventh?
The UMB has seeded 14 players according to their ranking: Caudron, Merckx, H.J. Kim, Merckx, Zanetti, J.H. Heo, Sayginer, Tran, Nguyen, Sidhom, Coklu, Blomdahl, S.W. Choi and J.H. Cho. The UMB wildcard was given to Huberney Catano, the local wildcards to Mohsen Fouda and Ahmed Abdallah. Four ladies have booked a spot in the pre-tournament: world champion Therese Klompenhouwer, Gülsen Degener, Namiko Hayashi and Sylvia Eckel.
The qualification rounds start on 2 December at 11.00, the final will be played on 8 December at 16.00 local time.

Back