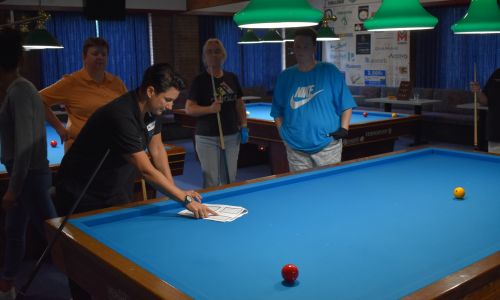 09/02/2023
This weekend it's time for another 3-cushion training camp for women, with Therese Klompenhouwer returning as head coach. 6 women gathered at the club in De Ploeg, Belgium, for two days of practicing and socializing. The camp is a great way for the athletes to prepare for the new season and for some of them also the World Championship 3-cushion Ladies that will take place in Turkey in just a couple of weeks.
The camp had 6 spots available and they were quickly filled. Due to the big interest the participants were selected based on their CEB Ladies ranking from 2022/23. The final list looks like this: Danielle Le Bruyn (BEL), Jaimie Buelens (BEL), Güsin Mujde Karakasli (TUR), Marie-Rose Rouffa(BEL), Sylvia Eckel (NED) and Pauline Beersma (NED).
Training started this morning and will continue through Sunday afternoon. CEB covers all costs except travel.

Back