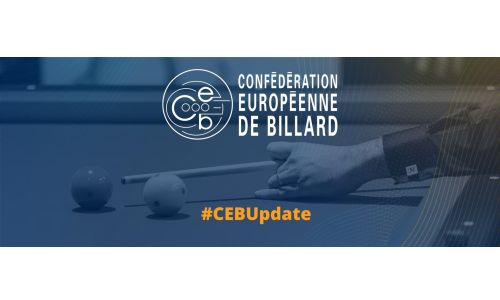 07/11/2022
CEB Sport News.
New European Championships: CEB is proud to announce 3 new European Championship that will take place for the first time in the regrouped European Championships in Antalya (Turkey) in April 2023:
- European Championship Artistic National Teams;
- European Championship 3-Cushion Ladies National Teams;
- European Championship 5-Pin Ladies;

In addition, the 2nd edition of the European Championship 3-Cushion Individual U25 will also be included in the regrouped ECs in Antalya.
The rules of the new championships will be published before September 1st 2022.
World Championship 3-Cushion Ladies and Juniors U22 (Heerhugowaard, Netherlands): National Federations will be able to register their representatives on CEB website starting from July 13th (Ladies) and July 16th (U22). Deadlines Ladies: August 20th 2022. Deadline U22: August 23rd 2022.
Training camp 3-cushion: CEB is delighted to announce a second training camp in the discipline of 3-cushion for women. The trainer will be the World Champion Therese Klompenhouwer and the course will be reserved to those players that will not participate in the first training camp. The date is expected to be in September 2022, Saturday 3rd and Sunday 4th, in Rosmalen (The Netherlands). More detailed informations and procedures to register will follow.
Permission to play: CEB reminds to all players and National Federations that the procedure to register the "Permission to Play" in foreign clubs for season 2022/2023 is open on CEB website. We underline that starting from season 2022/2023 the "Permission to play" is extended also to the Coupe d'Europe 5 Pin Club Teams and is therefore mandatory for the participation to all the Coupes d'Europe (3-Cushion, 5 Pin and Classic Team) as member of a foreign club team. The deadline is August 31st 2022. Concerned athletes must ask their National Federation to register the Permission on CEB website within the deadline. All the registrations made are immediately visible at this link: https://www.eurobillard.org/pages/permissions-33.html
Currently open registration and deadline reminder: World Championship 5-Pin Individual Open, deadline July 20th 2022.
European Championship 5-Pin Individual: The draw of the qualification groups will be made on July 23th 2022.

Back