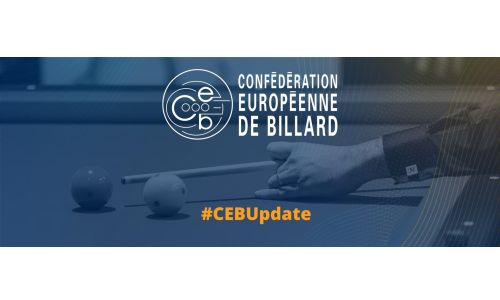 09/03/2023
Click here for the full web version.
1. CURRENTLY OPEN REGISTRATIONS
The registrations for the World Championships 5-Pins Ladies and National Teams in Hall in Tirol (Austria) are currently open on CEB website.

2. CALENDAR NEWS
5-Pins and Biathlon
The European Championships Biathlon and 5-Pins "All-in-one" will take place in Calangianus (Italy) in January 2024, 13th to 21st. CEB Board has created a new EC: The European Championship Biathlon National Teams, it will be played by a national team of 2 athletes, one 3C athlete and one 5-Pins. In addition, inside the "All-in-one" event, a new Grand Prix will also be played: 5-Pins Double Mixed Genders for national teams composed by a man and a woman.
Coupe d'Europe 3-Cushion
FC Porto will host again the Coupe d'Europe 3-Cushion in June 2024, 25th to 30th.
Longoni NextGen
The Longoni NextGen circuit and the Wild Cards as main prizes are confirmed for the new sport season with few changes. More detailed informations will be released very soon.
Two 3-Cushion U21 Grand Prix are in the calendar for the sport season 23-24. The first one will take place in Ostrava (Czech Republic) in November 2023, 24th to 26th. The registrations will be opened on September 11th, deadline on October 20th. The second one is scheduled in Italy in February 2024, 16th to 18th.
Artistic
The European Championships Artistic National Teams and Individual will take place in Ankara (Turkiye) in March 2024, 6th to 10th, in the TBF Billiard Complex.
3-Cushion U25
The European Championship 3-Cushion U25 will take place in Salamina (Greece) in April 2024, 26th to 28th.
CEB Grand Prix 3-Cushion Women
One CEB Grand Prix 3-Cushion Women will take place in Gandia (Spain) in May 2024, 10th to 12th.

3. CEB WILD CARDS
Wild cards have been assigned for the European Championship 5-Pins and 3-Cushion Individual 2023-2024. For the Longoni NextGen U21 circuit 2022-2023 the wild cards were assigned to: DICIOLLA Federico (IT), SONDERGAARD Jonas (DK) and CUCCHIARA Emanuel (IT) for the 5-Pins; HASHAS Burak (TR), DURIEZ Nathan (FR) and AKKOCA Denizcan (TR) got the wild card for 3-Cushion. Wild cards were also assigned to KLOMPENHOUWER Therese (NL) and SOERENSEN Charlotte (DK) in the European Championship 3C Individual 2023-2024 as the two best ranked in the CEB Ladies 3C Ranking at the end of the sport season 2022-2023.

4. RULES UPDATE
Following the G.A. and the following meeting with federation's representatives many CEB tournament rules and the Basics Concepts have been updated. Players and officials are kindly but strongly invited to get familiar to the new rules.
More info

Back