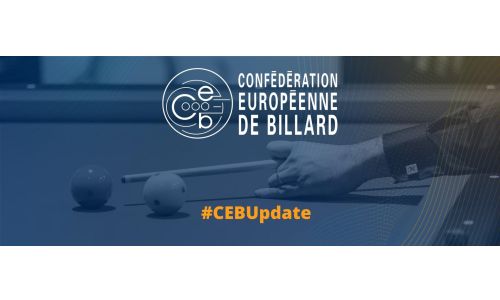 01/25/2023
CEB SPORT NEWS
IMPORTANT COMMUNICATIONS ABOUT ANTALYA
Considering that some competitions are not fully registered the CEB Board has taken some important decisions:
- The registrations deadline is extended to February 3rd starting from tonight (mid-night) only for the competitions not fully registered. Kindly note that this extension will be valid only for empty places. New registration will not take the place af an already registered player or team. New registrations will be accepted with a system of "first come-first served" until the potential maximum number of participant is reached. Additional registrations will be accepted as "reserves".
- The competitions fully registered will stay closed. Confirmations and players list will published in the next few days.
- The EC Free Games Ladies will be cancelled if the participation of 8 players and 5 different federations will not be reached.
- The prize money for the EC 3C on small tables (Individual and Clubs) will be reduced according to the percentage of participants reached compared to the maximum potential (as already declared in the info pages). After the extended deadline the new distribution of prize money will be announced immediately.
- Registrations to small tables competitions in time table conflict with other competitions will be put in "cancelled" status. All the time table conflicts are confirmed also in this extended registrations period.
List of competitions with the extended deadline:
3C LADIES NT
3C Club-Teams ST
LIBRE Women Indiv. ST
CADRE 71/2
3C Women Indiv.
3C. Indiv. ST
CADRE 47/2

Back