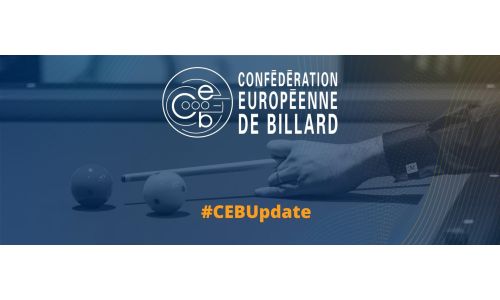 12/09/2022
This is to inform all Federations and athletes that the registrations for the World Championship Artistic will be opened on CEB website starting from Saturday 10th, 2022. Deadline for Federations is set on January 10th 2023.

Federations are kindly requested to register their athletes on CEB website, CEB will forward registrations to UMB after the deadline.

CEB has 13 places (included the European Champion Hector Cuadrado that will be number one on the CEB list) plus two Confederation Wild Cards.
The two CEB Wild Cards will be awarded to reserve number 1 and 2 (number 14 and 15 on CEB list)

The registrations priority is based upon nations results of last EC Artistic.

1 - European Champion Hector Cuadrado
2- Spain 1
3- France 1
4- Hungary 1
5- Netherlands 1
6- Turkey 1
7- Belgium 1
8- Austria 1
9- Germany 1
10- Spain 2
11- France 2
12- Hungary 2
13- Netherlands 2
14 - Turkey 2 (Wild Card 1)
15- Belgium 2 (Wild Card 2)

All informations are available on UMB website under Active Event, and on CEB website.
CEB event page: https://www.eurobillard.org/events/wc%20artistic-334.html

Back