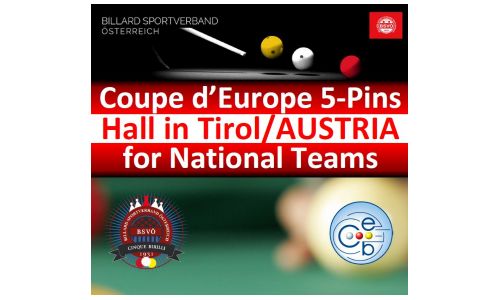 05/10/2022
The Coupe d'Europe 5-Pin for National Teams is finally back on scene after a long stop. Last edition was played in March 2018 in Herstal (BE) when Germany placed first ahead of France, Italy and Switzerland.
This time the scene is the Saltware House in Hall in Tirol, Austria. Austrian Billiard Federation is in charge of the organization of this competition that will start Thursday 12th.
16 teams representing 12 CEB Federations will compete in the 4 qualification groups for the 8 places in the quarter finals.
Group games will be played Thursday 12th and Friday 13th. Quarter finals are scheduled for Saturday 14th. Semifinals and finals will take place on Sunday 15th.
All the informations about the competition will be available on the dedicated website where you will find updated schedule, match results, photos of the action and more informations. Just follow the link below.
https://coupe-deurope-national-teams-5pins-hall.at
DAY 1:
The first day of the Coupe d'Europe 5-Pin for National Teams is over, in the stunning venue arranged from the Austrian Billiard Federation in Hall in Tirol.
Italy is the defending champion and the team to beat, also facing some difficulties in the evening match with Denmark, but yet in the first day we saw very strong performances from the teams of Germany (undefeated in the first two matches), Switzerland, Denmark, France and San Marino.
Today we will see some important matches in order to get the last 8 for tomorrow.
Will we have some surprises? Let's see and feel the thrill.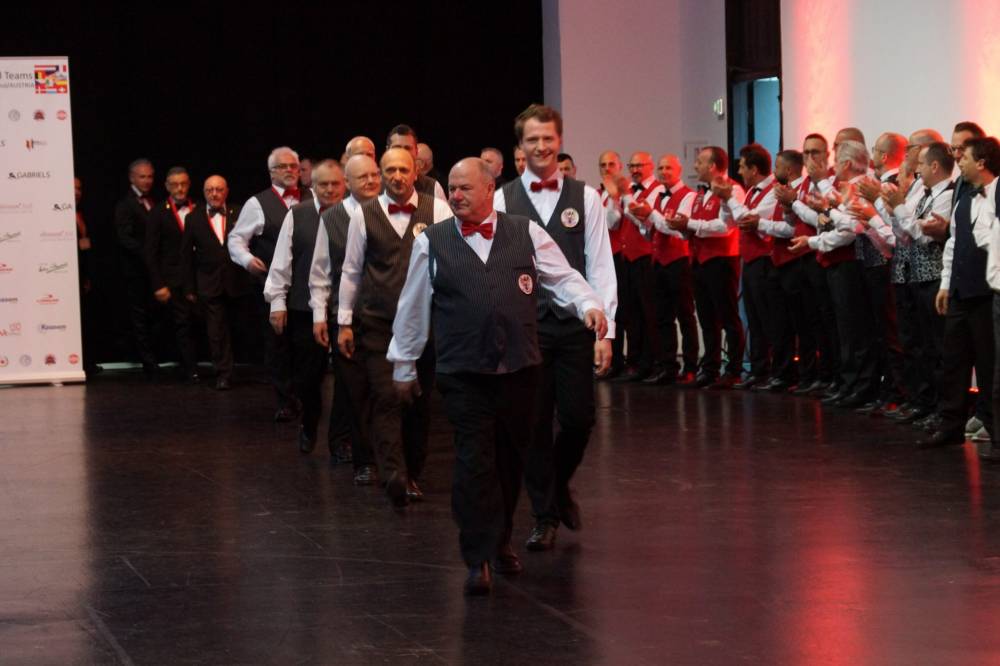 DAY 2:
A wonderful mix of emotions is the right description for day two in Hall in Tirol with a lot of games finished to thrilling last shots.
Italy, the two teams of Switzerland, the two teams of Denmark, Germany 1, France and San Marino are qualified for the last 8 knockout round.
The level of playing is raising up in all the nations, as also good news is to see new young players in many teams.
Below the draws for quarter finals:
9.30 Italy – Switzerland 2
12.00 Switzerland 1 – San Marino
14.30 Germany 1 – Denmark 2
17.00 France – Denmark 1
DAY 3:
Clear results today for the quarter finals in Hall in Tirol: Italy defeated Switzerland 2 by 3-0, Switzerland 2 defeated San Marino by 3-2 and France won with Denmark 2 by 3-0. The relay was needed to decide the winner between Germany 1 and Denmark 1 for a final victory by 3-2 on German side. Tomorrow semifinals will see Italy vs Switzerland 1 and France agianst Germany 1.
Direct link to the results page
Follow the live streaming of the four tables below:

Back