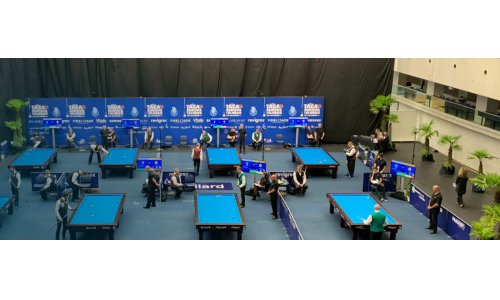 07/01/2019
It's a regular stop on the World Cup tour, and a popular one with the players. Who wouldn't want to spend a few days in the beautiful and historic city of Porto, and play billiards in the famed "Pavillon Dragon Calxa"? This will be the eleventh time (since 1995) the Portuguese hosts welcome a World Cup.
To refresh your memory: the first WC of 2019 was won by Tayfun Tasdemir (Antalya), the second by Frédéric Caudron (Ho Chi Minh) and the third by Javier Palazon (Blankenberge). With Porto, Veghel (the Netherlands), S. Korea and Hurghada (Egypt) still to play, the battle for the overall World Cup win of 2019 is wide open.
The seeded players in Porto, based on their world ranking, are Jaspers, Caudron, Tran, Sayginer, Merckx, Tasdemir, J.H. Cho, Coklu, Zanetti, Bury, Nguyen, Sidhom, D.N. Ngo and J.H. Heo. The UMB wildcard was given to Mohamed Abdin, the two local wildcards went to Torbjörn Blomdahl and Dani Sánchez.
Play in Porto starts on 1 July, the final is on the 7th.
The tables will be Carrinho, the cloth Simonis 300 Prestige Blue, the balls Super Aramith Pro-Cup Prestige.
1st prize: 16.000 Euro.
2nd: 10.000
3d and 4th: 6.000
5th – 8th: 3.500
9th – 16th: 2.500
17th – 32nd: 1.500.

Back