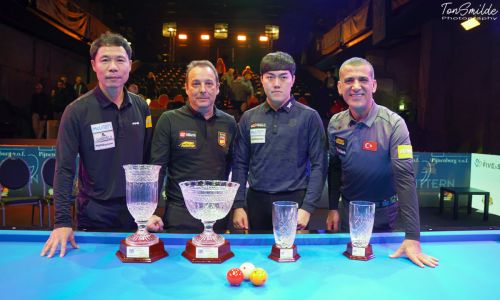 11/13/2021

The first UMB World Cup after the long pandemic stop organized by Biljart Evenementen Nederland under the auspices of KNBB has come to an exciting end. In the Dutch arena of Veghel, there were plenty of surprises and some of the big guns had to leave the competition earlier than expected.
Nelin, Forthomme, Klompenhouwer, Cenet, Bury, Coklu did not survive the groups stage of last 32.
More top players like Choi S.W., Sayginer, Horn, Zanetti, Polychronopoulos and Merckx gave up in the last 16.
Two Koreans started from PQ (Kang J.I.) and PPQ (Ahn J.H.) and lost their chance in the last 16 against Tasdemir and Jorissen.
Jaspers (number one in the UMB ranking), Blomdhal, Sidhom and Jorissen (who also started from PPQ) were eliminated in the quarters final by Sanchez, Heo J.H., Kim J.T. and Tasdemir.
In the first semifinal Tayfun Tasdemir and Heo fought until the last few innings in a brilliant match. Heo finally prevailed on his opponent with a score of 50-47 in 23 innings.
In the second semifinal Daniel Sanchez took a strong lead on Kim in the first half (28-8 in 12 innings at the break). The young Korean fought back but never managed to shorten the gap. Dani won 50-30 in 27.
The final game between Sanchez and Heo was a very tense and balanced match, the result was unpredictable until last innings when the score was 42-42. Then Dani scored 5, 1 and 2 and won this World Cup 50-42 in 28 innings with a general average of 1,757.
Best general average of the tournament by Nilsson (2,111), best match by Ahn J.H. (3,636), highest runs of 15 points by Polychronopoulos, Forthomme and Morales.
Next stop will be in Sharm El-Sheikh from november 28th to december 4th, just before the World Championship 3C that will take place in the following week.
Thanks to Ton Smilde for pictures


Back