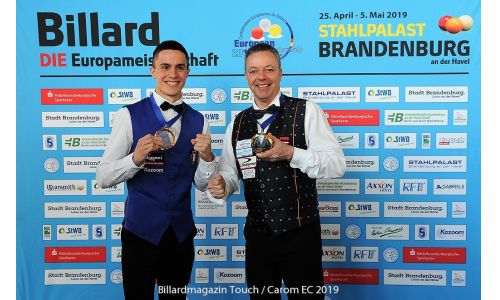 05/05/2019
The current 3-cushions world champion Dick Jaspers is now also European champion. In the continental championships in Brandenburg an der Havel/Germany, the Dutchman secured the title on Saturday afternoon by a 40:31-victory over the reigning champion Marco Zanetti from Italy.

In the beginning this match saw a very strong Dick Jaspers who made some runs and took a lead of 20:9-points. But then tide turned - at least temporarily. Zanetti made an unbelievable run of 16 points and was suddenly ahead by 25:20-points.
Those who expected Jaspers to be impressed were wrong. With many smaller runs he closed the gap and took the lead again. Just a few innings later he secured the 40th point in the 16th inning. Zanetti still had another chance but the gap was just too big.

In the semifinals which were played earlier today both Dick Jaspers and Marco Zanetti seemed to be on a mission. In their matches against Ruben Legazpi (Spain) and Murat Naci Coklu (Turkey) they set off like there is no tomorrow, played both double-digit series and were already ahead with over 15 points. After the break Jaspers continued like this, with Legazpi also convincing with seven consecutive balls, but Jaspers countered them immediately and finished in only eight innings. Meanwhile, Zanetti took some kind of a longer break, but at the right moment he ran another seven points to secure his win.

In the free game for players under 21 years of age there was only scheduled one match today and this was the final between the Frenchman Pierre Martory and his Durch opponent Leon Dudink. In contrast to the semi-finals on Friday, the game was much more complicated and Dudink wasn't able to run higher scores. The eventual winner Martory had a highrun of 168 points and won the match safely by a score of 300:56 points.

In the women's 3-cushions event on the match table, the victory is probably only about the Dutch Therese Klompenhouwer. In today's quarter-final match against Danielle Le Bruyn from Belgium, she won by a clear score of 30:13-points. Unfortunately, more games were not finished at today's editorial deadline.

Meanwhile, in the 3-cushions-competition on the small table, the top 16 players are determined. Once again the Austrian Gerhard Kostistansky, who easily reached the round of the last 16, presented himself strong. Also his fellow countryman Herbert Szivacz acted at a high level and is quite eligible for a medal. One should certainly also have an eye on Kenny Miatton (Belgium) and the two Turks Omer Karakurt and Serdar Bas.

The competition for 3-cushions national teams has also started today. In total 24 teams participate in eight groups of three. Only the first-placed will reach the quarterfinals. Host Germany is represented with two teams, with the second selection defeated by Sweden this afternoon. Dustin Jäschke and Lukas Stamm lost against the duo Blomdahl / Pennör with 30:40 after 37 shots.

Back