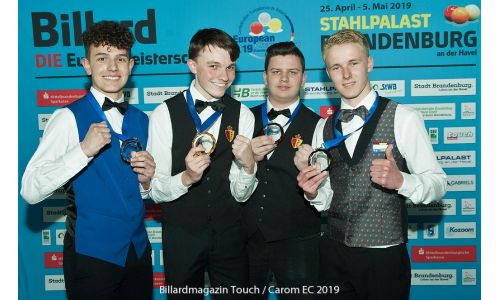 04/30/2019
On day 5 of the European Billiards Championships in
Brandenburg an der Havel/Germany two further
competitions were
completed. New European champion in
the Junior 5
-
pins discipline is the Italian Riccardo Matino
who beat Lukas Mortensen 3:1 in the final. The Danish
youngster was only able to compete in the second and
third set, but managed only to win the second one. Al
l
other sets went in favor of Matino who impressively
demonstrated his superiority
-
especially in the first and
fourth set.
In the semifinal Germany's Max Gabel was eliminated by
Lukas Mortensen. Gabel won the first set but his Danish
opponent shifted up
to a higher gear and played brilliantly
with almost no mistakes. Another medal for Germany was
won by Michel Peters, who was defeated 1:3 by the
eventual European champion.
The continental champion in the free game for players
under 17 years of age is Jel
le Billiet from Belgium. He beat
the Frenchman Nathan Legendre in ten innings with a
score of 200:66. Nick Dudink (Netherlands), who had the
best results after the group stage, was unable to match his
performance in his semi
-
final against Legendre and lost
in
nine innings. At the same time Jesse Billiet beat his
countryman Nick Rosier in just five innings.
In Balkline 47/2 the two finalists were determined today. In
two high
-
class semi
-
finals, Willy Gerimont (France) and
the Swiss Xavier Gretillat prevaile
d. Gerimont managed to
beat top favorite Raymund Swertz (Netherlands) with a
score of 240:4 which included a run of 228 points. In the
second semi
-
final the Belgian, Eddy Leppens, was on his
way to the final before he missed a shot at 131 points.
Gretillat
had only 45 points but ran a fantastic 205 points
in the second inning to win the match. The final will be
played on Tuesday.
The competition of the 5
-
pins national teams is still
underway. As usual, the Italians had no problems reaching
the quarterfinal
s, they gave no chances to their opponents
from Spain and won both singles and doubles. Therefore
the relay which brings two points for the winner does not
have to be played.
The German quartet also made it very clear against
Luxembourg. After the first th
ree matches the game was
over and the host nation will find themselves in tomorrow's
semi
-
final. There they will face France while Italy has to
deal with the winner of Denmark vs. Switzerland.
A brand new competition in the European Billiards
Championship
s is the team event Biathlon for players
under 21. Biathlon is a mixture of 3
-
cushions and 5
-
pins.
To begin the 3
-
cushion competitors play until a certain
score and then the match is continued in 5
-
pins billiards.
Only four matches are finished until now.
Italy has won its
match as well as both German duos. The match between
Germany 2 and Austria was a very close one with an
interesting ending. Austria was ahead 194:190 in a race to
200 until Sebastian Heimrath (Austria) made a foul which
brought Germany th
e missing ten points.
At the same time the club team
-
event in 3
-
cushions on the
small tables is getting underway. A total of 32 teams are
divided into eight groups, whilst the first two duos of each
group will reach the round of 16. The final will be play
ed
on Thursday.

Back