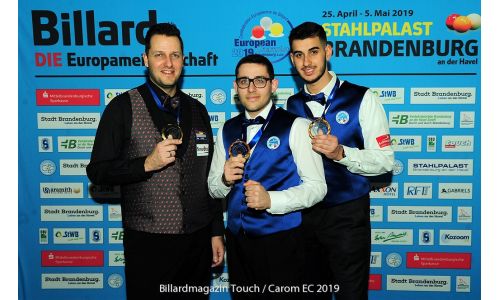 05/02/2019
Today, May 1st, two more medal decisions were made at the European Billiards Championships in Brandenburg an der Havel/Germany. The new European champion in 1-cushion is Dave Christiani from the Netherlands, who beat Eddy Leppens (Belgium) by 120:111-points in the final. In the beginning both players were on an equal level, but at a score of 66:62 in favor of the Dutchman he brought some distance between him and his opponent with a run of 27 points. Although Leppens was able to shorten the score to 99:110, Christiani made the necessary ten points to reach the goal of 120 in the next inning. However, the Belgian had another chance but was only able to score another twelve points. This made Christiani the new European champion after 21 innings in total.
European champions in the Biathlon team-competition for players under 21 years of age is the duo from Italy. In the mix of 3-cushions and 5-pins, Alessio D'Agata and Riccardo Matini prevailed against the German team (Marcel Back and Max Gabel) with a score of 200:160-points. Back brought his team to the lead in 3-cushions, but the European 5-pins individual champion Riccardo Matino wasable to turn the match. Within a few innings he had equaled the score and just a bit later he was ahead of Max Gabel with 30 points. In the end the score was 200:160 in favor of the Italian duo.The third places went to the second German representation and to the duo from France.
The competition of 3-cushions club teams is now at the stage of the final four. The Turkish duo from Hemsin Spor Kulübü are still playing very solid and will face the Czech team from Kladno on Thursday morning. In the second semifinal their compatriots from Havirov and the Belgians from BC De Goeie Queue will compete for a place in the finals. The best duo from the host nation Germany were Markus Schönhoff and Uwe Werner for SV Lok Staßfurt. They were beaten by De Goeie Queue in the quarterfinals.
Meanwhile the first matches of the group stages in the 3-cushions individual event for players under 21 were held today. A total of 24 athletes are divided into six groups, with only the first place certainly to reach the quarterfinals. The best match so far was played by Maxime Panaia from France who only needed 11 innings to run the necessary 25 points. His high run was 10.

Back