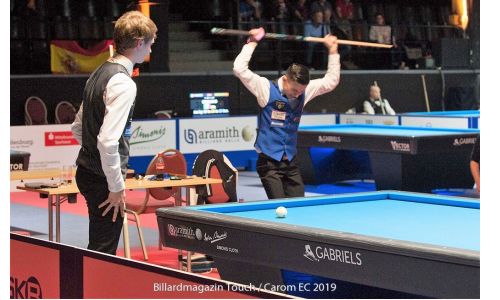 05/02/2019
Today was the eighth day of the European Billiards Championships in Brandenburg an der Havel/Germany and the new continental champions in the disciplines 3-cushions for players under 21 years of age and the 3-cushions clubs-teams were determined.The final of the 3-cushions event for juniors was thrilling. Maxime Panaia from France was the first to reach the goal of 30 points, but his Austrian opponent Nikolaus Kogelbauer kept his nerve and leveled the score. The game went into extra innings with Panaia starting with two points. Kogelbauer also made two and then missed his match ball. Another extra inning was needed and this time Panaia scored three points that Kogelbauer couldn't equalize. He only made one point and Panaia finally began his celebration. The third place went to the two Italians Alessio D'Agata and Emanuele Criscino.
European champion in the 3-cushions-competition for club-teams is the Belgian quartet from BC De Goeie Queue. Starting today with the semifinals, the team counted on the great Frédéric Caudron, who ultimately made the difference. He won his respective games with an average more than 4,00.In the semi-final, his colleague Joey de Kok also won his match, so the duo from BC Havirov (Czech Republic) were defeated 4:0. In the final against the Turks from Hemsin Spor Kulübü, who earlier eliminated the BK Kladno (also Czech Republic), only Caudron won his game, but that was enough in total because of the better average. His team mate Jerry Hermans lost versus the former European under 21-Champion Omar Karakurt, but in the end the Belgians had an total average of 3,00 whilst the Turkish duo only had 2,695.Jean-Paul de Bruijn was the fourth member of the winning team.
One of the highlights of this year's European Championships is the 3-cushions event on the match table. A total of 48 players are divided into 16 groups, only the first-placed will reach the roundof the last 32. The stars of the scene, Frédéric Caudron, defending champion Marco Zanetti (Italy), the Dutch world champion Dick Jaspers and also Germany's ace Martin Horn are added as seeded players.Probably the biggest surprise of the competition so far was the very early end of the Belgian Roland Forthomme, who already lost his two matches in the group stage.Also the 3-cushions event on the small tables began today. 60 athletes are divided into fifteen groups with the first two players to reach theround of the top 32. Two seeded players will then also join the event.

Back